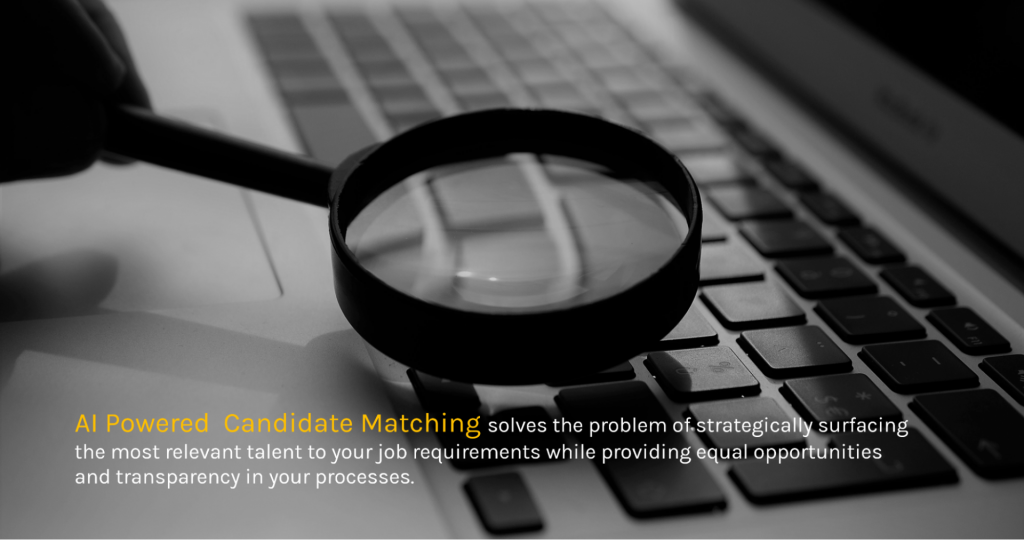 On average, a recruiter spends 43% of their week seeking applications on job portals and internal databases with the right skills. A recruiter scans a resume in approximately 6 seconds, focusing on the potential candidate's work experience, title, skill set, college prestige, GPA, etc.
Many weak spots are embedded in the above processes:
1 – Can a recruiter consider all market keywords used for a skill?
With the terminologies used to label a capability increasing more than ever before, skill matrices have become a universe unto themselves. Not only have the phrases increased, but so have the resume-tweaking practices, making it harder for recruiters and legacy applicant tracking systems. Job seekers are now being discovered hacking their resumes with keywords that have the most traction in the market,  and other black hat techniques in order to be recognised in a competitive resume match hiring process. This drives the question: Can a recruiter totally rely on resumes based on search terms?
Quick fix: AI tools, such as EVA's Search and Match, can detect the tactics by allocating more weight to the context of the term rather than the keyword itself.
2 – Can a recruiter turn off all biases in the 6 seconds it takes to select a resume?
Recruiters may, unintentionally, select applications based on a candidate's similarity to their "ideal candidate" rationale. 
Not only can cognitive bias come into play when evaluating resume descriptions, but it may also be as subtle as picking a well-designed resume over a conventional one.
A skewed hiring process can harm overall productivity, promotions, retention rates, corporate growth, and cause legal issues, to name a few.
Searching and matching resumes using Artificial Intelligence in the recruitment process can help alleviate both constraints.
 By recognising the most widely used and related keywords, AI can recommend close to all search terms used to identify skills. AI tools in resume screening can also identify keyword stuffing in resumes, helping recruiters narrow the applicant pool to the top quartile of truly qualified candidates.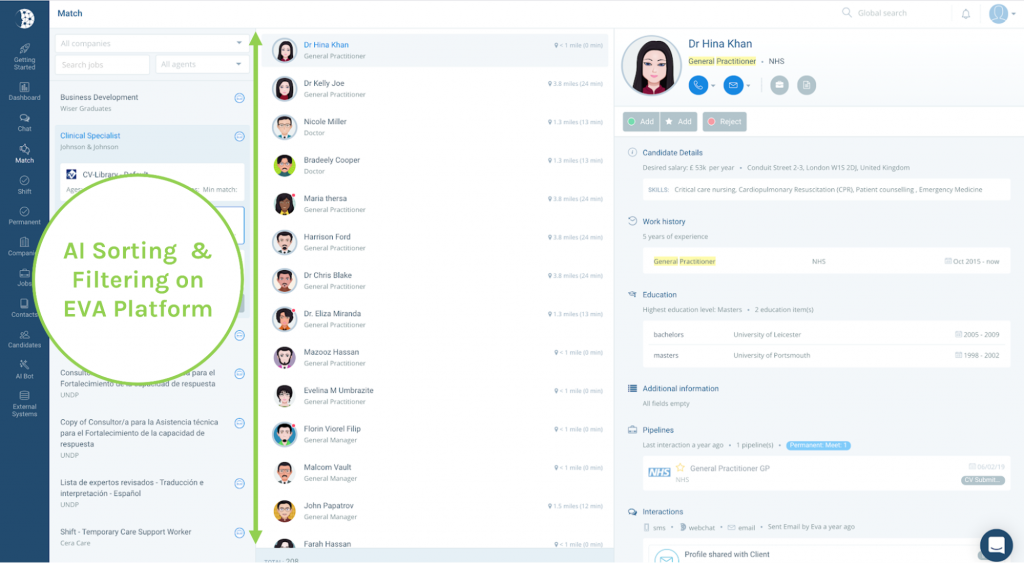 AI can filter the best-suited candidates without any bias. All resumes are equally significant regardless of the applicant's background. The only criterion is the position's requirement. The company benefits from a larger pool of candidates that are most qualified for the job resulting in a diverse workforce with distinct viewpoints. Companies with a diverse workforce are 35% more likely to outperform the industry average in terms of financial success. EVA's search & match solution has gone through rigorous checks to eliminate bias in its results. EVA's solution can assist recruiters in finding the best candidates for the job requirement while also displaying the most relevant results at the top, making the recruiter's job easier.
Using a legacy system, recruiters spent most of their time searching for candidates and updating new skills in their databases in an endless cycle. Not only does this give recruiters less time to express their opinion and on meaningful and perceptive interactions with candidates, but it also presumes the value of the job to be task-based rather than objective-driven. 
A business can derive greater value by simplifying a recruiter's tedious and routine task using an AI, making the role the core of talent acquisition. A recruiter is in contact with a candidate from the beginning of their application until they are on-boarded, being a trusted partner in the hiring journey. Recruiters can provide crucial information about a candidate's soft skills, the likelihood of joining, and, most importantly, their attitude and cultural fit.
90% of businesses
understand the value of identifying culturally compatible individuals with their company. Recruiters work in the field with candidates who engage with each other day after day. This wealth of data is underutilised. 
Thanks to the 4th Industrial Revolution, AI technologies can efficiently make the recruitment process. 
Eva's Search & Match solution will assist recruiters in the hiring process giving them more time to help companies make prudent hiring decisions
.