LEADING EMPLOYEE ENGAGEMENT
Engage & Support
EVA ensures every employee engages with your organisation 24/7, on-demand, in a consistent, personalised fashion at scale.Understand what your people need.
Facilitate an always-on, bi-directional line of conversation. Enable your employees to put their best foot forward.
employee experience solution
Why EVA for engaging and supporting employees?
The EVA approach to talent management is powered via three powerful modules transforming how your HR teams deliver on employee experience.
Communication Hub
Engage with employees, contacts and colleagues across numerous channels with all comms and interactions auto-tracked and displayed in a single window. Engage automatically or manually, 1:1 or in bulk. Launch and view in real-time emails, VoIP calls, SMS, notes & more.
AI Conversational Assistant
Hosted in a branded conversational interface and communication system — EVA engages with employees to collect and provide information, automatically updating workflow statuses and profile information while satisfying their expectations for a 24/7 personalised experience.
Employee Portals
EVA helps you deliver a personalised experience to every employee.
Within the talent portal, candidates can update their availability, clarify their career goals or aspirations, apply to relevant jobs and upload documents — all via a user-friendly user interface.
EVA ENGAGEMENT HUB
All-in-One Communication Hub
EVA gives hiring teams a holistic view of all employee interactions on a single screen. Hiring teams can easily track all calls, emails, texts, meetings, EVA Bot conversations, and employee mobility opportunities.

EVA's Engagement Hub also allows HR teams to communicate on multiple channels from one platform. All you have to do is click on employees, select the communication channel, write the message (or choose your template), then click and send.
How EVA Bot transforms every step of your Employee Experience
EVA Bot is an omnichannel chatbot that can facilitate personalised conversations at scale, 24/7. EVA Bot can be configured to your organisation's tone of voice, delivering on-demand job updates, answering FAQs, and pushing tailored job recommendations.

EVA Bot's robust AI & ML systems constantly learn from conversations to generate insights that optimise its conversational abilities. This translates into improved knowledge capabilities and a chatbot that gets better over time the more that it is used.
Apply
Apply
Using EVA, employees can see what vacancies exist within your organisation once they become available and apply in one click via their employee portal.
Your organisation can take even more proactive actions by inviting employees to apply for roles aligned to their career aspirations or current work experience.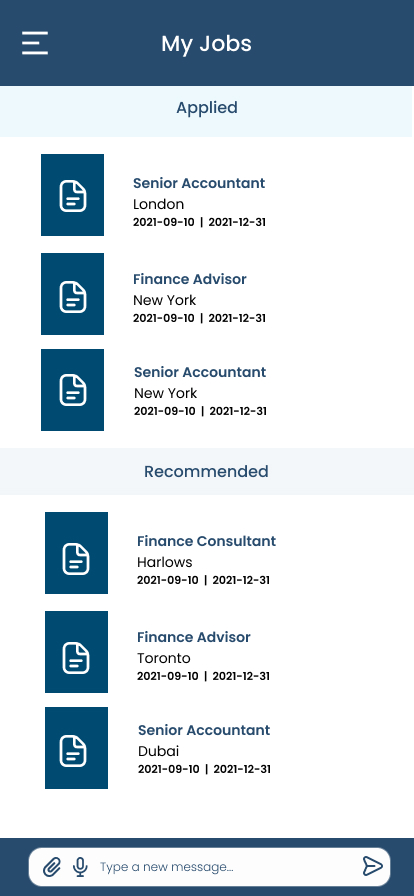 Nurture
Availability and Scheduling
FAQ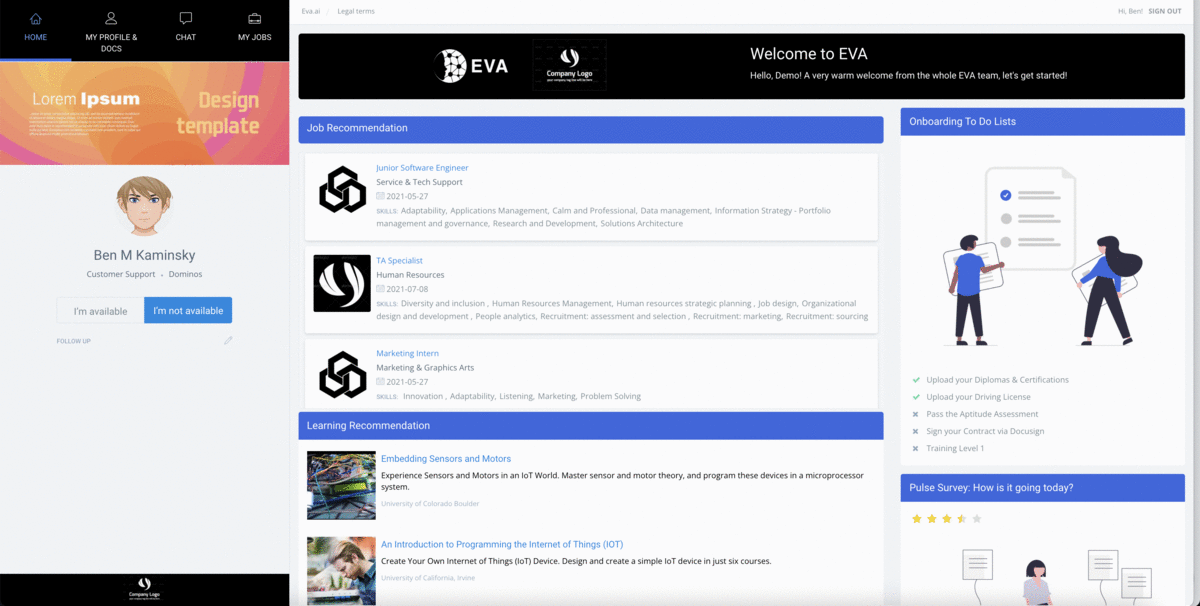 employee experience 4.0
Employee Portal & Profiles
EVA helps you go beyond the concept of a traditional employee profile: a clinical, historical account of work experience, degrees and buzzwords. By launching automated and engaging chatbot conversations, EVA helps you capture a complete — and searchable — picture of your employees.

Build fully customisable profiles that highlight all employees data points relevant to your business, such as:
Details: name, DOB, nationality, contact details, address, languages, social links, skills, tags, lists and cover letter
Work profile: current position, salary and work location; availability and notice period, preferred working hours & more
Experience: projects they have worked on and skills they have developed while at your organisation
Education/Qualifications: university, degree name and type, and graduation date
Pipelines: current and previous job workflows and their statuses.
Documents, resumes and attachments: all resumes ever uploaded, licenses, forms and other relevant document
We heard the first step is the hardest
Step today into the world of


HR 4.0
Other complementary modules to drive sustainable HCM
Align all your initiatives with EVA talent management solutions within one revolutionary platform.