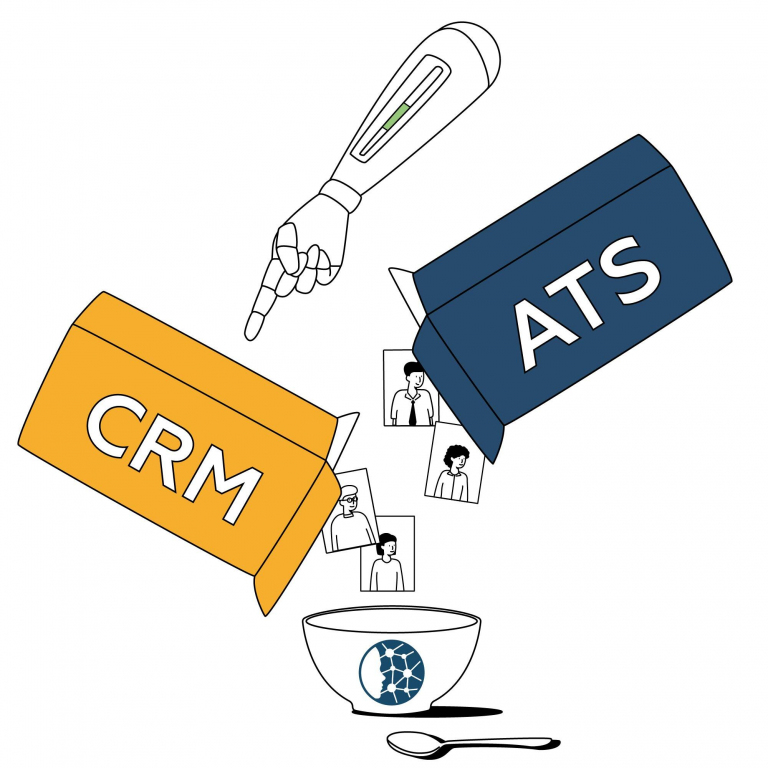 find and hire the best talent
Why EVA Talent Acquisition 4.0?
The Talent Acquisition solution that leaves repetitive, tedious work to intelligent robots.
Transform the work of your resourcing / talent acquisition team for more responsiveness, persistence & cadence.
Helped by conversational AI and predictive algorithms, EVA combines the functionalities of both an ATS and CRM in a single platform.
EVA is a unique hiring solution on the market, configurable to any recruitment workflows (FTE permanent, contract/temp, white & blue collars, alumni), and modular to complement your existing systems.
Reduce time-to-fill, simplify administrative work and hire without bias.
EVA doesn't just remove low-value, mundane and time-consuming tasks from the day-to-day lives of your recruiters. It also provides the necessary tools to promote fairness and transparency for both talent and hiring managers.

EVA ensures equal and unbiased access to information, knowledge and opportunities from start to end of recruitment funnels.
How EVA Transforms Your Talent Acquisition Function
EVA's powerful automation worfklows streamline manual, time-consuming tasks, saving each of your hiring team members up to 25 hours per week.
Workflows
Automate up to 85% of your recruiters' work
Experience
Transformed completely — from applications to onboarding with a branded recruitment portal
Job Search
Leading job search functionality for your career website applicants.
Attract
Manage & post job adverts to 300+ job boards & social media instantly with one click.
Source
Search external cv libraries & databases to import new candidates in just one click.
Engage
Conversational AI engaging and nurturing 24/7 your candidates in personalised way.
Match
Learning to get more effective over time & Using Ethical AI algorithms for Diversity & Inclusion.
Track
View all candidate engagements and interactions in a single window.
Screen
Fair, attractive and engaging screening questions delivered in a conversational fashion.
Schedule
Automated scheduling with chatbot convos & calendar sync.
Interview
Automate the process for video & recorded interviews.
Report
In-depth, in real-time across 43 metrics.
Predict
Turn every recruiter decision into a continuous insight loop.
Nurture
Automatically & consistently with personalised chatbot convos.
Recommend
Search on all job boards and import candidates in just one click.
Call
Make 10x more calls with automated call queues.
SMS
Send directly in EVA manually, automatically or in bulk.
Notify
Candidates in real-time about status changes in their application.
EVP
Consistent & engaging across their entire hiring process.
GDPR
Flexible and comprehensive GDPR - compliant actions.
Takeover
Use the chatbot as your new instant message channel.
Social
Use EVABot to chat directly on Facebook and Instagram.
Give your TA teams, hiring managers & candidates an HR 4.0 journey
Data & Information Security
Your company's data is secure and secluded in the cloud, on-premise or a mix of both. Information is accessible to specific user groups to prevent information leaks.
EVA meets the most stringent IT security and cyber protection standards.
Modular or End-to-End
Each component of our TA system is open for API and can be embedded and customised to give you incredible configuration agility. Our tech ecosystem has a broad reach providing massive potentials for integrations.
AI-enabled System
EVA's AI assistant works 24/7 to make life easier for candidates, recruiters, managers and leaders. EVA engages, prioritizes, learns and recommends the best next step to streamline your workflow processes.
User-friendly Experience
To make your users' journeys easy & the work of your people enjoyable, EVA was built from day one with a human-centred design and the latest user experience methodologies.
END-TO-END HIRING ANALYTICS
Dashboards & Reports
Build real-time reports based on your hiring data. Query, slice and dice your hiring data based on performance metrics, communication funnels, engagement effectiveness, KPIs and more.
Gain insights across your entire talent acquisition funnel and drive meaningful change based on what's going on right now.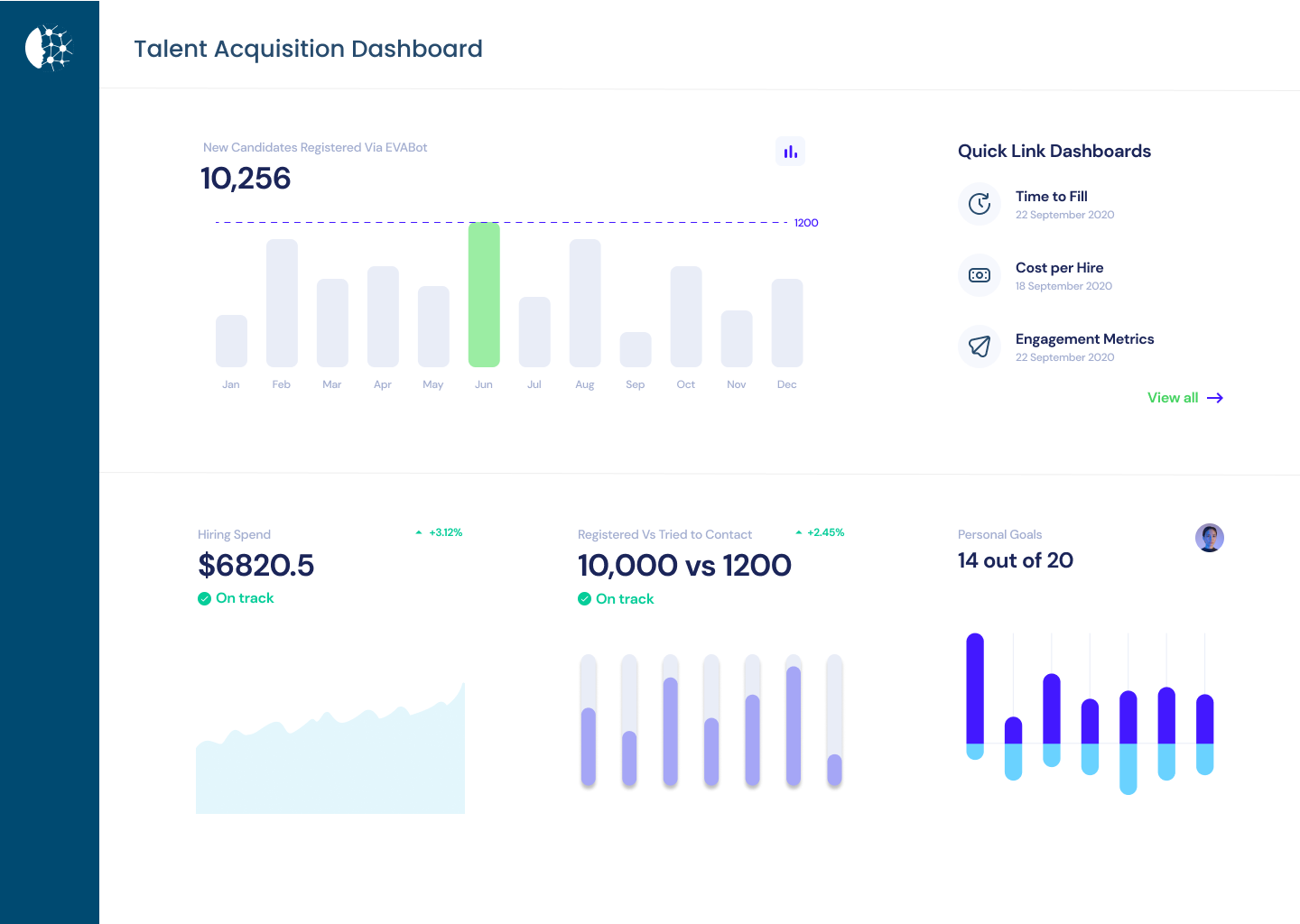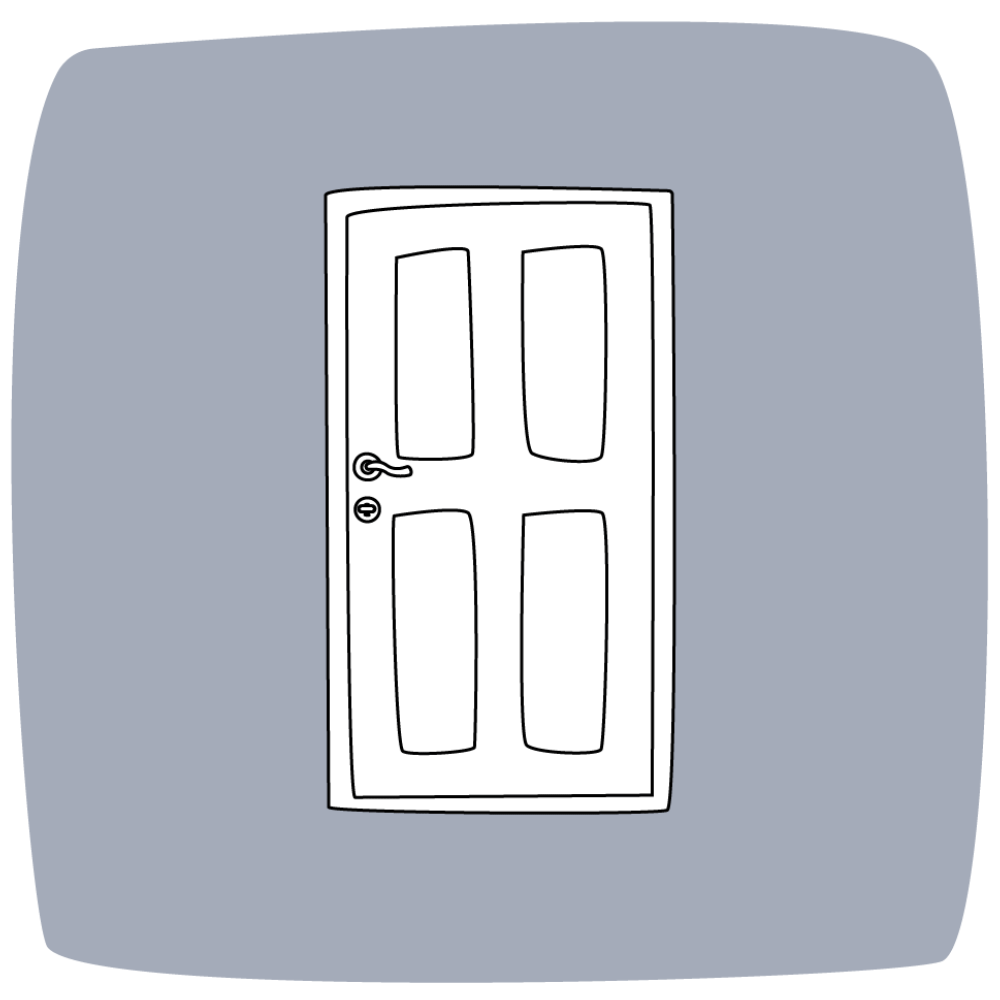 addressing your current and future challenges
Why are we different?
EVA's strength lies in meeting an organisation's specific needs. EVA solves real business problems and is a trusted, transparent and reliable partner for your success.
Our engineering team is guided by a fast-paced and ambitious roadmap that ensures you meet today's business requirements, and will evolve alongside you as your organisational needs change.
We are committed to delivering outstanding customer service, user training and onboarding for small and large teams.
within 6 to 9 months of going live
talent acquisition team productivity increase
TA 4.0 Modules to breakout performance
From one revolutionary modular platform, leverage EVA's Talent Acquisition technology modules to align all your hiring initiatives and grow sustainably.