HR Experiences Personalised, Automated & Augmented
Digital Transformation
Connect HR data, systems, and talent to respond better to talent engagement strategies, onboarding, personalised jobs and skills recommendations, and custom training. Build digitalized HCM dashboards leveraging process automation (RPA) and modern UI combined with the Experience of ATS, CRM, HRMS, and Communication Systems.
HR Convergence
Configure Talent portals with customised action interface for Candidates, Recruiters, Hiring Managers, Onboarding specialists … (and other organisation stakeholders) to carry out respective functional tasks and also interoperate within process workflows. Organise interactions, recommendations of jobs/content, and alerts between stakeholders with fitting business rules & scheduled activities.
Decision Augmentation
Design and implement your own idea of an internal talent marketplace to manage hiring, engagement, learning, and talent development in one place.
Augment your HR decisions and employee/candidate responses with talent intelligence gathered from resumes, job interests, skill needs, real-time process updates, gaps and trends analysis data.
Engagement Campaigns
Launch custom engagement (and re-engagement) campaigns using Chatbots that will execute specified goals, promote relevant call-to-actions, follow up and prompt candidates and employees to ensure target completion. Consider campaigns for recruitment marketing, talent profiling, skills assessments, surveys, personalised engagement activities and more.
Hyper Personalisation
Integrate micro-experiences into your workflows to achieve special tasks such as skill assessment widgets to collect and compare 360 evaluation scores, create charts and graphs visualising the skill maps, capacities, performance, or interactive diagrams for custom skill taxonomies built from your job descriptions at team/business function/organisation levels…
Employer Branding
Promote organisation/employer brand by customising elements such as logo and message placements, chatbot tone of voice, skills, and language, promote organisation communication feeds on dashboards, adapt forms, labels, and emails to branded templates and so on.
VISIBILITY, ACCESSIBILITY AND TRANSPARENCY
Effective Stakeholder Collaboration
We truly believe that the key to organisational longevity is highly engaging and supportive ongoing relationship with people. EVA's experience solutions leverage the collective force of engaged people to drive new levels of growth, innovation and results.

As people continuously engage with EVA, their information is automatically updated across the EVA portals. In turn, EVA's algorithms become smarter, matches become more relevant, and candidates become more engaged — facilitating a powerful, continuous loop, backed by the latest artificial intelligence.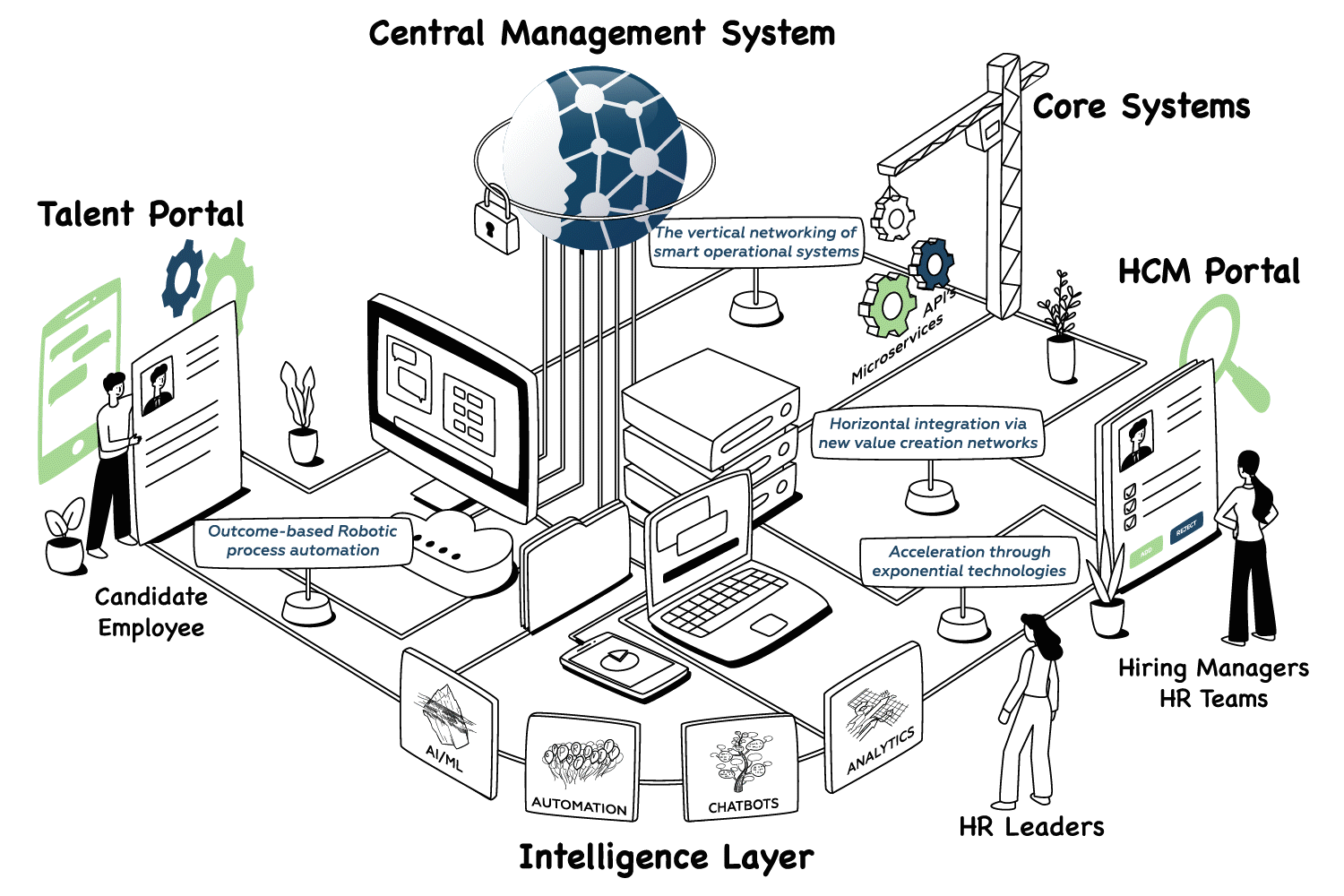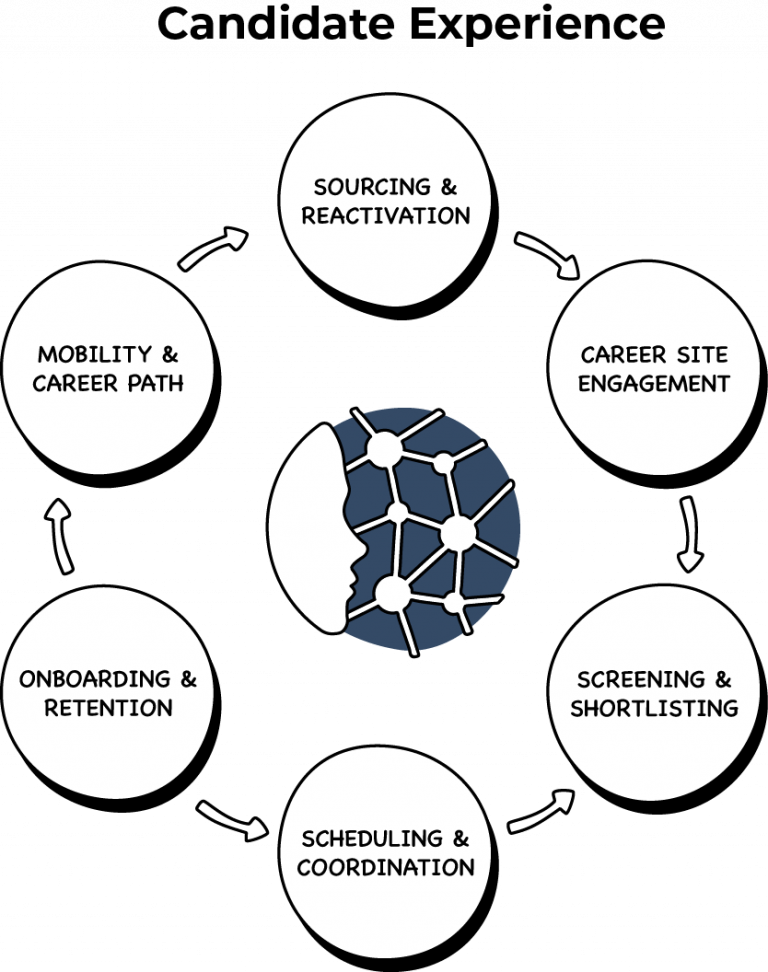 Digital Candidate Journey
Make every candidate interaction personalised
Reach out to the most promising talent active on career sites offering them job recommendations and opportunities that are cut out for their skills and interests.
Start by making candidate connections using EVA Bot, our HR virtual assistant to make the first impressions and showcase your employer brand buzz with personalised content and conversations.
Sign up the best candidates into HR 4.0 experience platform that encourages them to update their profile and availability for new jobs and recommendations.
digital employee journey
Transform experience across the employee lifecycle
Be your employee's constant ally in their journey through growth opportunities, career pathways, and reskilling/upskilling possibilities.
Employees can play multiple roles within your organisation and EVA allows them to manage their workspaces on defined interfaces with an amazing experience.
Engage and indulge employees in the organisation's culture with pulse surveys, understand personal goals, promote internal job vacancies, collaborate on referral programs and more.
Never miss out on this great yet simple strategy for employee experience to retain your best employees.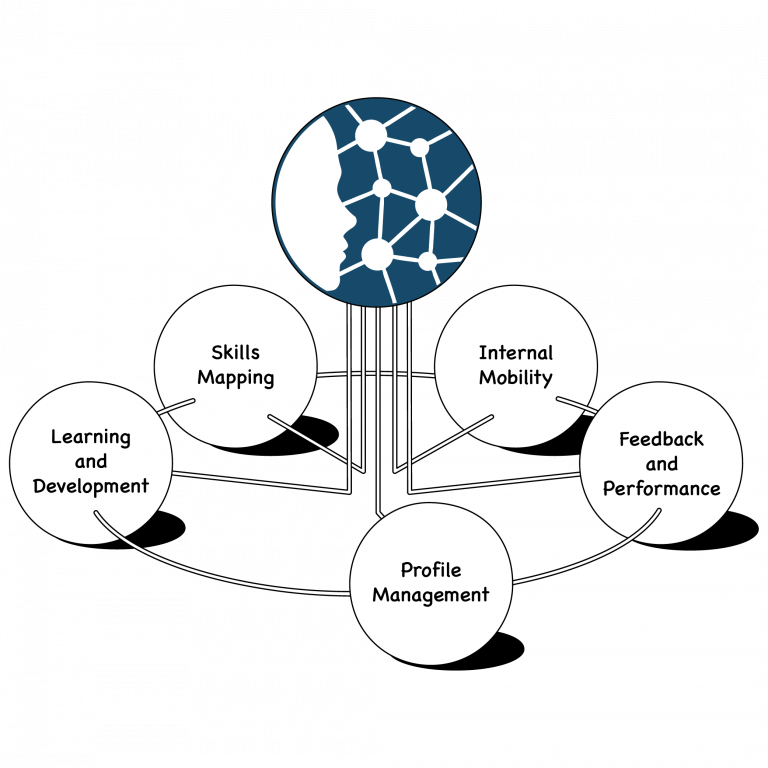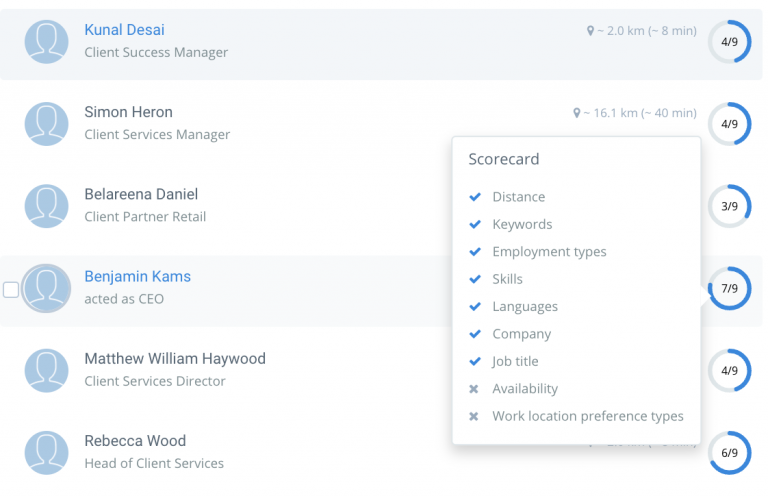 Digital TA / TM Journey
Find, nurture, and hire the best candidates faster
Build talent pipelines for your current and future requirements and align all the resources required to manage talent in a single platform to speed up time-to-hire.
Choose your strategic to-dos and offload operations to AI/ML to develop quick talent shortlists with the specified criteria, and employ conversational AI to engage with candidates that require support.
Get work done in tandem and have full visibility into the status of processes. Effortlessly pursue potential candidates with job vacancies, share opportunities with internal talent, and prioritise engagement with passive talent.
Digital Hiring Managers Journey
Win on effective collaboration
Power up your team's talent search efforts by providing timely feedback, and approvals, and expedite talent movements in the pipeline till successful offer and onboarding.
Track every step and status of candidate ranking & conversions, review scores, feedback and notes from recruiter assessments, and intervene in hiring and selection as required.
Request and recommend talent needs by defining the skill criteria, job preferences, compliance requirements, etc.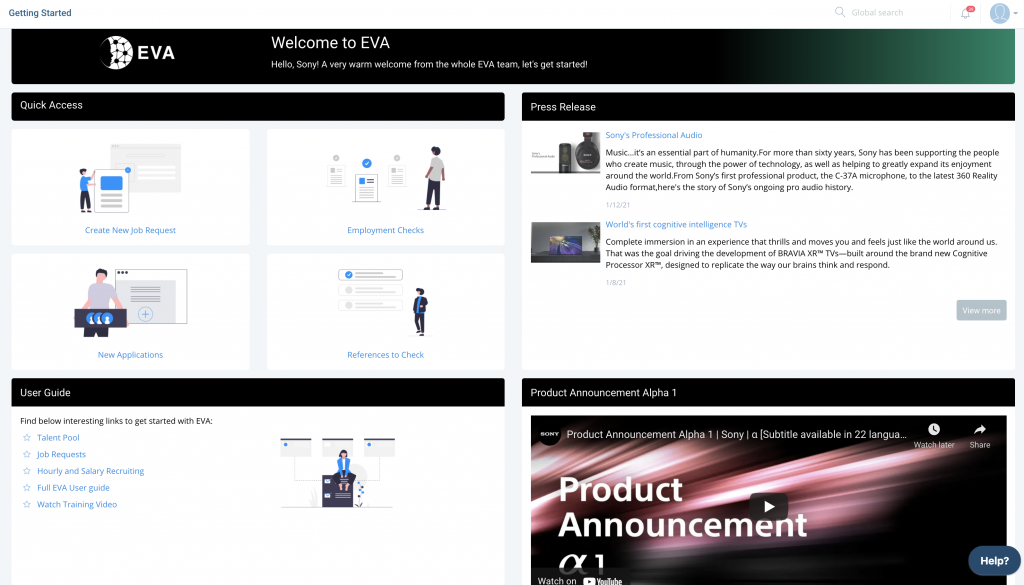 Digital HR Leaders JOURNEY
Ensure People Effectiveness is a Culture
Every pixel of talent acquisition, engagement and development interactions are captured on EVA. HR leaders can step up into a holistic management experience on personalised dashboards to zoom in on the status, tap into the progress of critical talent deployments, and access dynamic reports.
HR Leaders can look into comprehensive people metrics (hiring analytics and workforce data) to gain real insights and sharpen the hiring processes, iterate workforce management strategies and continuously monitor historical performance.
We heard the first step is the hardest
Step today into the world of


HR 4.0
HR 4.0 Experience
Digital Transformation via Experience-driven Automation
EVA's experience-led solution suites offer unparalleled value to every stakeholder within the HCM value chain. Under how we deliver on our value to revolutionise experience for your organisation