Automated, Personalised & Augmented
Digital Transformative Solution
Personalised on-demand experiences transform your people into digital natives. EVA has a human-centric interface and works on the principles of accessibility on any device, in any location, at any time of day. EVA offers a truly seamless journey regardless of where people pick up or drop-off in your business processes.
Decentralised People Management
EVA gives all your stakeholders i.e candidates, employees, HR execs and managers distinct self-serve portals that facilitate their interactions with your organisation. EVA Bot, our conversational assistant , parses and organises information directly into each of your user groups' dashboards.
Enriched People Decisions
EVA's connected portals are updated real time when candidates or employees converse with EVA AI Bot, enrich their profile via UI, make a decisions in a business workflow. These data updates are continuously calculated to provide ML / predictive based recommendations, augment decisions to help trigger next-step transition automations.
Proactive Personas Engagement
Job, Candidates, Data and Content are proactively recommended and pushed to intelligently clustered persona-based groups. Create a one-stop destination for people to support their applications, their career progression or mobility, get relevant diverse lists of profiles to engage or helpful dashboard reports to make decisions.
Personalised Reactive Engagement
EVA experience focuses its automations on transparency and reactivity so that people who engages with your company feels heard and get answers, candidates always know where they stand in the hiring process, and employees access relevant opportunities and notifications to grow and excel within your organisation.
Employer Brand Extension
Configurable to drive a consistent employer brand (EVP) end to end - from application though to your onboarding and career mobility processes, with EVA you align organisation's brand and the experiences of your career page visitors, applicants, employees, hiring managers, TA / TM Execs and leaders at every touchpoint of their digital journeys.
Every feature, data, label, button, chatbot tone of voice, skill and language can be adapted to your industry and process terminologies.
VISIBILITY, ACCESSIBILITY AND TRANSPARENCY
Effective Stakeholder Collaboration
We truly believe that the key to organisational longevity is highly engaging and supportive ongoing relationship with people. EVA's experience solutions leverage the collective force of engaged people to drive new levels of growth, innovation and results.

As people continuously engage with EVA, their information is automatically updated across the EVA portals. In turn, EVA's algorithms become smarter, matches become more relevant, and candidates become more engaged — facilitating a powerful, continuous loop, backed by the latest artificial intelligence.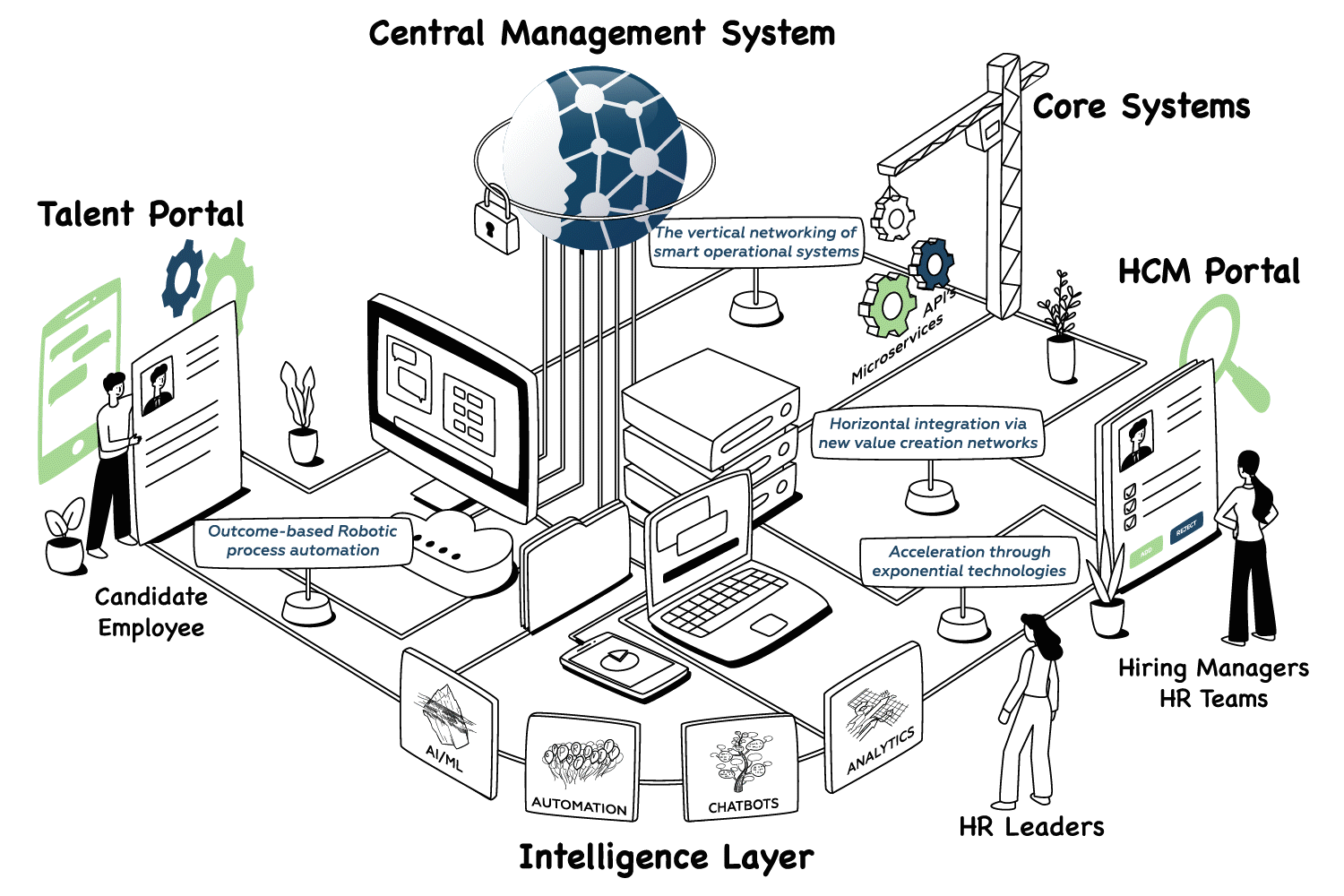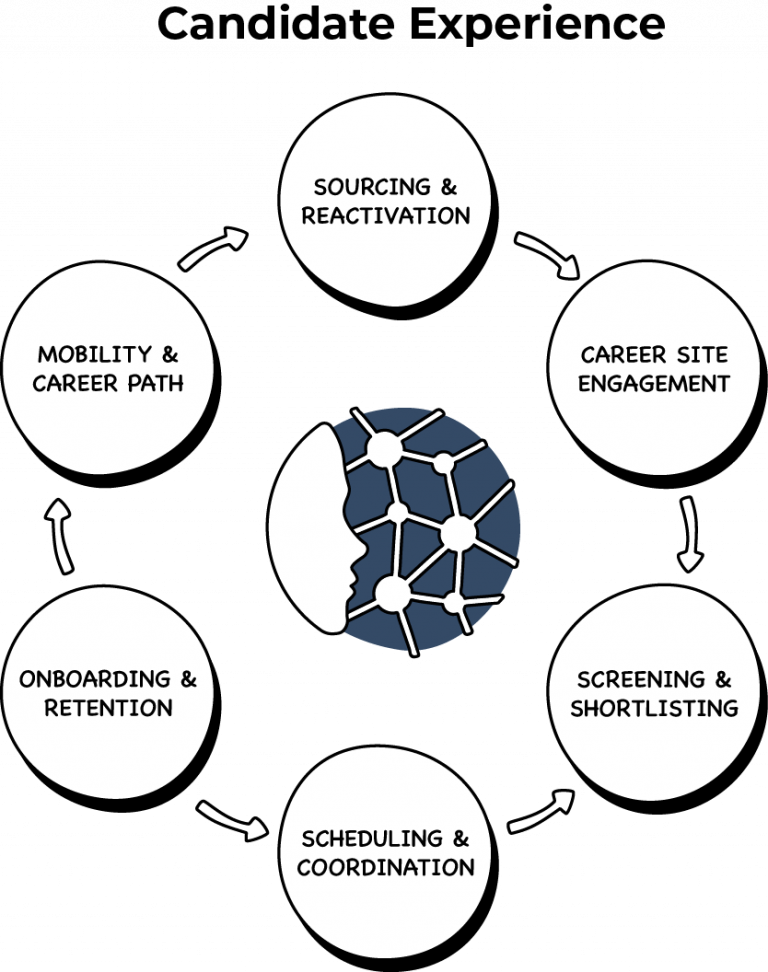 Digital Candidate Journey
Engage purposefully across the hiring lifecycle
As you work through the hiring process, hiring managers can simply click a button to change the status of a particular candidate. With EVA's custom-built automation workflows, this will trigger a pre-configured action.
For example, if a candidate is moved to the screening stage, EVABot can be automatically triggered to contact the candidate and ask a number of screening questions. For candidates, this gives them the ability to answer your questions in just minutes — at any time of day.
digital employee journey
Transform experience across the employee lifecycle
EVA's Employee Portal and intelligent chatbot gives your existing workforce everything needed to support their career and engage meaningfully with your organisation.
Within the employee portal, users can search and apply for new internal jobs, all recommended to them based on the experience, skills, and interests that fuel career progression. EVA can then build powerful shortlists from multiple sources to show to hiring managers on a single screen.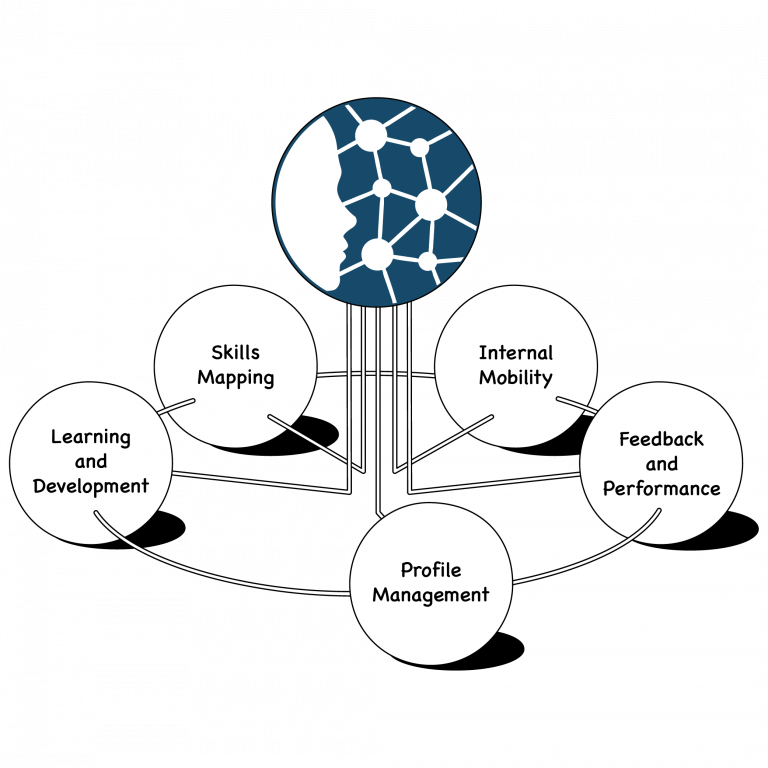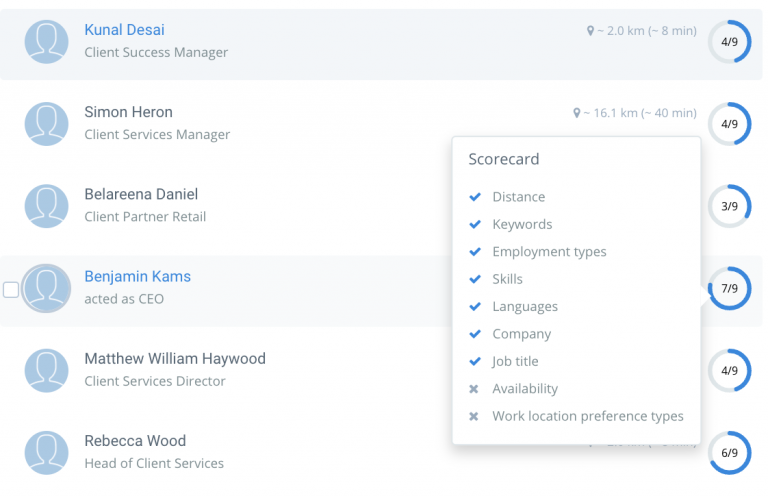 Digital TA / TM Journey
Find, nurture, and hire the best candidates faster
EVA removes the bottlenecks that modern resourcing, TA & TM teams face in managing the expectations of candidates & employees and hiring managers.
Powerful automation-first workflows reduce the rising cost of acquiring talent and frees up time for resourcing, 
Understand whether relevant applicants or in-house capabilities are increasing or decreasing, search easily externally and internally to fill these gaps, reduce cost-to-acquire, and time-to-fill by promoting ongoing vacancies and career mobility opportunities based on skills, interests and aspirations.
Digital Hiring Managers Journey
Win on effective collaboration
Intuitive portals for hiring managers and clients, EVA makes easy the process of raising job requisitions, viewing shortlisted candidates, providing ranking, scoring and feedback to HR and participating in the interview and approval processes.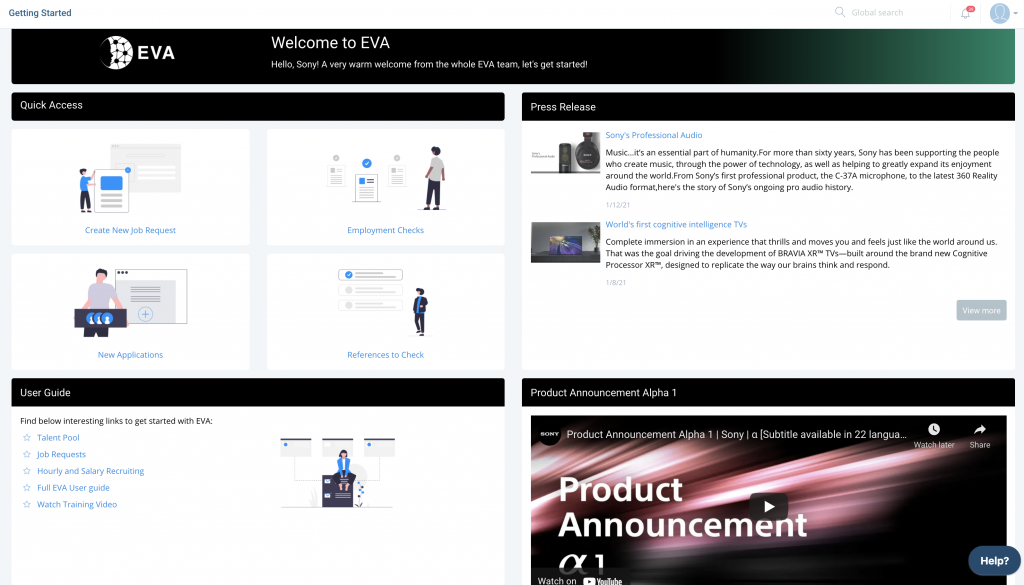 Digital Leaders
Ensure People Effectiveness is a Culture
Augmenting RPA with AI technologies enables EVA to deliver experience-driven automations that continuously learn, improve and optimise your HR service-delivery model. We help some of the world's leading organisations to
Deploy capabilities and technology solutions that enable the workforce of the future
Power organisational sustainability via digital transformation 
Scale personalised, relevant and impactful experiences for candidates, employees and HR leaders 
Leverage the untapped potential of big data to optimise processes and make strategic decisions 
We heard the first step is the hardest
Step today into the world of


HR 4.0
HR 4.0 Experience
Digital Transformation via Experience-driven Automation
EVA's experience-led solution suites offer unparalleled value to every stakeholder within the HCM value chain. Under how we deliver on our value to revolutionise experience for your organisation