Leading Candidate Engagement
Engage & Nurture
EVA ensures every candidate engages with your organisation 24/7, on-demand, in a consistent, personalised fashion at scale. From the conversations, EVA collects data your organisation needs to keep engaged and nurtured the talent pool.

COMPLETE candidate ENGAGEMENT SOLUTION
Why EVA Engagement & Nurturing Module?
The EVA approach to candidate engagement is managed via three powerful, seamlessly interchanging modules transforming your talent acquisition experience.
Communication Hub
Engage with candidates, contacts and colleagues across numerous channels with all comms and interactions auto-tracked and displayed in a single window. Engage automatically or manually, 1:1 or in bulk. Launch and view in real-time emails, VoIP calls, SMS, notes & more.
AI Conversational Assistant
Hosted in a branded conversational interface and communication system — EVA engages with candidates to collect and provide information, automatically updating workflow statuses and profile information while satisfying their expectations for a 24/7 personalized experience.
Personalised Candidate Portals
EVA helps you deliver a personalised experience to every candidate.
Within the talent portal, candidates can upload their CV, update their availability, clarify their career goals or aspirations, apply to relevant jobs and upload documents — all via a user-friendly user interface.
EVA ENGAGEMENT HUB
All-in-One Communication Hub
EVA's Engagement Hub ensures that all stakeholders' communications are centralised and accessible for your entire hiring process. Your recruiting / TA team can have a hive-mind and can take the appropriate action(s) on a candidate to candidate basis. This includes calls and SMS (logs — types and outcomes), emails, Facebook messages, chatbot conversations (via automated campaigns and manual takeover), along with all notes, pipeline/workflow status changes and more.
VOIP & SMS
In-App Calls and Text Messaging
Telephone and SMS are essential channels of communication and conversion. EVA's VOIP capabilities allow your hiring team to send/receive text messages and phone calls within the platform.

Build call queues for auto-dial with 1 click
Send SMS to individuals or multiple candidates at once
Create text message templates that EVA can automatically send to candidates as they move across the hiring funnel
Track engagement history with auto-log calls and text activities
Tag and organise calls based on type (e.g. sending calls), status (e.g. completed) & outcome (e.g. screened, rejected)
Add notes to SMS during and after call interactions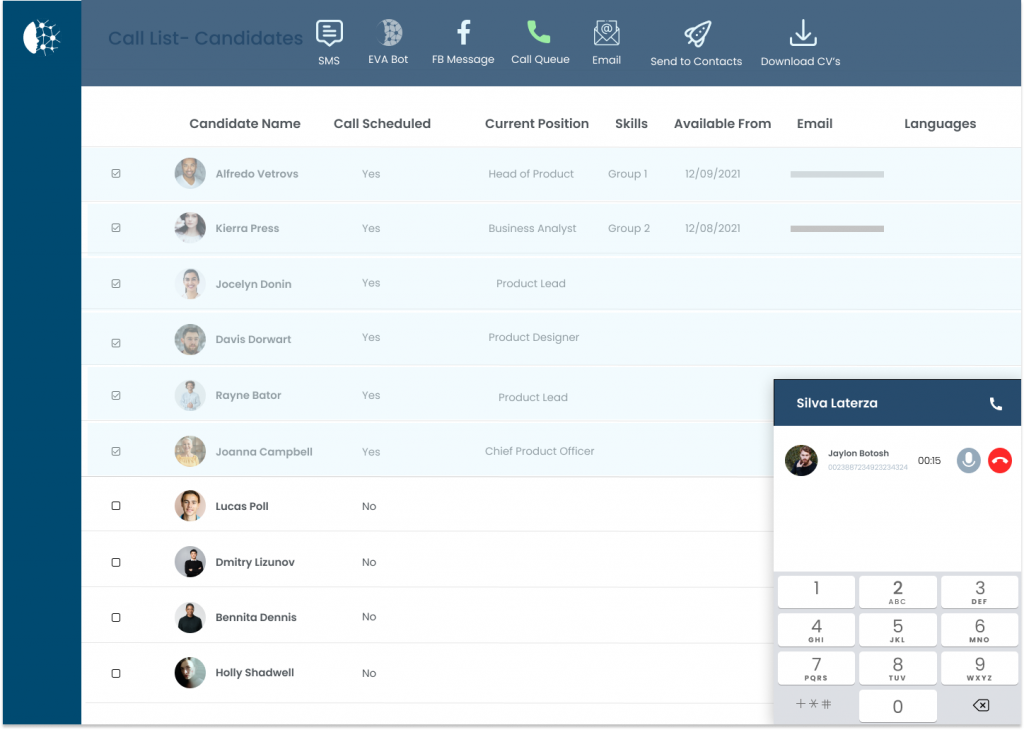 Emails
Chatbot Handover
CONVERSATIONAL AI ASSISTANT FOR HIRING
"Thanks EVA!" Engaging Recruiting Experience
EVA Bot is an omnichannel chatbot that engages candidates in personalised conversations. At scale, 24/7, EVA Bot comes pre-configured with hard-wired Natural Language Understanding algorithms. Your team decides though EVA's tone of voice reflects your organisation's EVP.
EVA Bot's conversational AI capabilities constantly improve as EVA learns from conversations and is trained over time by you to be better at handling more of your scenarios.
Apply
Apply
EVA Bot replaces the static application forms on your career websites and eliminates one-way data exchanges.

5-10 minutes application time
70-90% application completion rate
Apply via desktops and mobile devices, without the need to download an app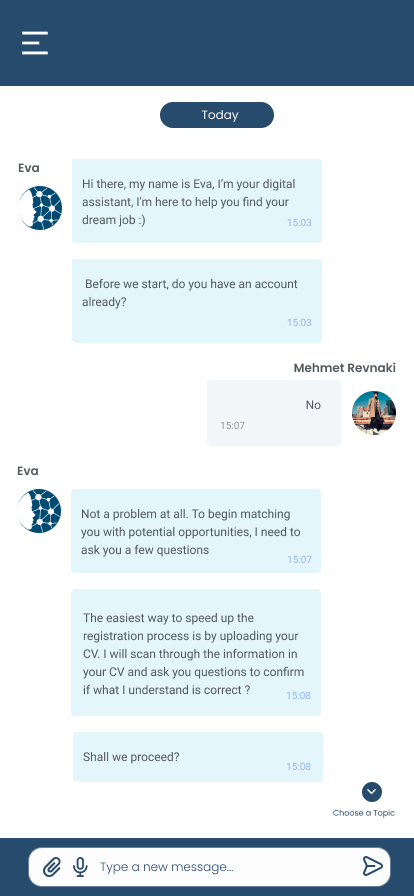 Screen
Nurture
Availability & Scheduling
FAQ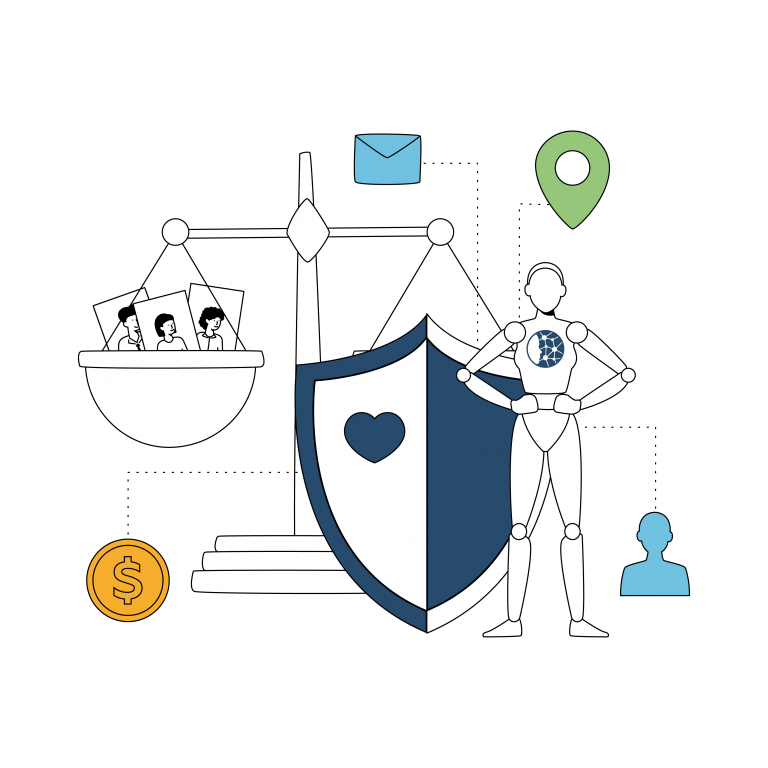 Candidate experience 4.0
Talent Portal
EVA Conversational AI engages candidates in a responsive messenger hosted within a branded Talent Portal. From there, candidates can manage their profiles, update their availability, clarify their career goals or aspirations, apply to relevant jobs, keep track of their application statuses, upload their CV, attach documents and get AI-based job and learning recommendations — all via a user-friendly user interface.
EVA helps you go beyond the traditional candidate profile consisting of clinical accounts of work experience, degrees and buzzwords.

Details: name, DOB, nationality, contact details, address, languages, social links, skills, proficiencies, tags, lists and cover letter
Work profile: current position, salary and work location; availability and notice period, preferred working hours & more
Experience: past permanent and interim work history; identifies rehires
Education/Qualifications: university, degree/certification name and type, and graduation date
Pipelines: current and previous job workflows and their statuses
Documents, resumes and attachments: all resumes ever uploaded, licenses, forms and other relevant documentation
We heard the first step is the hardest
Step today into the world of


HR 4.0
Other complementary modules to achieve Breakout Performance.
Align all your hiring initiatives with EVA's fully integrated talent acquisition technology within one revolutionary platform.