Search & Match
EVA's intuitive AI-powered candidate matching and faceted search functionalities solve the problem of strategically surfacing the most relevant talent to your job requirements while providing equal opportunities and transparency in your processes.

PRE-LOADED INTELLIGENT SEARCHES
Leverage the power of your Candidate data
Your hiring database contains invaluable talent data; successful hiring teams are built on their ability to find the best candidates quickly. 
EVA's intuitive faceted search & AI-Matching capabilities reduce time-to-fill by eliminating time-consuming searches.
Intelligently and quickly find the best talent for a job based on weighted search parameters and machine learning algorithms.
Why EVA Search & Match Module?
EVA user-friendly Search and Match module comes with pre-loaded intelligent queries generated from analysing the parameters of your job requests and from machine learning-based algorithms trained by your team.
Your talent acquisition team members can freely choose or combine any or all of the search parameters and weighting options available.
INTELLIGENT CANDIDATE SORTING
From Black Hole To Diamond Mine With AI-Driven Search
Reach out to top talent before your competition does.
Boolean Search
Run traditional boolean searches, combining the power of search functions like 'AND', 'OR', and 'NOT' to find candidates.
Semantic Search
Enable your hiring team to search more intuitively and keep up with new job titles & industry-specific keywords.
Elastic Search
Store complex queries on several weighted parameters, analyse vast volumes of candidates and sort them with pinpoint precision.
Geo-Search
Search for candidates based on their position versus the job location and radius parameters in distance and commute time.
Table List Search
Candidate list view mode with highly customisable filters.
Global Search Bar
Quickly search & locate pivotal pieces of information based on free text keywords.
Ghost Job Search
Create a "ghost" job requisition with queries to long list candidates that match different strategic criteria and continuously build a highly sought-out talent pool ready for automated outreach.
Supervised ML Search
Leverage EVA's machine learning candidate recommendation capabilities by using your historical TA & Recruitment teams' decisions to progress and reject candidates to jobs, along with hiring managers' positive feedback on existing employee profiles. Inherently biased data points such as name, nationality, age, gender, or address are not included in the machine learning model.
D&I Compliant Search
While anonymising personal information to remove unconscious bias, randomly Include relevant D&I profiles at the top of the priority list to promote equality of opportunities and identify those likely to succeed within a diverse and inclusive process.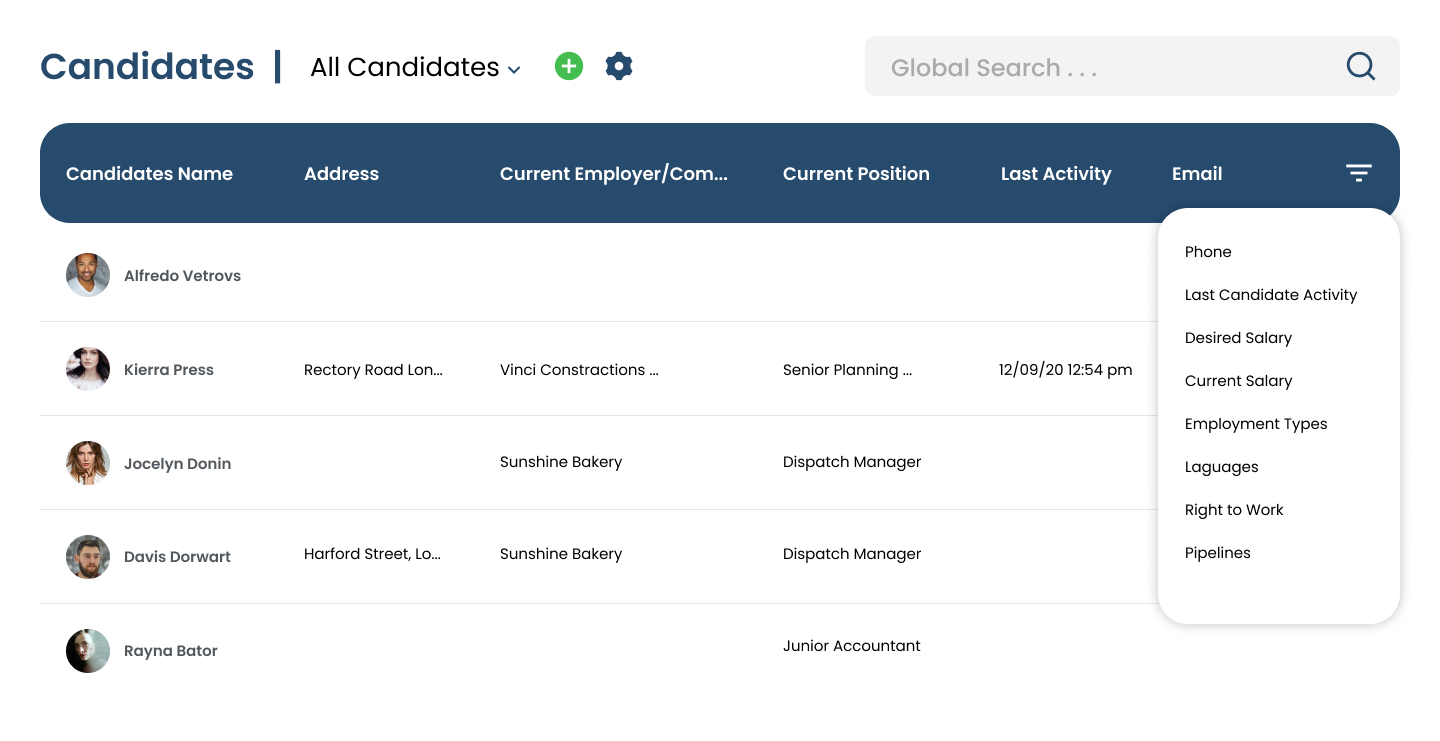 AUTOMATED TALENT POOLS
Top Talent At Your Fingertips
Unparalleled flexibility around how you manage your talent database. Your team can either automate talent-pooling or build candidate lists manually.
Manual lists: Created to form lists of candidates that won't automatically update. These lists remain static or fixed until and unless the agent adds or removes candidates.
Intelligent lists: Users can create smart lists based on their desired parameters, such as current job title, job type, skills and tags. Lists update automatically when a new candidate/contact/job matches the parameters.
Smart Tip: Smart lists can trigger candidate re-engagement.
Tags: Auto-tag candidate skills while parsing resumes or manually when reviewing candidate profile.
We heard the first step is the hardest
Step today into the world of


HR 4.0
Complementary modules to breakout performance
Align all your hiring initiatives with EVA's fully integrated talent acquisition technology within one revolutionary platform.