Why EVA Analytics?
Project your HCM/HR team's contribution to the workplace from various functions, recruitment, talent development, engagement etc. Drive understanding of your operations and trends using data lying anywhere within your HR tech stack and power your reporting on EVA leveraging BI tools.
EVA's open-ended APIs can integrate with existing tech stacks and layer BI tools such as Tableau, PowerBI, Metabase, and Panintelligence to drive robust analytics and data visualisation.
A Holistic Approach
EVA aggregates all the data from your previously siloed systems into one data source so that every team member utilises the same data and optimises your entire HCM function for growth.
Faster Time to Value
Answer the most pertinent questions facing HR teams today. Role-focused dashboards are easy to use and allow users to explore data within the self-service module intuitively.
Connect Decisions
Our framework delivers high-quality data that allows organisations to collect, access and deploy insights from the platform across their people and processes.
Scalable Infrastructure
Configure EVA's HR analytics around your business requirements with specific metric tracking, data visualisation requests and analytic modelling.
Predictive Analytics
EVA's predictive AI algorithms and Machine learning capabilities layer on our core analytics functionality, transforming organisational data into strategic optimised assets.
Data Governance
EVA's analytics capabilities are designed for enterprise-grade data management with proper security controls in place.
Growth opportunities exist in insight gaps.
EVA's comprehensive reporting and analytics solution aggregate all the data from your existing systems to power intuitive and end-to-end reporting from a single source of truth. Turn these insights into actionable outcomes that help your team continuously improve.
Insights into Hiring effectiveness
Talent Acquisition Analytics
Highlight your time-to-hire data and most successful recruitment engagement strategies; capture every movement of your hiring pipeline with TA analytics.
Analyse and find the best channels & sources of talent to maintain the best pipeline quality.
Evaluate your recruitment marketing efforts, campaign clicks and conversions, and data analytics from your ATS & CRM.
Visualise a candidate's experience and timeline from a lead to hire, an applicant to a new employee, with real-time tracking of hiring status movements.
List of Talent Acquisition metrics suitable for modern hiring teams.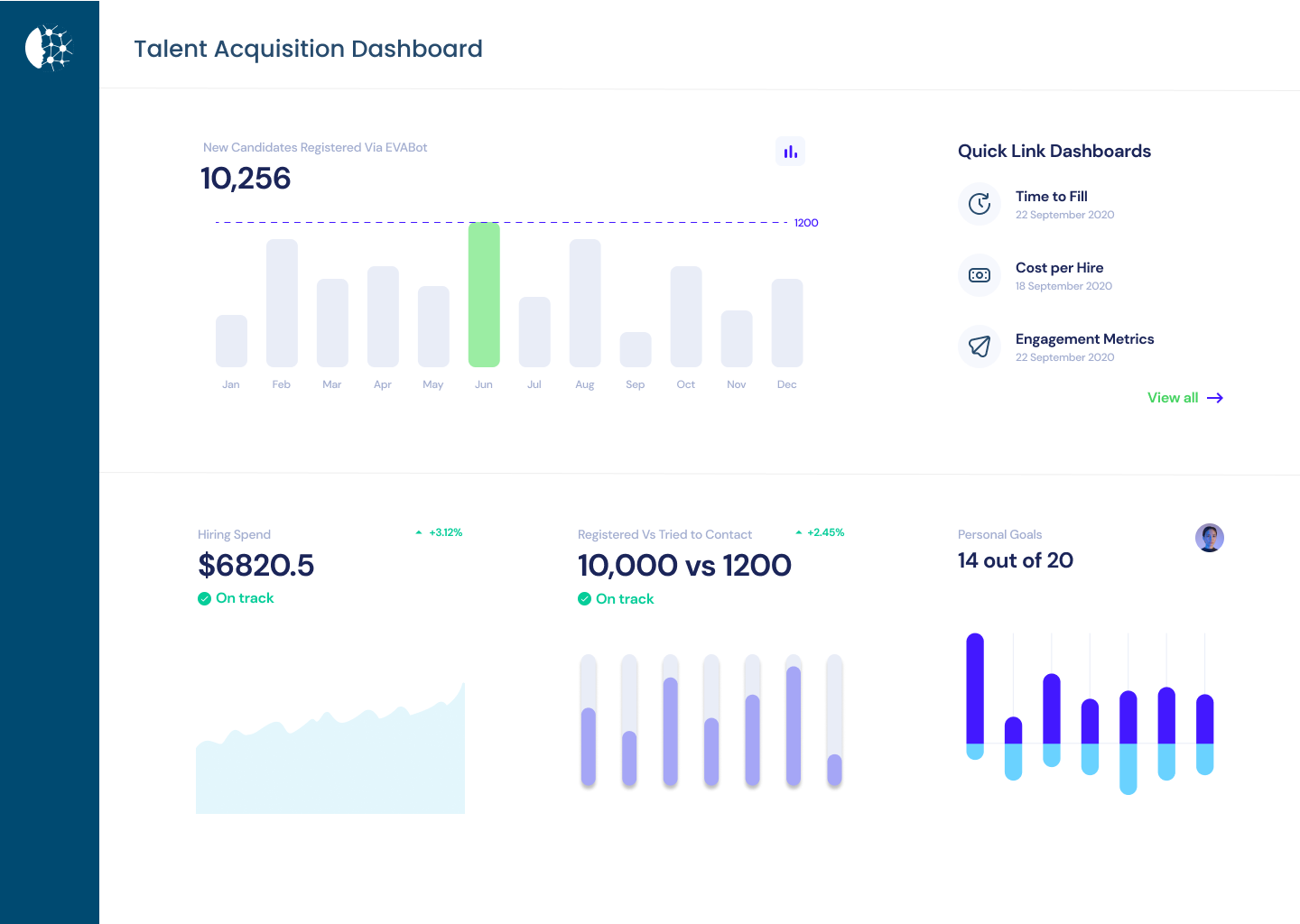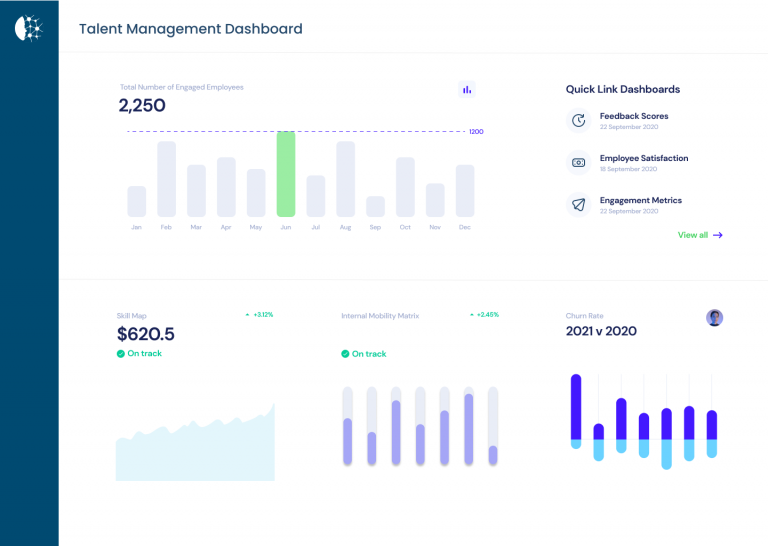 Organisation Talent pulsecheck
Talent Management Analytics
Minimise the guesswork on workforce decisions and "may-be" conclusions on employee experience, mobility, and talent engagement initiatives. Follow your talent's digital footprints right from capturing the source of hire till their exit and where they are leaving after resignation.
Build solid foundations of talent insights with data, tech, and skills, workforce experience, future skills & demand, employment trends, and more.
Bet data on your predictions: talent that is likely to churn, the next best employee for leadership roles (succession), pipelines that qualify for promotions, and so on.
Get ideas on people metrics that matter.
Answer questions that your HR leaders really care about
Workforce Analytics
Visualise your organisation's global capacities, skill distribution, and the structure and direction of your workforce strategies to boost your decision power. Boost your data culture and redefine workforce experiences.
Skill gaps and forecasting your talent flow.
Workforce supply and demand trends.
How far is your organisation in developing the talent of the future?
Predict what's next for your talent investments
Find out EVA's formula for solving the Workforce Planning puzzle.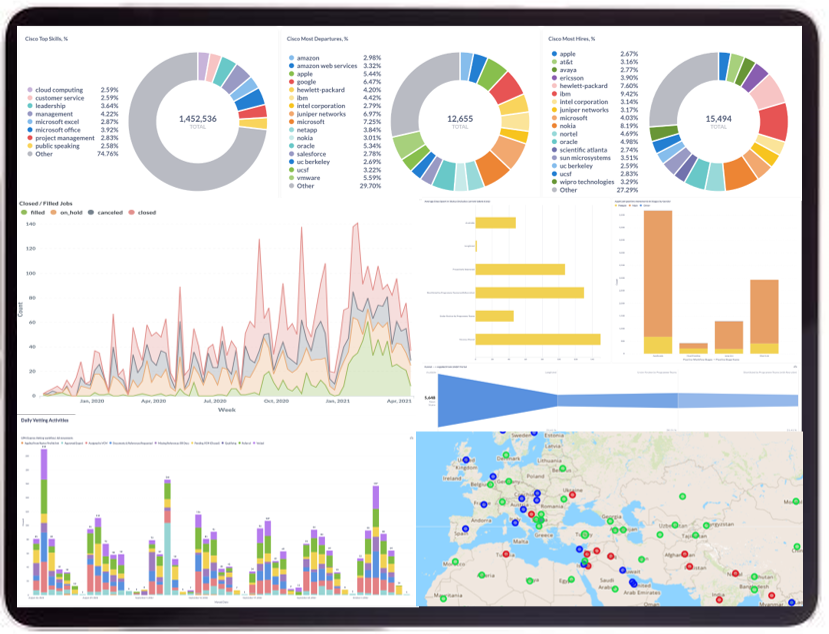 Integrate your BI tech stack
EVA's open-ended APIs can integrate with both existing tech stacks and BI tools, allowing you to power all your reporting via EVA. Tableau, PowerBI, Metabase and more can function as a layer on EVA's capabilities to drive even more robust analytics functions.

We heard the first step is the hardest
Step today into the world of


HR 4.0
COGNITIVE TECHNOLOGIES POWER HR 4.0
Become efficient and effective at every stage
EVA.ai's automation-first mindset combined with cognitive technologies creates a digital enterprise that is interconnected and capable of making holistic, informed and data-driven decisions that facilitate intelligent outcomes.