Win on EMPLOYEE EXPERIENCE
Digital Employee Journey
HR 4.0 delivers a transformative solution for your internal applicants by ensuring a transparent, fair internal mobility process and providing a personalised and engaging experience.
How EVA transforms your employee engagement capabilities
We truly believe that the key to organisational longevity is a highly engaging and supportive ongoing relationship with employees. EVA's employee engagement solution leverages the collective force of engaged employees to drive new levels of growth, innovation and results.

Far exceeding the limiting confines of a traditional employee hub or intranet portal, EVA DEJ is a single framework designed to stimulate employee engagement while unifying company-wide talent management initiatives — from wellness to professional development and internal mobility. It's a one-stop-shop for a sophisticated, digital and multi-level talent management experience.
24/7 Self-serve Portal
EVA's employee portal allows employees to update their details, personal career goals, willingness to take on new opportunities and more. Employees can directly update your systems of records, saving time and money.
Conversational Automation
EVA Bot engages deliberately and thoughtfully 24/7, utilising its contextual knowledge of the employee information within your system to facilitate personalised and outcome-driven conversations at scale.
Promote Internal Mobility
Within the employee portal, your people can apply to internal vacancies with one click. Proactively launch campaigns to update people's skills and work experience and use this information to recommend jobs directly to relevant employees.
Keep your Best People
With exciting internal career options readily available to employees, fewer people leave to seek opportunities elsewhere. Redeploy your best people to take on internal challenges and nurture a workforce of dedicated and engaged employees.
Outcomation Workflows
EVA automates next-action steps based on the outcome of every employee decision. EVA eliminates the information blackhole by delivering updates in real-time across defined channels (SMS, chat, email or notification) on any device.
An Extension of your Organisation
Configure the Employee Portal and chatbot to align with your brand values, terms, branding, colours, language and tonality. Deliver a consistent employee experience at every touchpoint of their career and mobility journey.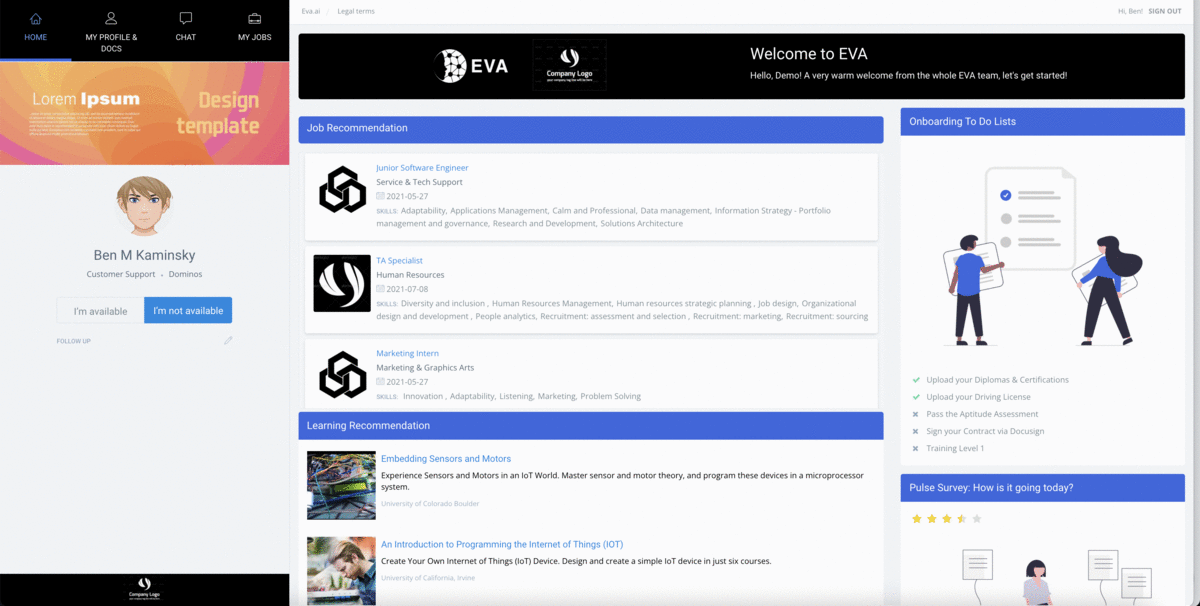 24/7 on-demand employee experience
Employee Portal
EVA's Employee Portal gives employees everything they need to support their careers and engage meaningfully with your organisation.
Employees can engage with EVABot to update their talent profiles, search and apply for relevant internal vacancies, ask and find the information they need, view the status of their applications and view recommended jobs, plus much more, simply by engaging with the chatbot.
Engage purposefully across the employee lifecycle
EVA's Employee Portal and intelligent chatbot give your existing workforce everything needed to support their career and engage meaningfully with your organisation.
Users can search and apply for new internal jobs within the employee portal, all recommended to them based on the experience, skills, and interests that fuel career progression.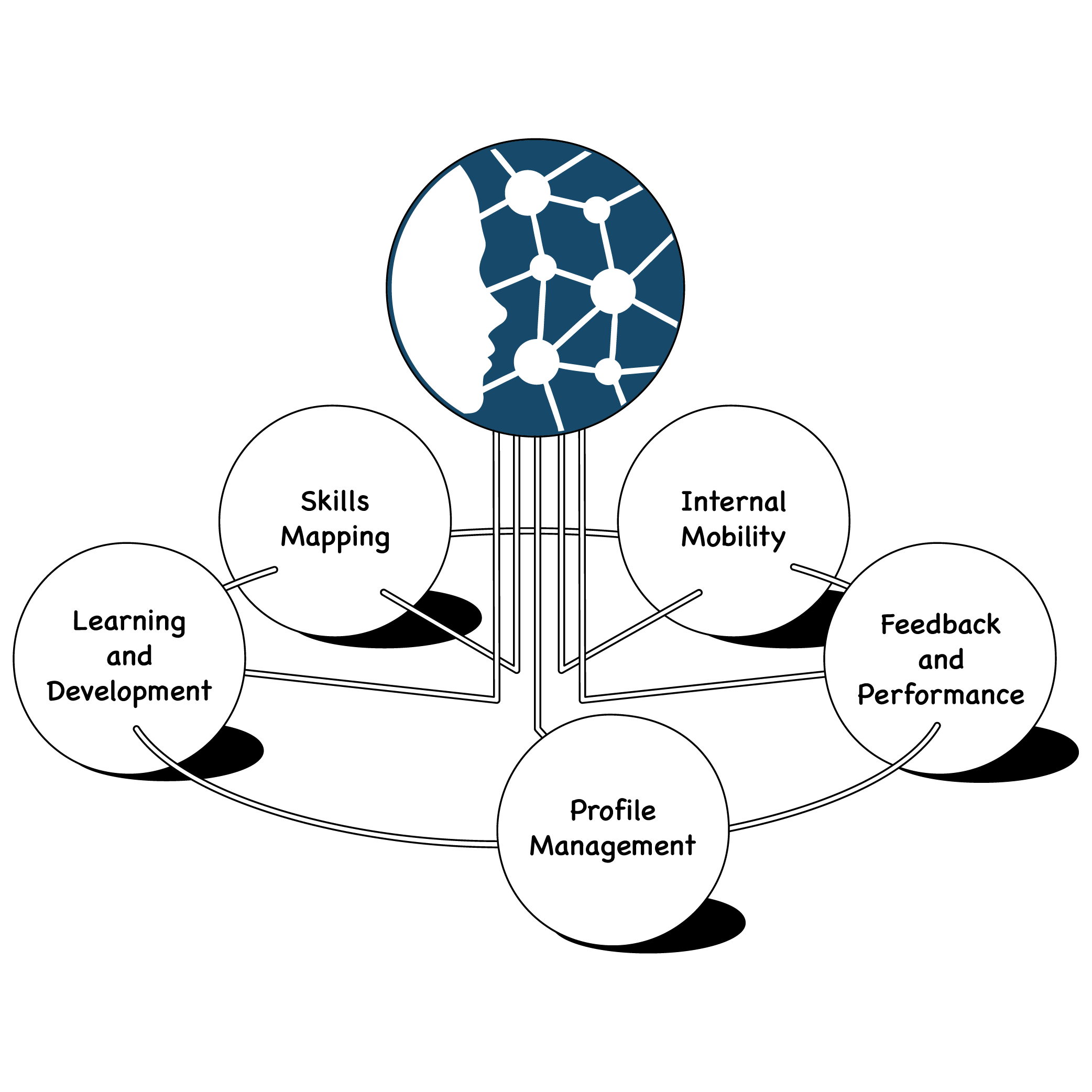 We heard the first step is the hardest
Step today into the world of


HR 4.0
HR 4.0 Experience
Digital Transformation via Experience-driven Automation
EVA's experience-led solution suites offer unparalleled value to every stakeholder within the HCM value chain.