Win on Recruiter Experience
Digital Recruiter Journey
HR 4.0 delivers a transformative solution for your human capital management efforts. Configurable system for the needs of your recruiters, talent acquisition / talent management team members, It gives you all the technological innovations your organisation needs to reach higher levels of productivity and sustainable HR.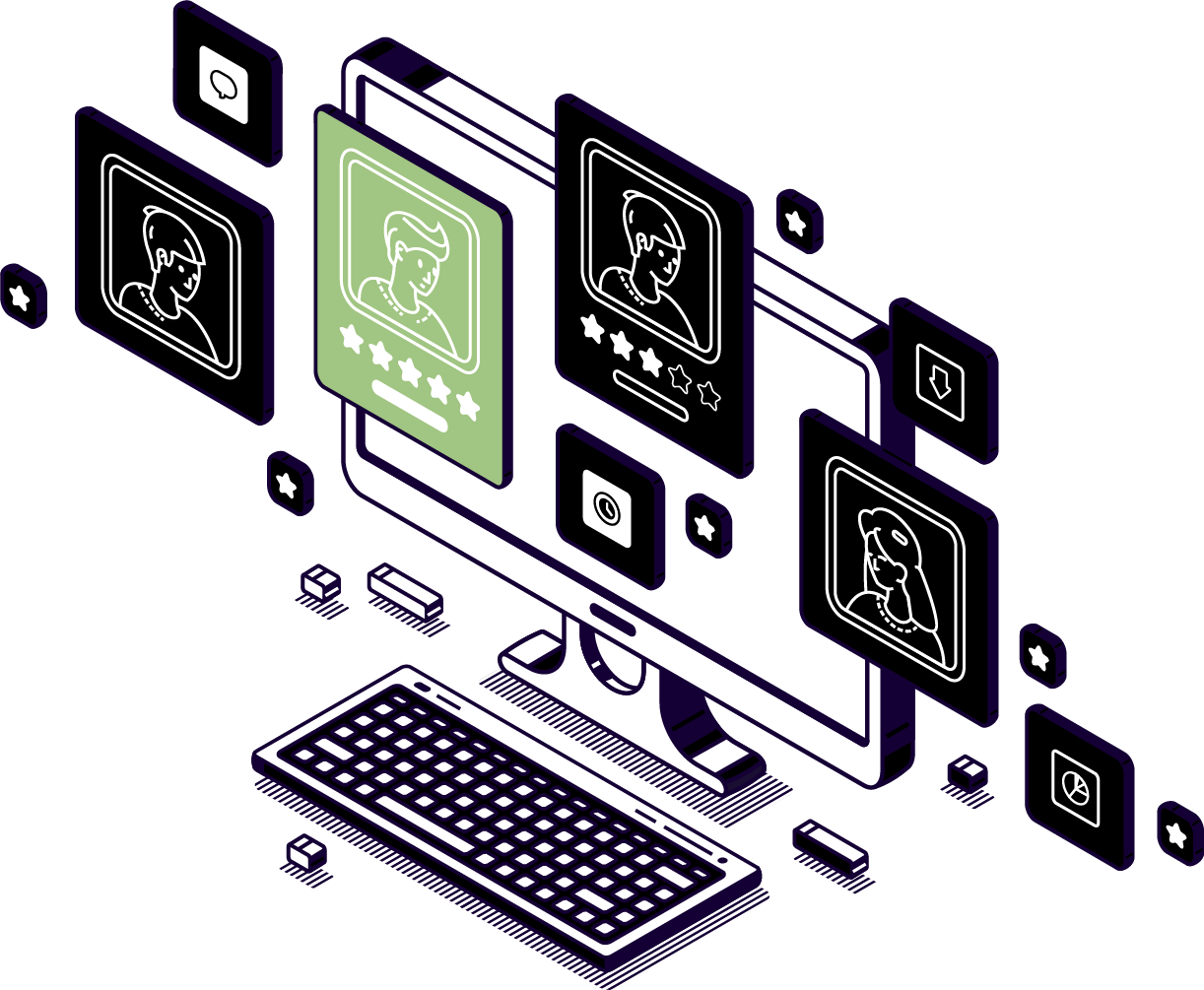 Why EVA for Hiring Teams?
EVA.ai specialises in tackling sophisticated Talent Acquisition and Talent Management challenges. EVA automates your people-focused workflows and processes, taking into account every data point and decision your talent acquisition or HR teams, candidates, and employees make in real-time.

Each stakeholder is assigned an HCM portal uniquely configured to your organisation with every touchpoint designed to remove the friction and frustrations caused by manual actions.
Build to Scale
EVA's engaging chatbot conversations and employee portals transform the pre-boarding and induction experience, helping you adapt to the new remote way of work.
Powerful Outcomation
Configure your custom RPA workflows to automate next-action steps. Personalise every interaction to eliminate manual effort.
Ethical AI-Powered Matches
EVA's AI-matching algorithms are built to neutralise the presence of unconscious bias, ignoring variables that can promote it, such as ethnicity, age, race and gender.
Internal Mobility
Show each individual how to add skills and move forward in their career proactively. Provide each person with the same opportunity to advance — the cornerstone of an inclusive organisation.
Capacity Mapping
Consolidate all employee info in one place for a complete overview of your talent, and use EVA's insights to power your mobility plan.
Sustainable HCM
Sustainably manage human capital efficiently, effectively and with care, helping forward-thinking managers mobilise a diverse pool of talent driving individual growth and organisational performance.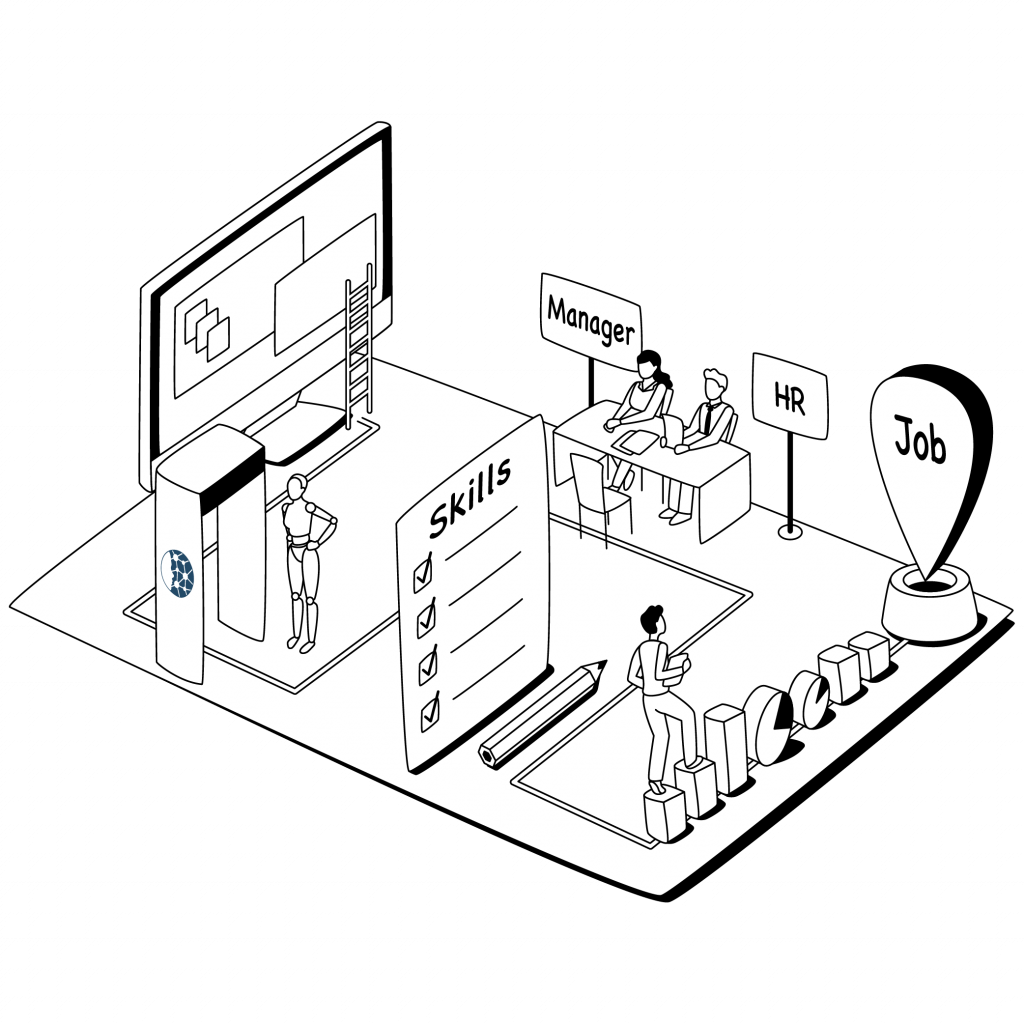 Candidate Screening
Automate the screening process
EVA intelligently engages and sorts through talent profiles, pushing the most relevant people to the top of your pipelines:
Conversational Screening
Organisations can deploy EVA Bot to work on hiring boards, career pages, internal boards or websites to replace the click heavy and manual form-based application process.
Sustainable Hiring Processes
Define workflows around 'if' and 'then' outcomes across your screening processes. Automate follow-up messages to acknowledge applications, send personalised next-steps or rejections with the click of a button.
Qualify Talent
EVA Bot can engage with candidates and employees to deliver your aptitude, behavioural and personality tests. Scoring from tests is included in EVA's knowledge set.
candidate matching platform
Hire for Fit and Potential
Run AI-powered searches to discover the top talent both within your external and internal talent pools — all within one window in EVA:
Talent Pools
Automate segmentation across your entire talent database (internal and external) by skills, internal CV tags, availability status, qualifications, years of experience and more.
Configurable Filters
Configurable filters ensure that agents can customise the hiring requirements against the search parameters. As a bonus, EVA integrates into third-party job boards to power a more comprehensive search.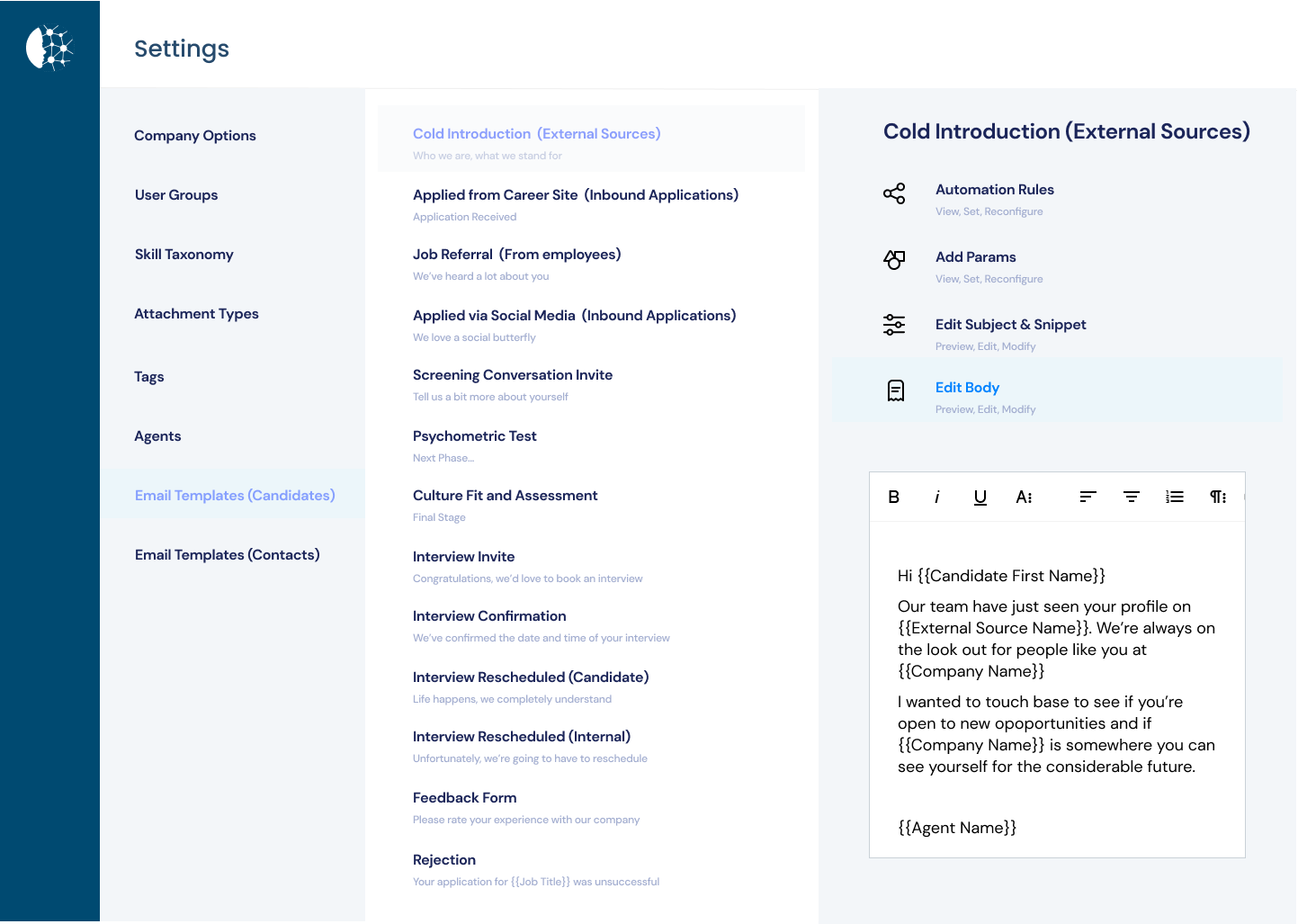 Automate Engagement
Personalised Engagement at Scale
EVA ensures that every candidate can engage with your organisation on-demand:
Capture Insights via Conversation
EVA Bot parses CVs in real-time, automatically updates profiles and kicks off relevant screening processes to capture intangible insights beyond a person's CV.
Personalise Response Templates
Define triggers with EVA's RPA workflows that can be triggered across SMS or email to talent as they move across their individual experiences with your company.
Qualify Talent
EVA combines the power of emails and chatbot campaigns to proactively gather fresh insights on candidates' current work status, preferences, skills and work experience
hiring team collaboration
A Single Source of Truth
Assign roles across your HR teams to manage different levels of access. User-aligned interfaces ensure distinct functions within your organisation are privy to information that falls within their job specifications:
Roles & Permissions
Assign roles across your HR teams to manage different levels of access to information.
Notifications and Reminders
Ensure everyone is always on top of work by setting notifications & reminders. Track pending to-do's, manage work allocation and build accountability for who is responsible for what.
Engagement Hub
EVA's communication hub ensures all candidate interactions, internal notes and tasks relating to each candidate are accessible across the hiring team.
Automation-First
Configurable Workflows
The canvas on which people, process and tech automation with AI converge are Workflows. Design multiple workflows reflecting the different stages of any of your HR processes.
Endless Automation Possibilities
HR admin users have complete control to configure the different stages and steps of the workflows. They can create, name, edit and delete workflows that manage "Job requests" by Hiring Managers, "Jobs" ("Vacancies") to be worked upon by Recruiter / TA and Pipeline ("Candidates funnelled within these "Jobs").
Intuitive User Interface
Visually, EVA organises workflows by colour, and assigns each workflow permission based on user groups or individual workflow participants..
AI Talent Acquisition Solution
Harness the Power of Ethical AI
EVA intelligently engages and sorts through candidate profiles, pushing the most relevant talent to the top of your pipelines
Add or Reject
EVA's predictive model is based on candidates' successes and dropouts across the recruitment funnel, from longlist to shortlist (screening) throughout the interview and post-hiring process.
Neural Networks
The matching process creates a continuous insight loop that feeds EVA's ability to predict which candidates are likely to progress, based on semantic analysis, past recruiters' decisions, and process selection outcomes.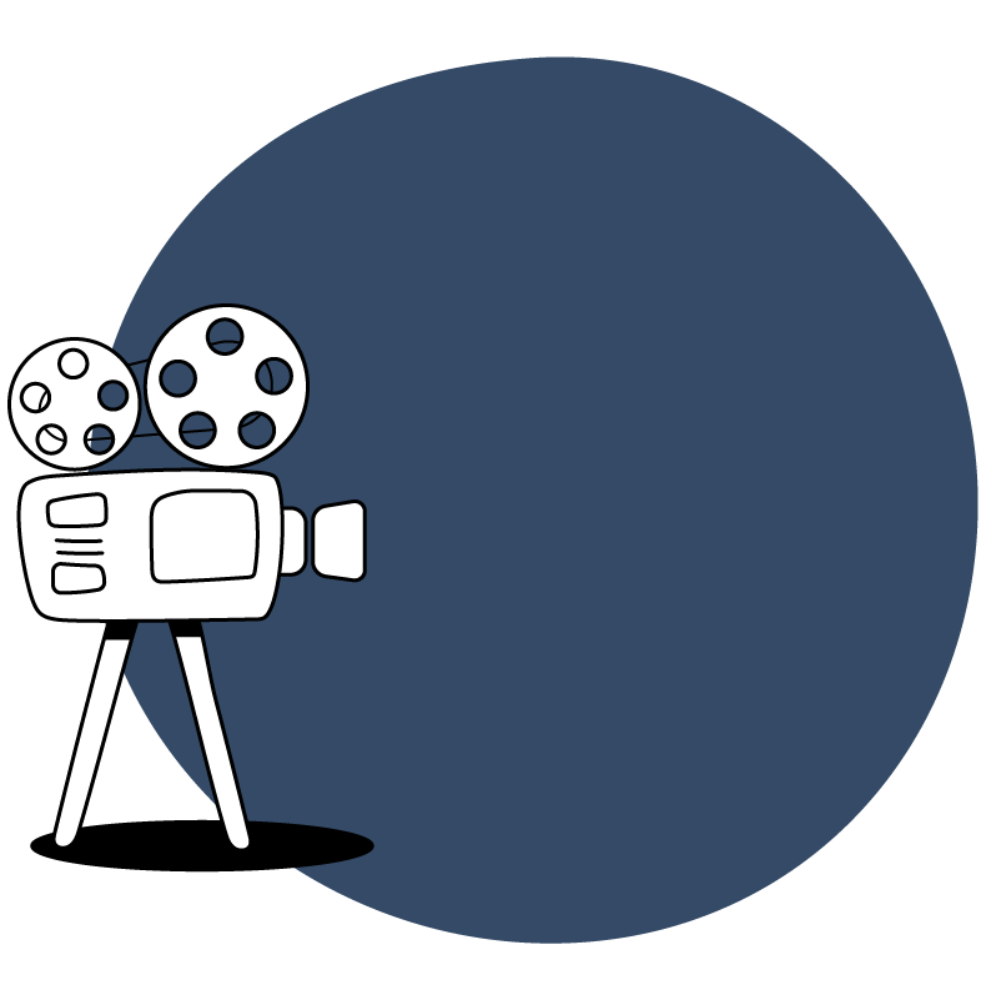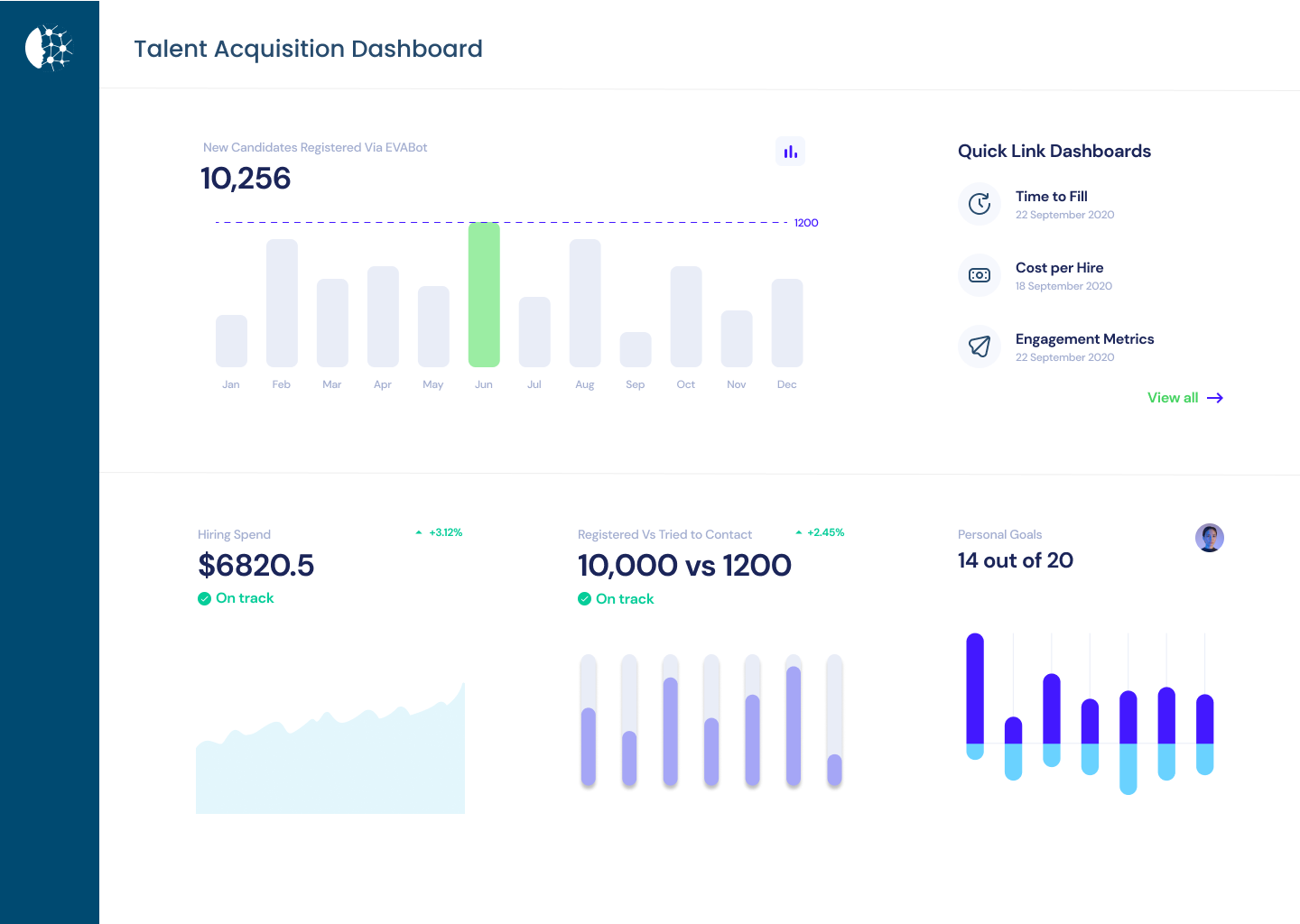 talent acquisition analytics
Optimise your Hiring Strategies
Assign roles across your HR teams to manage different access levels; user-aligned interfaces ensure distinct functions within your organisation are privy to information that falls within their job specifications.
Configurable Dashboards
Access all your hiring metrics from EVA's intuitive and easy-to-use dashboard. EVA's analytics capabilities arm talent acquisition teams with the data and reporting tools necessary to drive recruiting strategies forward.
Drill Downs & Pivots
Powerful filters and drill-downs allow you to make sense of the key drivers within your HR performance data in real-time. Understand how every metric, source or KPI within the hiring process affects organisational performance.
We heard the first step is the hardest
Step today into the world of


HR 4.0
HR 4.0 Experience
Digital Transformation via Experience-driven Automation
EVA's experience-led solution suites offer unparalleled value to every stakeholder within the HCM value chain.