EVA is an advocate of talent acquisition 4.0 building solutions that result in accelerated hiring, smart candidate search & matching, and swift talent decision making. On its successful product innovation journey, EVA has packaged automation-first solutions, AI-powered talent acquisition frameworks, and hiring experience to empower modern digital recruiters. EVA is now adding up features built on the worldwide shifts in HR: new job categories, exponential hiring, candidate outreach and information access at speed.
EVA 6.8 features integration with Indeed, the largest job board on the globe today, influencing rapid & quality hiring by creating talent pipelines at blinding speed. This functionality is conceived with respect to the demand in recruitment marketing on job boards, highest among hiring sources (33%), followed by internal hires (30%) and company's career sites (30%). (Source: Jobvite Recruiter Nation Report 2021).
The investments on job boards in the recruiter sphere are also seeing an upward shift, increased by 17% in the last 5 years.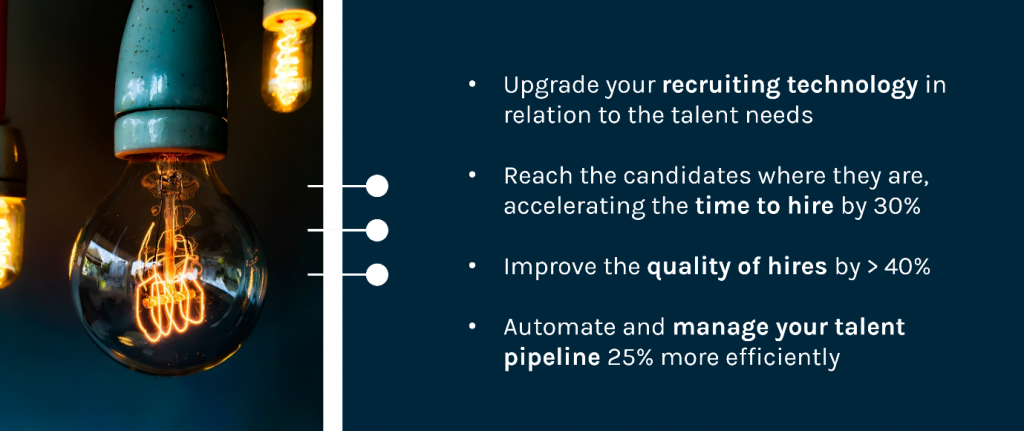 What's the deal with EVA's platform integration with Indeed
Find the best talent
Indeed hosts over 200 million resumes globally and the job postings across industries are 60% above baseline as of 2021 (Source: Indeed). Owing to the visibility and outreach of talent on Indeed, finding the best talent is a sure-fire formula for recruiters.
While the recruitment methods are widespread across social media, LinkedIn, and virtual hiring, 52% of job seekers choose job boards to other channels (Source: Jobvite), making it an organic fit for integration with Applicant Tracking Systems (ATS).
Recruiter's productivity & rapid hiring
Candidate conversion is a tug of war between the volume of candidates, the number of applicants to be reviewed per job & converting the candidate before they are off the market (which is typically 10 days). Considering that a recruiter requires to evaluate 100-200 job applications per offer (Source: TalentWorks 2017), the process is seemingly elaborate and 60% of job seekers are estimated to drop out of the application process due to the lengthy application procedure.
EVA with Indeed takes after a super app, extending the capabilities of recruiter technology, to create a sturdy talent supply chain from the global pool of talent on Indeed. Recruiters will have more control and precision over the hiring cycle on EVA's platform, in assembling quality talent pipelines straight from Indeed and managing candidate schedules and hiring on top of the shortlist.
EVA allows configurable filters compatible with the recruiter's hiring language (education & skills, remote/onsite working, available within 30 days' notice, diversity, and so on.) As a result, Recruiter's productivity remains bulletproof under EVA's automation even with increased staffing requirements or rapid hire needs.
Behind the scenes of quality hiring using EVA integration with Indeed
EVA platform can set up a targeted connection through Indeed's resume database with near-zero latency and facilitate

real-time job posting on Indeed
intuitive job recommendations refreshed every 10 secs
parse resumes from Indeed profiles, cutting the clutter of junk profiles which account to ~23% (

2017 Recruiter Sentiment Study MRI Network)

easy interface fuelling under 5-min candidate application steps 

Search and filter the most relevant talent from Indeed and relay them into your organisation database/ATS through automation. EVA assures that 70% of recruitment steps can be automated. 
EVA's intelligent match function highlights the relevant skills of the shortlisted candidates enabling quick decisions.
Compare applicants side by side with transparent scores against set criteria
Employ EVA Bot to answer applicant queries while leading a personalised hiring conversation & easy document verification
Recruiter experience: EVA creates personalised dashboards with transparency into the hiring journey. Ex: view candidate status, monitor engagement metrics, automate follow-ups/schedules.
EVA-Indeed: Competitive edge of an AI-powered hiring process integrated with the largest job portal
EVA enables seamless request-response actions on Indeed sidestepping the clunky talent fulfilling workflows and creating a fluid candidate pooling experience from Indeed to the EVA platform. Recruiters have up-to-the-minute access to millions of (relevant) profiles and can reach out to 2x more applicants on Indeed than other job boards.
By the numbers:
of the recruitment steps automated
saving in Recruiters hiring decision effort
time saved from manual recruiting tasks
increase in interviews scheduled with Indeed hiring platform
decrease in cost per applicant, combined with 88% increased quality of applicants