In April 2019, Forbes reported this astonishing statistic that highlighted the global talent competition. At the time, this statistic was valid – digitisation had opened up a global marketplace for talent and Industry 4.0, top-tier talent sits at the heart of a company's success. It made sense.  
Fast-forward to August 2020, and according to the HMRC, 1.2 million employees have been furloughed at an astonishing £35.4 billion hit to the UK economy. Forbes reports that a further 750,000 people have lost their jobs due to economic inactivity during the Covid-19 pandemic. LinkedIn's feeds are inundated with amazing talent looking for work and some lamentation from hiring teams overwhelmed by the sheer number of applicants per vacancy. So what gives? 
As the pandemic continues to reset major hiring and work trends, HR leaders and hiring teams must rethink how they manage 'experience'. Candidates still expect timely, personalised and relevant feedback at every step of the hiring funnel. The Office for National Statistics reports that employee productivity has dropped by almost 1% over the last 6 months compared to the same time period in 2019, highlighting the need for organisations to focus on employee engagement and internal mobility strategies. 
Brian Kropp, Vice President, Gartner, recently stated 'Business leaders must understand that large-scale shifts are changing how people work and how business gets done…HR leaders who respond effectively can ensure their organisations stand out from competitors." After all, Covid-19 may come and go, but Employer Value Proposition lives eternally. 
What does this mean for Talent Acquisition and Hiring teams? 
The job market is shifting, competition for roles will continue to intensify, fewer jobs are being advertised than in the pre-COVID-19 market, and hiring teams will be even under more pressure to respond to all the candidates apply for roles. 
Employer branding is more important now than ever before. Hiring processes may take longer than before, but communication is still key. 
It boils down to a few important questions:
How do you find the '10-day' candidates in a sea of applications?
How can you ensure that you communicate with every candidate to keep them informed about their status on an application?
How do you ensure that your hiring team focuses on high-value activities and not on manual/repetitive tasks? 
5 strategies to get the best out of your HR function/Hiring team in these unprecedented times 
1. Deliver an amazing candidate experience 
How we hire is constantly changing. What hasn't changed is the necessity to provide an amazing candidate experience. Despite the surges in applications – there will always be competition for high-quality talent. 
In times of economic instability, the presumption is that the market shifts in the employer's favour simply because more candidates are available for roles. This uncertainty spills over into candidates, so hiring teams must ensure that their communication with every single candidate is consistent and high-value. 
This entails mapping out every point of candidate interaction and deploying messaging relevant to the candidate as soon as possible. Candidates may even be your future customers. 
How do you know if you're providing a great candidate experience? Look to your offer acceptance rate for an answer. The offer acceptance rate is one of the best indicators that your recruitment experience is meeting candidate expectations. Maintaining a positive experience throughout and setting clear expectations from the outset is crucial for closing the deal and convincing a candidate to accept your offer.
According to PageUp's recent aggregate job market data, offer acceptance rates averaged across all employers have seen a dip (from 96% and 97% in 2018 and 2019 to 95% today), raising alarm bells for HR analysts. 
2. Employer branding becomes a strategic focus
One thing that makes a strong employer brand so powerful is its impact through all the communication tools put in place by companies. Brands can be made or broken at the top of a boom or the bottom of a bust. The explosion of brand challenges related to the COVID-19 pandemic suggests that we're a living case study around that theory. 
A crisis like COVID-19 will be a decisive test for an organisation's purpose, values and Employer Value Proposition. In the employer branding world, you have to ensure that your EVP is robust and delivers what it promises, in good times and in bad.
Due to COVID-19, how companies will approach their EVP has definitely changed.  It's time for HR leaders to take a step back and identify what employees now value. A robust EVP is about ensuring engaged leadership, meaningful work and career development, competitive salary and benefits, a supportive environment – all of these things are still key components of any EVP. 
However, since the COVID-19 outbreak, talent has begun to care more about other things as well. Corporate social responsibility, philanthropy and employee well-being have evolved in EVPs and will continue to do so after the crisis.
3. Implement an Automation-First Mindset
HR professionals expect a wave of applicants in the coming months caused by massive lay-offs and furloughs. Finding top talent will, therefore, require more effort, highlighting the importance of efficient and effective CV parsing and pre-selection processes. 
The rapid shift to remote work has accelerated technology uptake, forcing people to invest in tools to perform their administrative tasks and free-up time to focus on the "human" aspect of their role.
The 'Automation First' mindset, that champions 'If a workflow or task can be automated, it should be automated, but only if doing so adds value for all stakeholders involved – increases operational efficiency, provides fast and personalised user experiences and frees up time so your Human Resources function can focus on high-impact activities.
Introducing an 'Automation First' mindset into any company allows for the emergence of a digital enterprise that is interconnected and capable of making holistic, informed and data-driven decisions to facilitate intelligent outcomes. 
4. Utilise Machine Learning to find the best-fit talent screening
Machine learning can complement automation capabilities across both strategic and non-strategic tasks. For instance, ML models deployed in screening situations should analyse the job description, decipher similarities in historic hiring patterns to build intelligent shortlists of the most relevant talent – based on the candidate data available.
Additionally, the pandemic made interacting with chatbots powered by Machine Learning ubiquitous, even for groups historically resistant to using them. Organisations can capitalise on this behaviour shift by identifying areas where different users require the same information or documents or ask the same questions and automate the process. Automation + Chatbots and Machine Learning capabilities offer experience-driven solutions that improve candidate experience, drive impactful screening, and open up time for hiring teams to focus on more strategic tasks and/or reducing costs.
5. A renewed focus on internal mobility
With cuts across hiring spend in many organisations, a possible solution involves considering leveraging the skills and talent you already have within your business.
EVA's Digital Employee Journey allows companies to build a database that maps existing capabilities within their organisations. Our process involves engaging employees to nurture meaningful relationships and utilising insights from employee behaviour to feed ML-powered predictions that drive employee career progression. This ensures companies can get the best from their existing talent pool without always looking to time-consuming and costly external recruitment. 
Subsequently, this reduces the added uncertainty attached to not meeting candidates face-to-face while conducting remote interviews. When recruiting internally, companies already know the candidates, their best skills/talents and know that they fit their values/culture. Internal mobility equally reduces and facilitates the onboarding period, as these workers already know the company, colleagues, work dynamics, etc. Thus, it is less risky and time-consuming.
Another important benefit of this practice is that it can inspire and boost morale in the workforce, making them more productive as it shows that hard work pays off and that there is a place to grow and succeed in the company. This is extremely important during crises as employees may feel unmotivated and unproductive due to the challenging predicament.
Additionally, it improves company culture by creating healthy competitiveness.
How does EVA empower your organisation to scale operations successfully?
With EVA's contextual knowledge of all the stages and statuses of all of your business workflows, EVA can manage individual requests and initiate the best next-step actions, every time.
Prioritise, Engage, Optimise
EVA prioritises, engages and learns from how people use the platform to understand how to get better. EVA increases user responsiveness, cadence and persistence by:
Co-ordinating and notifying the relevant stakeholders about status changes by email, SMS, notifications.

Performing multiple automatic actions such as launching a chatbot conversation to collect information from users, segmenting users to lists, confirming availability for process stakeholders and asking for permission/feedback to move forward, pause or end a process.
HCM Use-cases for EVA Robotic Process Automation
Job Requests
When a hiring manager creates a new vacancy request – EVA shares this information with relevant senior stakeholders that review and approve the vacancy; EVA forwards the approval to hiring teams who initiate the sourcing and shortlisting process.
Candidate Applications
EVA notifies hiring teams to perform specific actions based on either; the automation workflow for the job type (Permanent, Temp and Gig), the type of applicant (Internal applicants vs external candidates) or the regional or job family specificities (e.g. US/UK; Sales, Product or Marketing). Or a combination of all three.
Interview Coordination
EVA can chase-up with candidates who have not responded to an interview request for x number of hours, with preconfigured rule-based outcomes which drive next-action steps, e.g. send reminders or cancel interview after x number of attempts.
Evaluation and Internal Assessments
EVA works with your hiring teams to enable fast, fair and objective evaluations of candidates within a job pipeline. EVA initiates feedback collection via simple call-to-action or more in-depth submissions (scoring, ranking or notes). EVA uses this information to trigger more automations within its approval/rejection processes.
Approval / Rejection Feedback
EVA facilitates different ways for hiring teams to inform candidates about their approval/rejection status in a job flow. EVA can post this information directly to the applicants' self-managed portal- where all current and previous job applications and their statuses are accessible.
Or via outbound VoIP Calls lined up and dialled by EVA, collecting call status (e.g. Voicemail) and desired outcome (e.g. Cultural fitness). These data are stored to trigger automatic feedback via email or SMS.
Referrals
EVA automates the submission of candidate references with third parties and notifies the hiring teams as soon as they need to review/approve references.
Right to work
EVA eliminates the previously tedious task of chasing candidates for their right to work documents. Within EVA, talent can self-manage and upload the required work documentation. This information is immediately visible to your HR team – who have access to review, approve and track their information.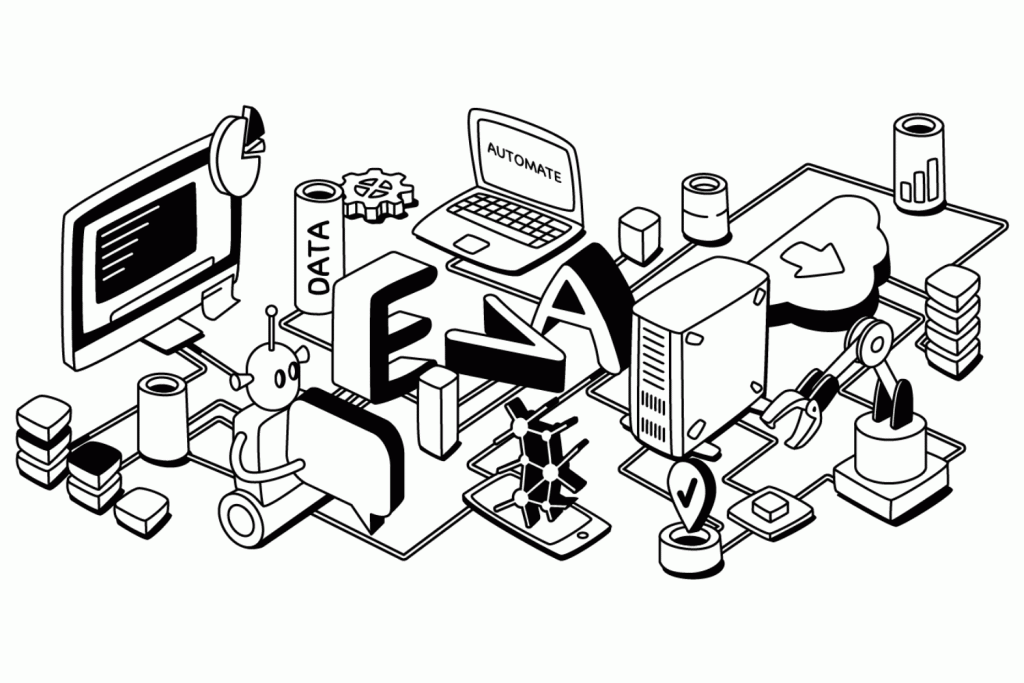 How does the EVA RPA feature work?

EVA RPA Configurator gives enterprises complete control over their HCM process automation workflows. The process automation consists of various components that allow the team to build robust automation solutions fast and with minimal upfront investment. EVA RPA is easy to configure and to maintain.
Workflows
Workflows are the canvas on which people, process and tech automation with AI can converge. Multiple custom workflows can be designed to reflect the different stages of your HR processes.
HR admin users have full control to configure the different stages and steps of the workflows. They can create, name, edit and delete workflows that manage "Job requests" by Hiring Managers, "Jobs" ("Vacancies") to be worked upon by Recruiter/TA and Pipeline ("Candidates funnelled within these "Jobs") .

Visually, EVA organises workflows by colour, and assigns each workflow permission based on user groups or individual workflow participants.
States & Stages
To consolidate separate business processes across the organisation, you shall first define the stages and states of your workflow.
EVA RPA is highly scalable and adapts to your business environment with unlimited stages and statuses.
Transitions,Triggers & Actions
Transitions: The change from status X to status Y. For example, a candidate status from 'applied' to 'shortlist'. The transition is the conditional variable to trigger an action. For instance, when a video assessment link is triggered as 'in progress' and then 'completed', a notification is sent to the hiring team. Transitions can be created on any changes of statuses within candidates, jobs and pipelines entity workflow

Triggers: Triggers dictate what actions should be taken for a process to start or continue running. Each trigger assigns a type and/or condition that must be met to run an activated process. Within EVA, triggers can be based on a combination of user permissions, status changes, and time-lapses can be used on triggers.

Actions: Refer to specific outcomes that a trigger must conform to when a status transitions changes in a workflow. Process owners can create, operate, and troubleshoot actions from EVA's RPA interface. This reduces development costs by providing a library of reusable actions. Our customer success can help you specify the precise conditions and order you want your actions to be run.