Let's think back to the last time you booked an uber. First things first, it's an uber intuitive user-interface (see what I did there). You're immediately shown drivers around you in real-time, simple form request – key in your current location and destination. Wait for about a minute; then you're instantly connected with your ride.
At this point, you're able to communicate with the driver, track his location in real-time, see your journey estimate etc. 
This consumer journey isn't just limited to booking rides, think about any positive digital experience you've had online, and the correlations boil down to three fundamental principles: transparency, accessibility and on-demand.
Transparency: Real-time visibility as to where you stand in a process now
Accessibility: Usability on any device, any location – catering to as many people as possible 
On-demand: Ability for users to request information or interact with a service when they want to. 
When you put all these concepts into perspective, it leads to a straightforward question, why isn't this the case in HR? specifically the candidate application process. 
What is the candidate journey? 
The candidate journey considers the path candidates take as they apply for a job with a company. 
Traditionally HR teams model their candidate journey on the marketing principle AIDA. Utilising this principle HR teams can break down the candidate journey into – awareness, consideration, interest, application, selection and hiring+onboarding.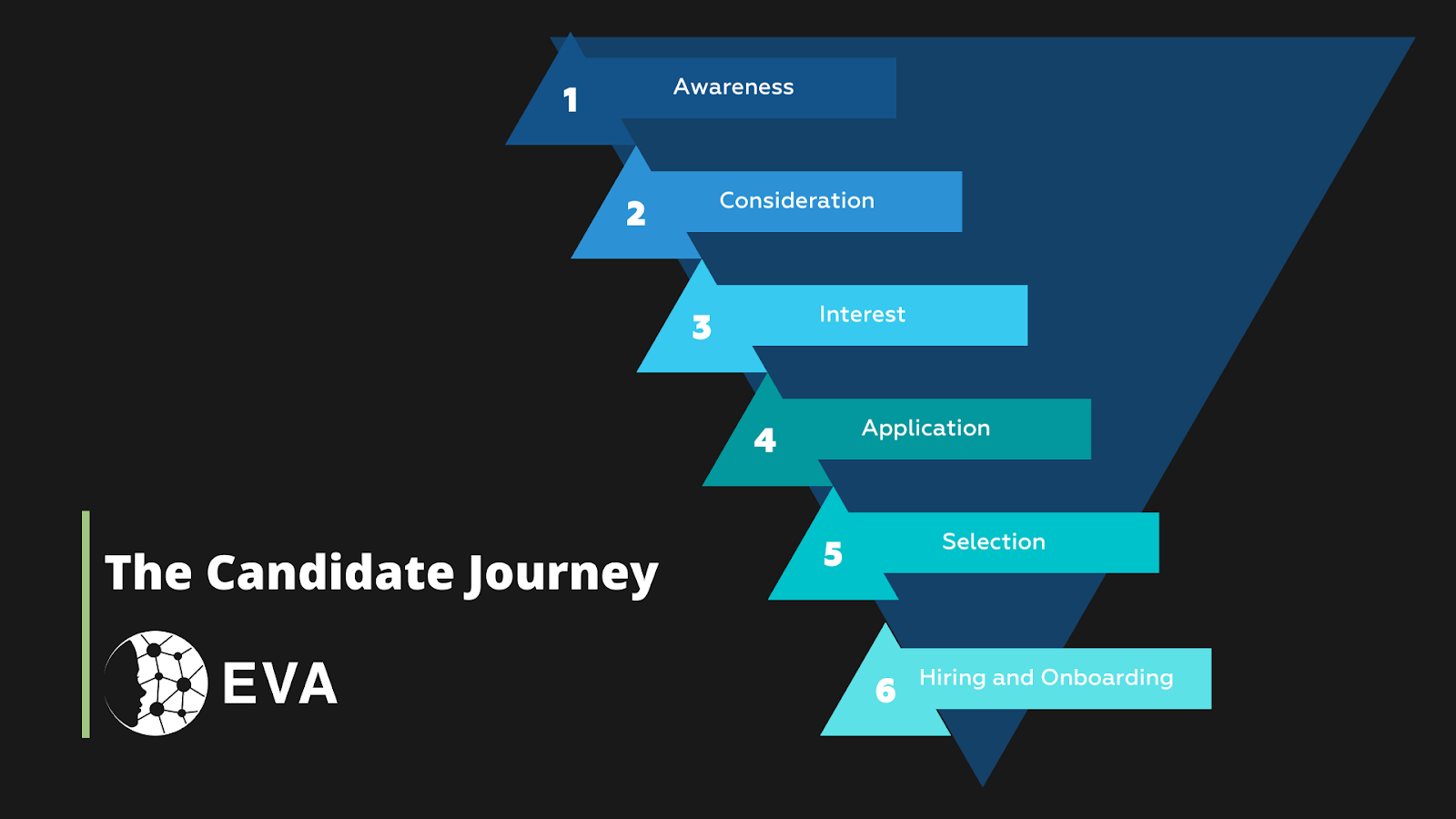 The candidate journey considers that individual candidates experience several points of contact as they funnel across the hiring process, and thus forms a unique perception of their experience. 
Why does this matter? On average, a vacancy attracts more than 250 applicants (in the current climate this could be more), the reality is around five will make it to the 'selection' or interview stage, and more often than not, only one person gets a job. 
So then what? What happens to the candidates that have seen or applied to the postings? How do they feel about their candidate journey?
What is the Digital Candidate Journey?  
The Digital Candidate Journey considers all the variables within the traditional candidate journey but delivers solutions based around the digital consumer's expectations and focuses on impactful experiences.
The Digital candidate journey solution is built around transparency, accessibility and on-demand principles and finally ensures the 'Uber' or 'Amazon' experience applies to individual experiences within the hiring funnel.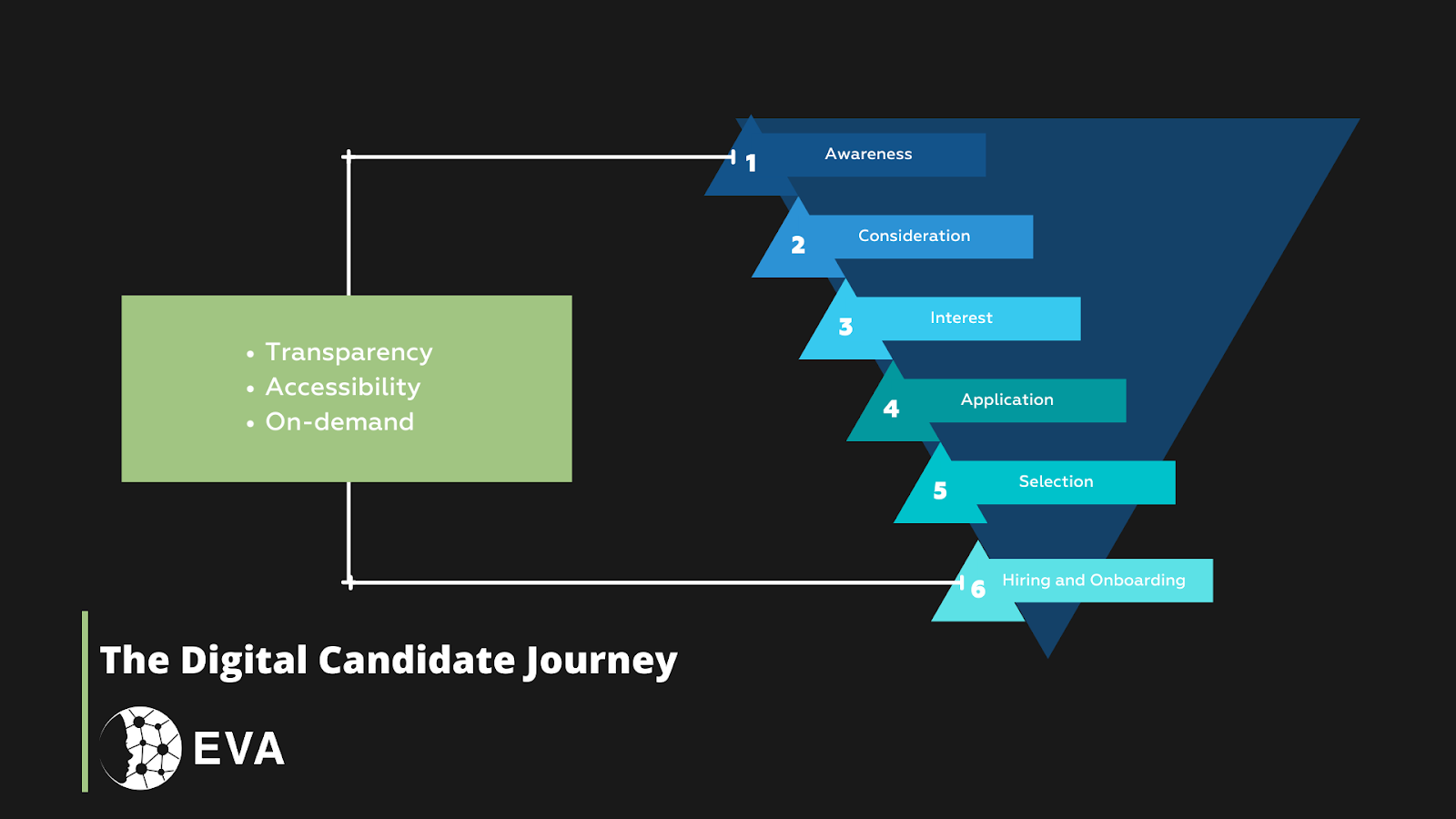 Within the Digital Candidate Journey, candidates build relationships with employers because:  
Each candidate builds impactful relationships with an organisation, via experience personalisation.
There's an always-on HR system that always notifies candidates of status changes as they occur. 
Candidates can engage with HR teams in real-time and get answers to questions they may have 24/7, anywhere and on any device. 
How EVA powers the Digital Candidate Journey
EVA, our award-winning Human Resource Management System (HRMS) delivers custom automation-first solutions across the HCM lifecycle by converging Robotic Process Automation (RPA), Chatbots, Machine Learning and Analytics.
EVA's thoughtful, and well designed conversational interface engages candidates in real-time, initiating the screening process, testing eligibility and fit-to-roles while delivering on-demand job updates. EVA then sends scored directly to your hiring team's workbench in real-time. 
Each candidate has access to the Talent portal; where candidates can upload their CV, update their availability, clarify their career goals, and apply to relevant jobs – all by having a quick conversation with EVABot.
The connected value chain
The value created when hiring operations and HR technology drive board/executive strategy via automation holds massive potential. As a function, in-house HR leaders rarely take the time to analyse their hiring process; the effects the current candidate journey has in the broader team and how this translates to the digital candidate journey. 
Thus, the ability to visualise the gaps, review the duplication of effort and assess the connected value chain of activity, process, and systems to align with the corporate goal is often overlooked.
How to transform your Candidate Journey to a Digital Candidate Journey
EVA.ai has developed a simple, free and easy to use tool that helps leaders capture how they acquire, nurture, process and retain talent. The Candidate Acquisition and Retention (CAR) worksheet helps teams identify insights around your hiring process, and understand how to build an 'automation-first' use-case for their organisation, Today.