Transition into Agile… Inclusive… Intelligent…Data-Driven… Adaptive platform
The development of HR Tech is emerging, and every software alternative is contending alongside the changing roles and cultures in HR. HR 4.0 technologies are raising the bar for efficiency by democratising automation and intelligence to companies of all sizes.
HR leaders who have adopted technology and/or have upgrades written in their transformation agenda in line with trends are embracing HR tech gracefully, automating workflows, moving to the cloud, and also switching vendors at the end of subscription term/ contract renewals in search of flexible software and controlling operating budgets.
To encourage and ease the challenges in HR Tech adoption, EVA presents implementation strategies that fast forward organisations into HR Transformation and migration to futuristic software. EVA is an early champion of HR 4.0 in the most comprehensive style supporting digital  HR operations in Talent Acquisition, Talent Management, and Candidate / Recruiter / Manager Experiences.
Weigh your options: If you are evaluating HR / HCM systems to migrate from Oracle Taleo or complement Oracle Cloud HCM, EVA is a trusted platform that promises the integrity of rich features and customizations that make your business roadmap work.
A compiled list of benefits and governance that EVA offers could help you resolve the best alternative not only by box-ticking features but also by realising the advantage as a strategic partner.
EVA takes point in the HCM ecosystem
EVA offers 6 pre-configured modules in one platform hosting self-service portals, customisable workflows, chatbot / conversational assistant to augment HR operations, and people analytics for real-time insights.
EVA's engineering DNA translates into the platform's modular architecture to provision feature adoption at scale and connectors that sharpen the tech stack suitable for specific HR requirements.
The key differentiator of EVA is that the platform dynamically supervises the impressions of automation and AI in all aspects of HR operations conducted through the digital platform: Talent sourcing (recruitment automation), Search and Match (AI algorithms), screening & scheduling (RPA), Onboarding & Talent engagement (ML/Conversational AI) and Hiring Analytics.
Key feature comparison with EVA
| Features | EVA | Oracle Taleo / HCM |
| --- | --- | --- |
| ATS | Advanced | Functional |
| Search & Match | Advanced | Limited |
| Recruitment Marketing / Native CRM | Advanced | Limited |
| Candidate Scoring | Advanced | Functional |
| Diversity Hiring | Advanced | Limited |
| Talent Pipelines | Advanced | Limited |
| Sourcing & Screening/Assessment | Advanced | Functional |
| Onboarding | Advanced | Functional |
| Conversational AI / Chatbot | Advanced | Functional |
| Robotic Process Automation (RPA) | Advanced | Limited |
| Internal Mobility / Skills Mapping | Advanced | Limited |
| Learning & Development | Functional | Limited |
| Predictions | Advanced | Limited |
| Mobile Experience | Functional | Functional |
| Workforce Analytics | Advanced | Advanced |
| Performance Management | Limited | Advanced |
| HR Help Desk | Functional | Advanced |
| Gig / Opportunity Hiring | Advanced | Functional |
| Customisations | Advanced | Functional |
Lookup and prepare for rapid transformation
EVA reinforces the premise that technology should be easy to use, futuristic, adapt to on-the-job HR needs, and flexible to incorporate organisational agenda such as bias-free hiring, data intelligence that gives a head start to hiring & retention decisions.
Best of EVA: Our shortlist
Integrated HR solutions with Industry 4.0 experience

Modular Architecture for optimised/reduced re-architecting costs

Faster and flexible deployment (On-prem / Cloud)

Extensibility through open API design and Connectors

Role design/privilege based configurations for security
EVA works as your business consulting partner to reassess the number of integrations, report the functional usage (most used to not used stats) and re-architect the platform for high-quality performance and scalability.
Typically, EVA can be onboarded into your organisation in less than a month: systematically migrate data into and out of the EVA platform, configure the standard set of workflows, test drive and keep it up and running from week-3. 
EVA is open to your innovation roadmap and we boast of our rapid R&D cycles to bring the best of features that would mean quick ROIs in short timelines.
Customer Success Story: UNDP's change management and migration to EVA
The United Nations Development Programme (UNDP) uses Oracle ERP for its operations. Though UNDP decided to integrate its central data warehouse and Recruitment / HR operations on EVA. When the team at UNDP evaluated EVA to migrate their HR operations for their roadmap of recruitment, workforce management, skills mapping & role deployment, EVA's team eliminated weeks of research for UNDP's review team through a demo of the EVA platform's universal features, product support, and a framework for migration effort estimations.
UNDP was onboard and could go-live in 4 weeks with flawless migration, quality assurance and validations on their custom self-service portals and workforce management workflows.
Success metrics in UNDP-EVA partnership
Intuitive and modern UI on EVA

Number of customisations and process configurations

RPA workflow automation for large vetting and approval process (60-70% automation coverage)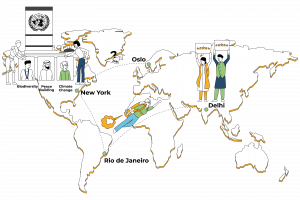 Case Studies
HR 4.0 Case Study United Nations Development Programme UNDP's COVID-19 Mission with EVA Drawing on
Read More »
Book a 20 Min Demo to explore how to Accelerate Migration