Digital Employee Journey (DEJ)
Employee Engagement + Internal Mobility
EVA delivers powerful automation-first workflows across the employee lifecycle and quickly delivers insights that help businesses maximise the employee experience and drive organisational performance.

EVA ensures employees feel heard, executives connect with their people, CHROs make data-informed decisions, and your organisation retains its best people.
Start a Conversation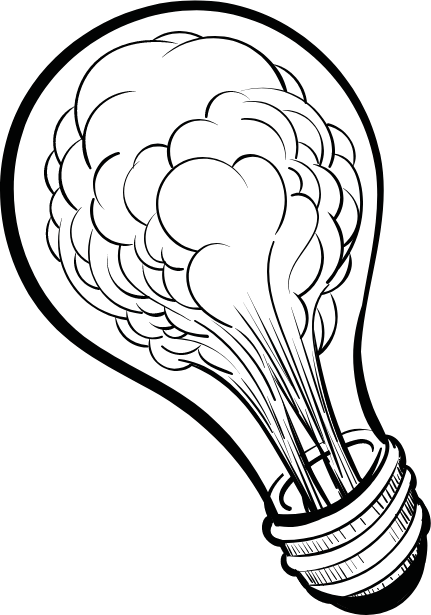 HR 4.0
The Employee Journey tech stack
---
EVA.ai combines five technologies to deliver a custom Digital Employee Journey solution that facilitates personalised engagement at scale, allowing your talent management function to re-deploy and retain your best people.
Conversational Assistant
EVABot engages employees in real-time, to update their skills and experience, understand and map their personal/career goals and guides them through the internal application process.
Robotic Process Automation (RPA)
Configurable 'if' 'then' workflows, allowing organisations to scope and implement a blueprint for internal mobility process automation, across their unique business use-case
AI & Machine Learning
EVA's ML algorithms analyse the positive and negative outcome of every decision related to a vacancy or interaction with an employee to learn, track and recommend best-practice approaches to deploy whilst hiring internally.
Analytics
EVA's comprehensive analytics and reporting capabilities, ensure HR teams can visualise the reach of their internal data that enhance strategic workforce decisions. Whether its identifying critical gaps, spotting bottlenecks or predicting the supply/demand of skills.
Ecosystem Integration
EVA integrates and manages disparate technologies within a single screen, to ensure that every stakeholder within a defined workflow is genuinely engaged and fulfils maximum productivity.
Great things are done by a series of small things brought together
---
Let's Get Started.
EVA Employee Portal
EVA's Employee Portal gives employees everything they need to support their career and engage meaningfully with your organisation. Employees can engage with EVABot to update their talent profiles, search and apply for relevant internal vacancies, ask and find the information they need, view the status of their applicants and view recommended jobs, and much more. Simply by engaging with the chatbot.
Revolutionise your employee experience
Engage purposefully across the employee lifecycle
EVA's Employee Portal and intelligent chatbot gives your existing workforce everything needed to support their career and engage meaningfully with your organisation.
Within the employee portal, users can search and apply for new internal jobs, all recommended to them based on the experience, skills, and interests that fuel career progression.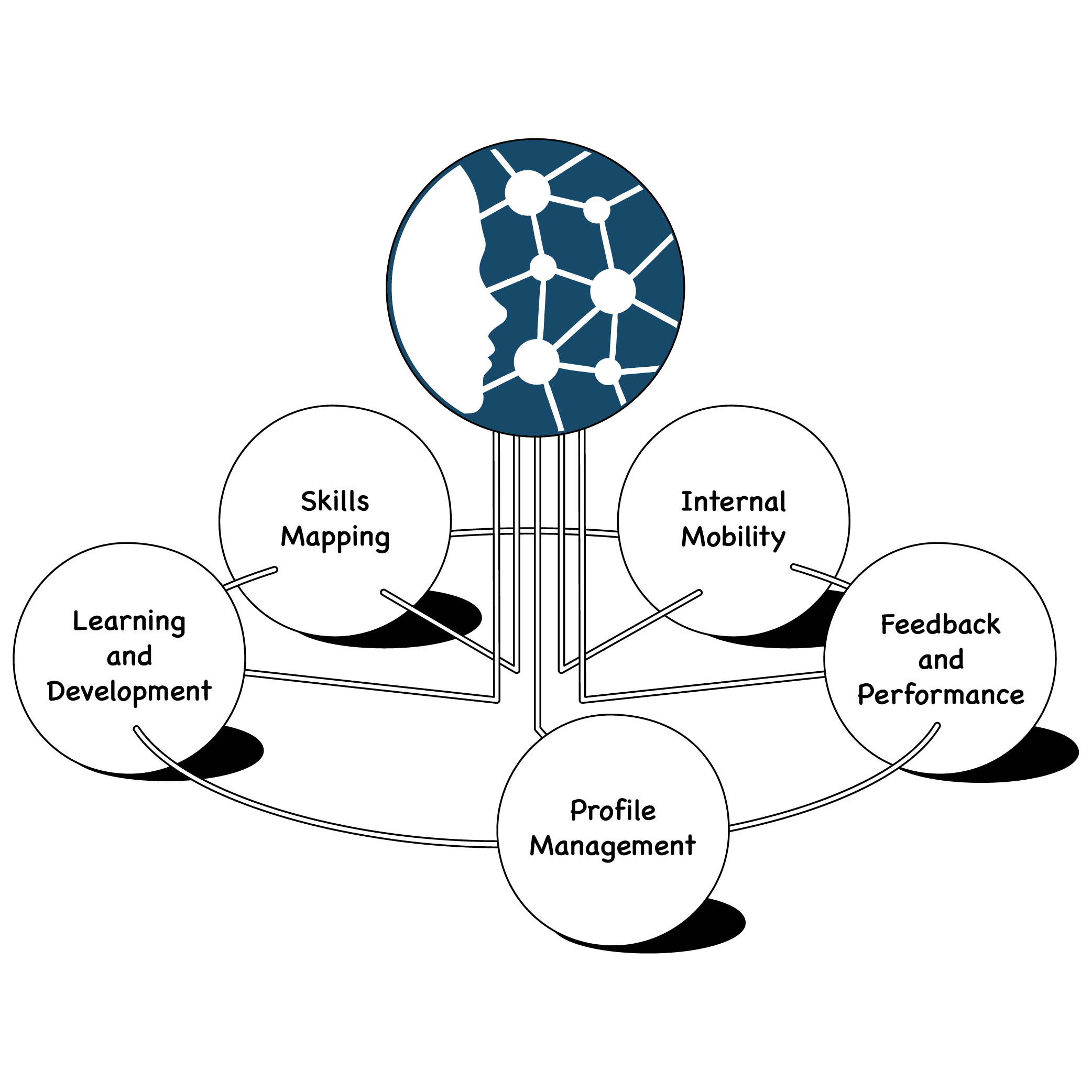 The HCM Portal
---
The agent facing platform allows HR and internal managers to find the most relevant internal candidates, compare internal and external candidates, and build robust internal talent pipelines and succession plans.
Deploy an Intuitive & engaging conversational interface that delivers updates, carries out surveys, provides feedback, and more – designed by you, managed by EVABot.
Conversational Assistant
Personalised Communication & Templates
Re-engagement Campaigns
Conversational Assistant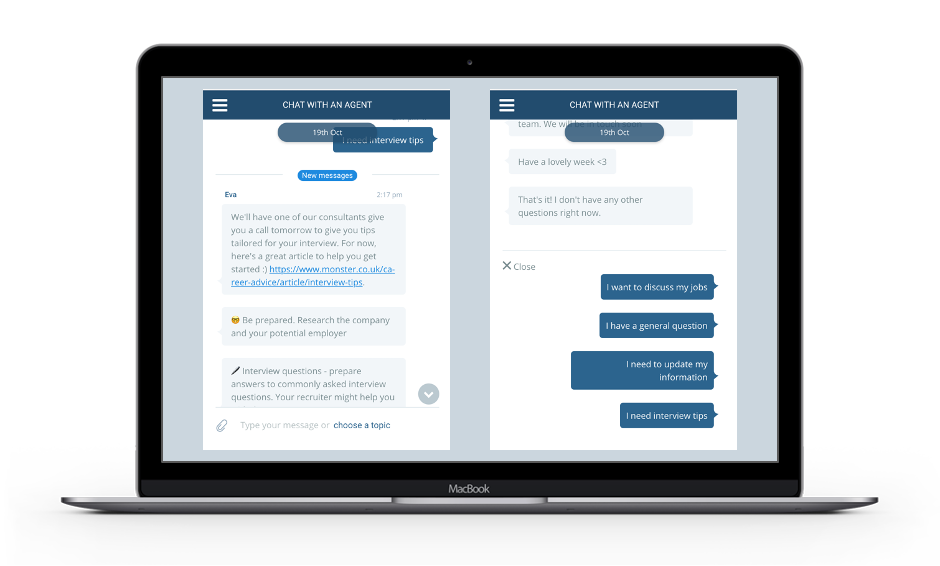 EVABot acts as a personal sidekick to recruiters, automating manual processes via outcome-led automation, delivering personalised engagement at scale and facilitating two-way conversations as candidates move across the hiring funnel. With EVABot teams are finally able to achieve truly personalised talent engagement at scale.
Personalised Communication & Templates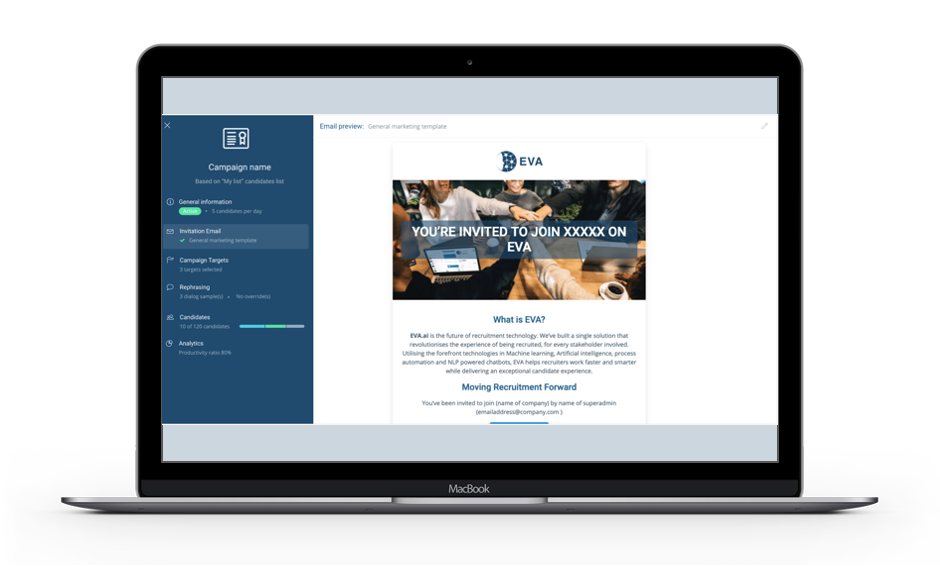 Define triggers with EVA's RPA workflows that can be triggered across SMS or email to candidates as they move across their hiring journey. Personalised fields allow you to tailor every outbound communication to the candidate in question, without the manual work.
Re-engagement Campaigns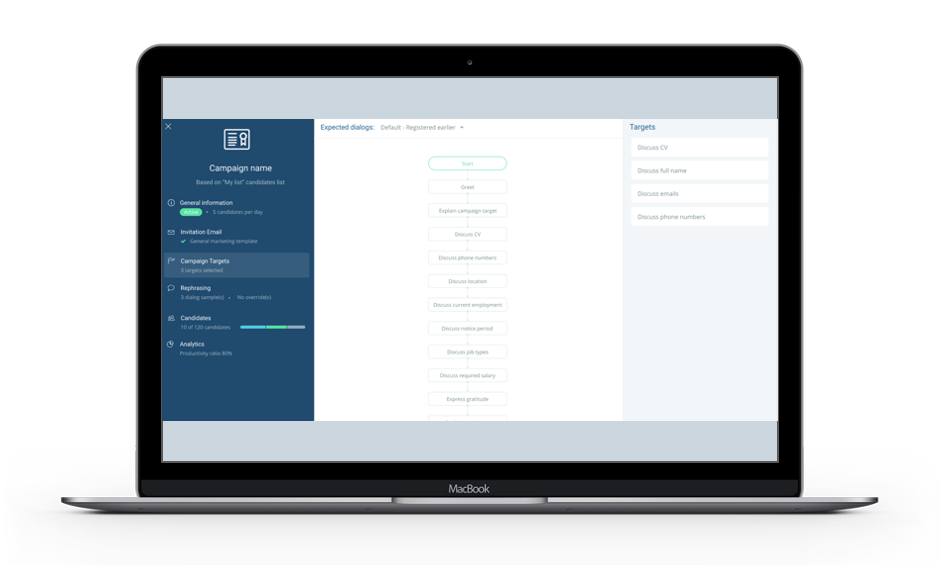 EVA combines the power of automatic email and chatbot campaigns to proactively engage and nurture candidates with dynamic conversations to gather fresh insights on their current work status, preferences, skills and work experience.
Aggregate data sources
Bi-directional data sync
Single Source of truth
Aggregate data sources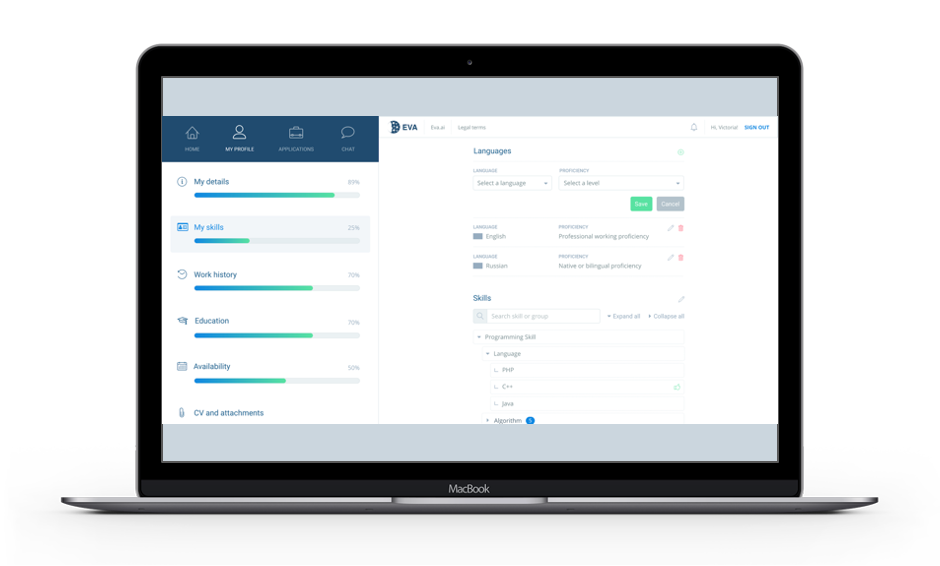 EVA's enterprise-grade framework offers a secure infrastructure built with open APIs and microservice capacities that allow teams to plug-in their legacy systems and role-based processes to facilitate interoperability, business agility and scalability.
Bi-directional data sync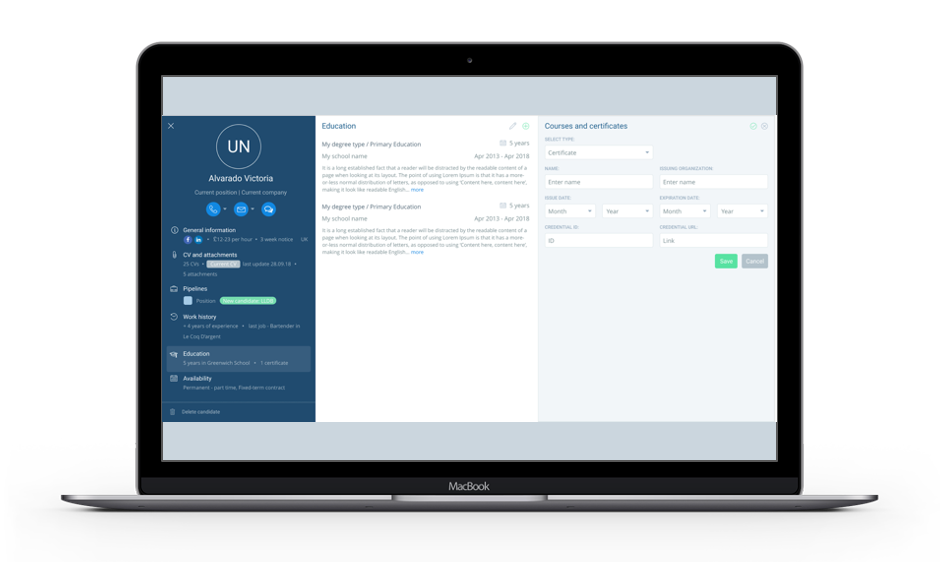 Real-time employee data is instantly mapped from the employee portal and is accessible from the HCM platform. EVA gives any internal HR team member the capacity to deal with individual employee cases based on the existing context of their interaction history.
Single Source of truth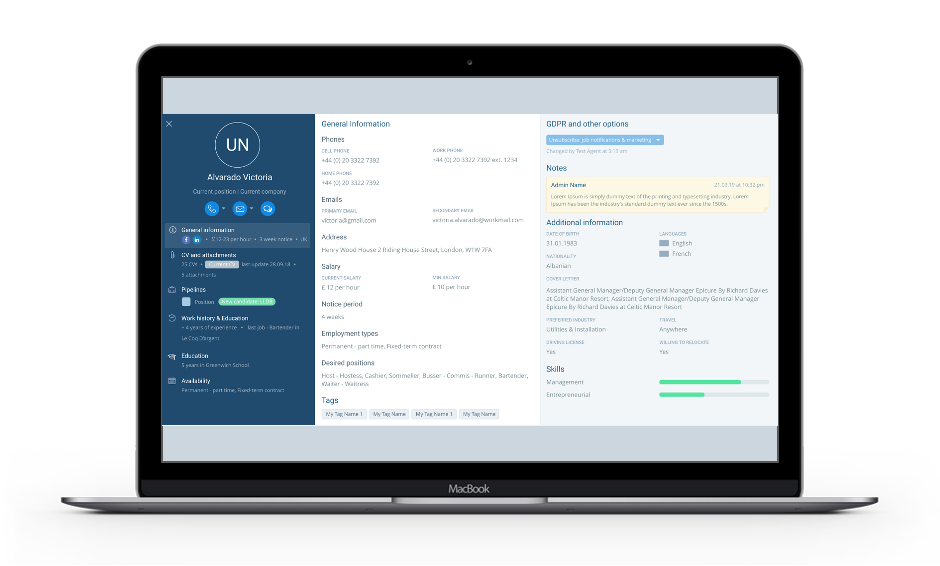 Consolidate all employee information (legacy systems, siloed data houses and employee portal) in one intuitive profile for a full overview of your talent and use the insights to power your internal mobility plan.
Relevancy + Availability + Skills
Untapped Goldmine
Powerful shortlists
Relevancy + Availability + Skills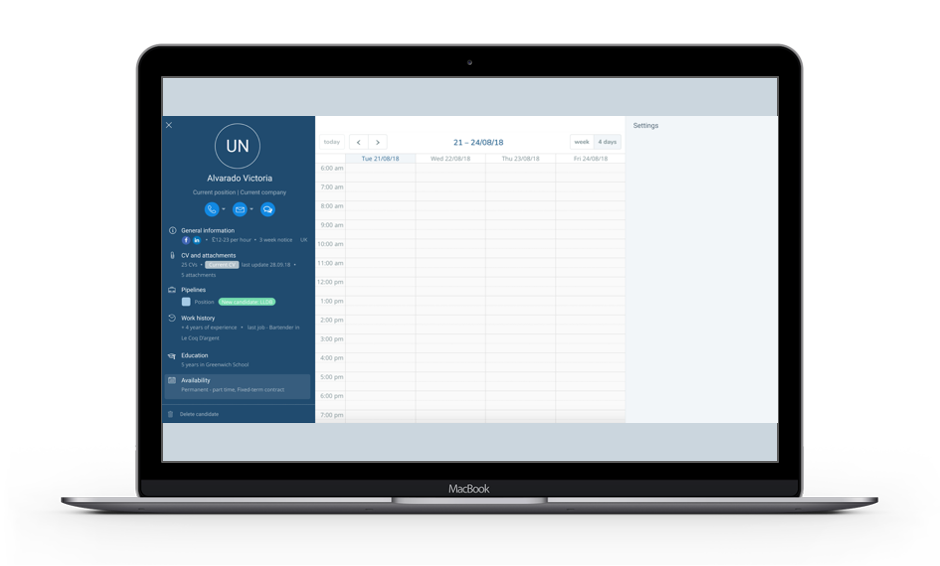 The availability of prospective talent is just as important as their skill sets. EVA gives HR teams insight into talent availability, and the single workflow view powers real-time visibility as well as insight into their skills and professional experience.
Untapped Goldmine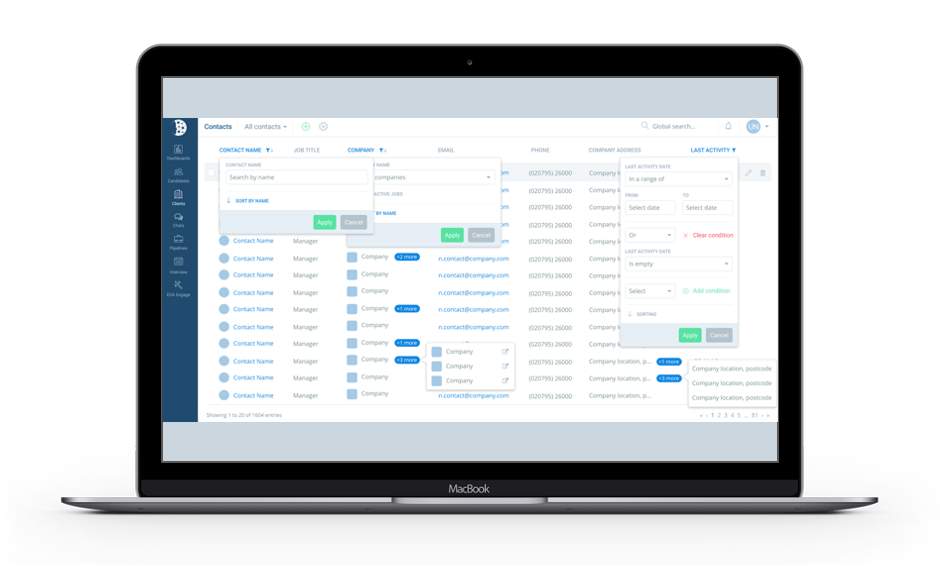 Maximise the capacity of your existing operations by providing internal HR functions with the ability to search, sort and filter for the right employees quickly. Provide managers visibility to identify and close skill gaps, match the right people to roles, and align talent to the business.
Powerful shortlists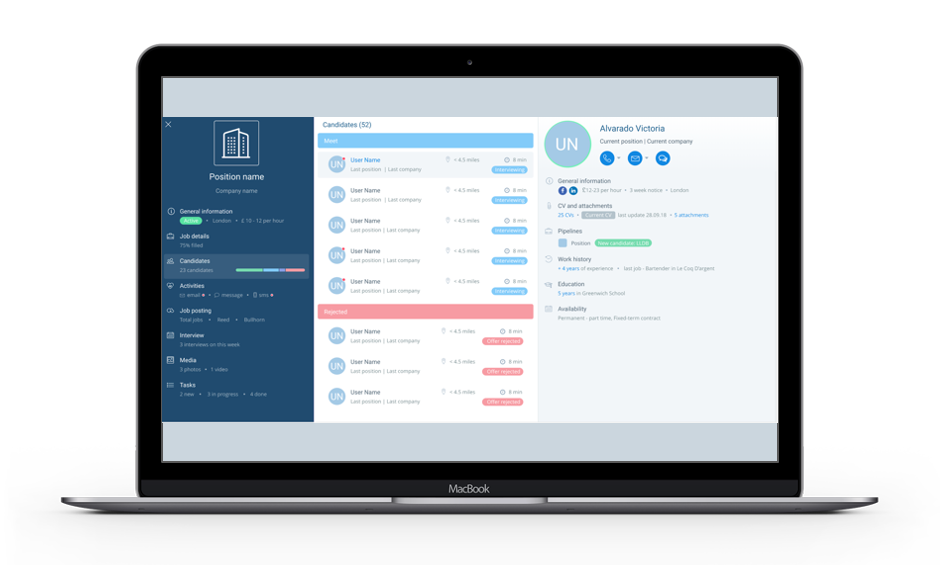 EVA will always push the most relevant internal candidates first, using its contextual understanding of the HCM space to power sophisticated search 'matches' based on the defined parameters.
Query-based Reporting
Track KPI's
Address Bottlenecks
Query-based Reporting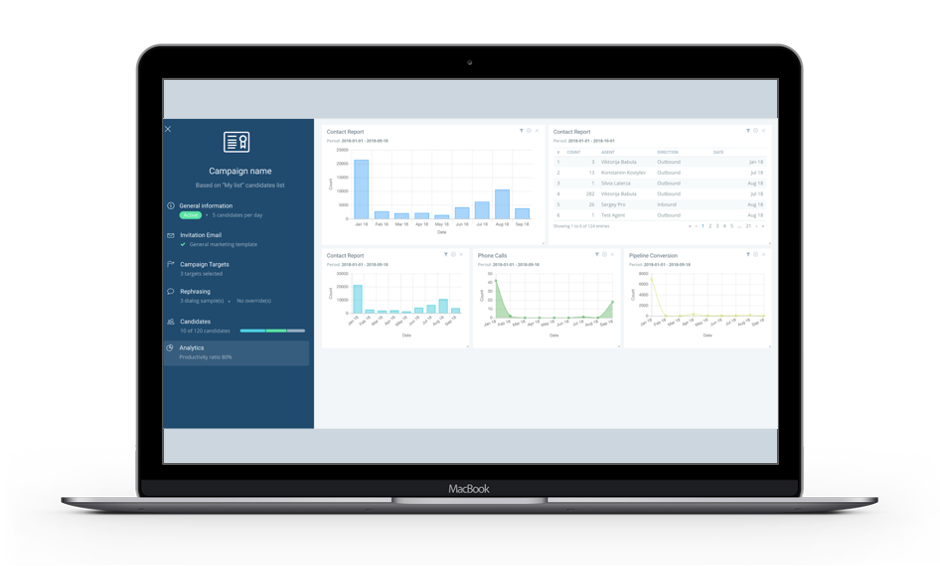 Report on any element across your custom data-model or process. Leverage historical and employee data to accurately assess the eligibility of employees for all opportunities across the business.
Track KPI's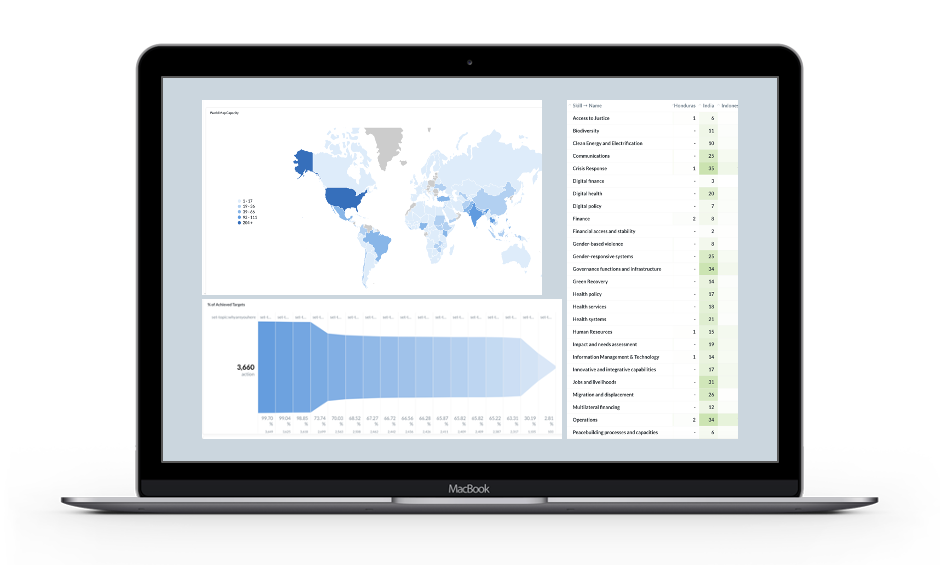 Build reports to see the percentage of positions filled internally, retention rates, voluntary turnover among high potentials and other customisable metrics to know how your internal mobility programs are performing. Break down these metrics by division, location, position type or any other criteria that you define.
Address Bottlenecks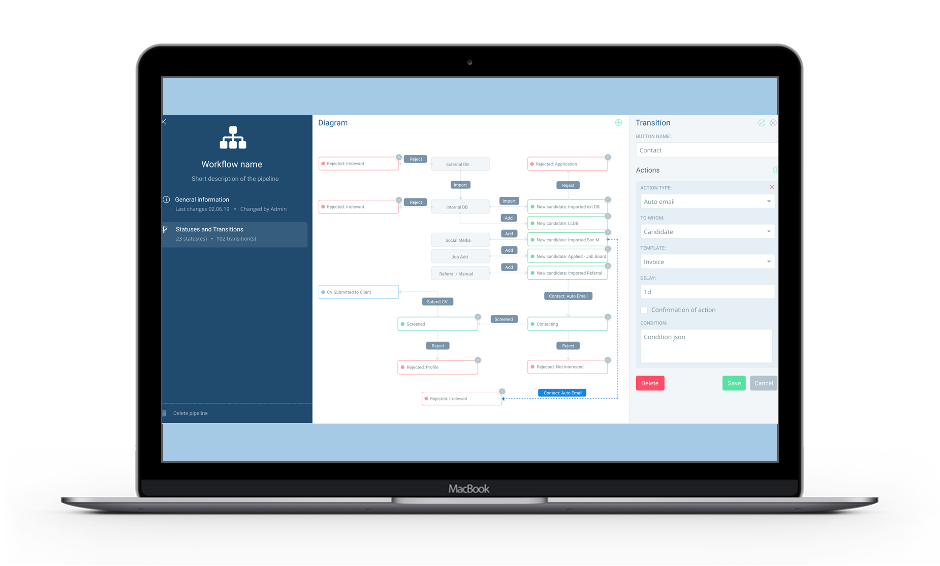 Gain quick visibility into key indicators such as the impact of loss, retention risk, and risk of loss, so your managers can address potential talent gaps and unexpected loss before they occur.
HR 4.0
Bring humans & AI together
---
How EVA's Employee Portal and intelligent conversational interface drive digital transformation, bringing humans and AI together for a world-class employee experience, 24/7.
Democratise Employee Data Management
Say goodbye to filing cabinets, and say hello to secure, centralised and continuously updated employee data. From standard sections with personal details, to customised sections digging deeper into personal career goals, you have full control over all of your key employee data all in one place and accessible from anywhere.
From Employee Profiles to Human Profiles
EVA allows you to capture a complete picture of your workforce by building robust and fully customisable employee profiles with basic personal and career information. More importantly – for your employees and organisation's mobility plan – EVA helps you to expand your employee profiles to include career aspirations and other important personal aspects.
An Extension of your Brand
Configure the Employee Portal and chatbot to align with your brand values, terms, branding, colours, language and tonality. Deliver a consistent employee experience at every touchpoint of their career and mobility journey.
Automate Career Progression
Enable employees to specify progression goals, preferred future roles, and the skills required to get there with career paths that are available based on their career goals and company needs.
Reduce Employee Turnover
With exciting internal career options readily available to employees within the portal, fewer employees leave to seek opportunities elsewhere. Empower employees to take on new challenges internally and nurture a workforce of dedicated, satisfied, and engaged employees.
Boost Employee Engagement
EVABot engages deliberately and thoughtfully 24/7, utilising its contextual knowledge of the employee information within your system to facilitate personalised and outcome-driven conversations, at scale.
The HR 4.0 end-game
A better experience starts with better data
---
To gain meaningful insights from your data, you have one source of truth where data from all your systems come together. With EVA, our central management system can facilitate the free flow of information across your entire HR technology stack, accessed from a single screen in the HCM Portal. But how can you maintain the integrity of that data?

As employees continuously engage with EVA, their information is automatically updated across the Employee Portal and HCM Portal. In turn, EVA's algorithms become smarter, matches become more relevant, and candidates become more engaged – facilitating a powerful, continuous loop backed by intelligence.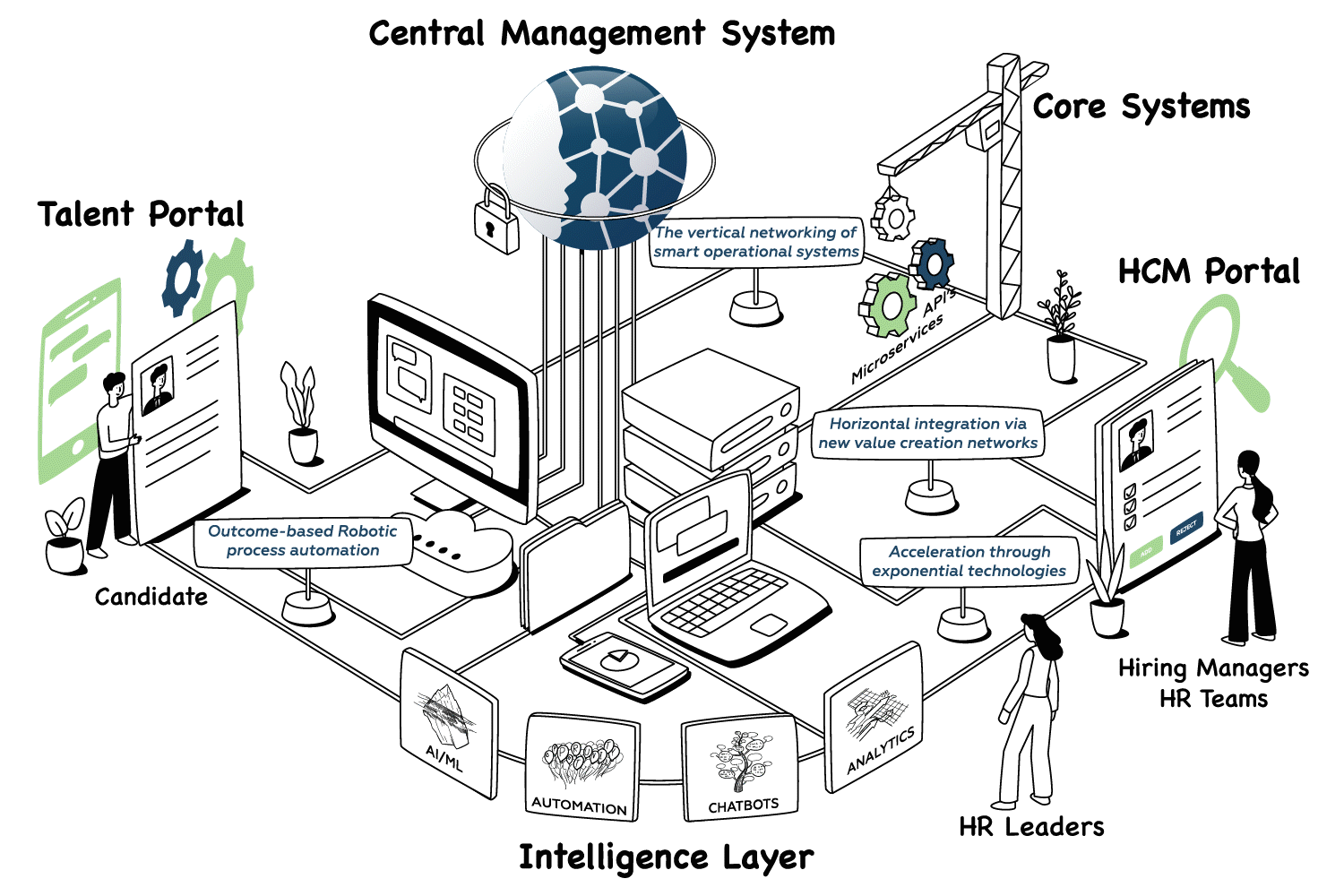 Explore our other amazing solution suites