Digital Candidate Journey (DCJ)
Candidate Experience + Process Optimisation
EVA transforms how candidates engage with your organisation. Learn how value-based automation can optimise your processes, eradicate repetitive tasks and manage complex operations – delivering a fantastic candidate experience.
Start a Conversation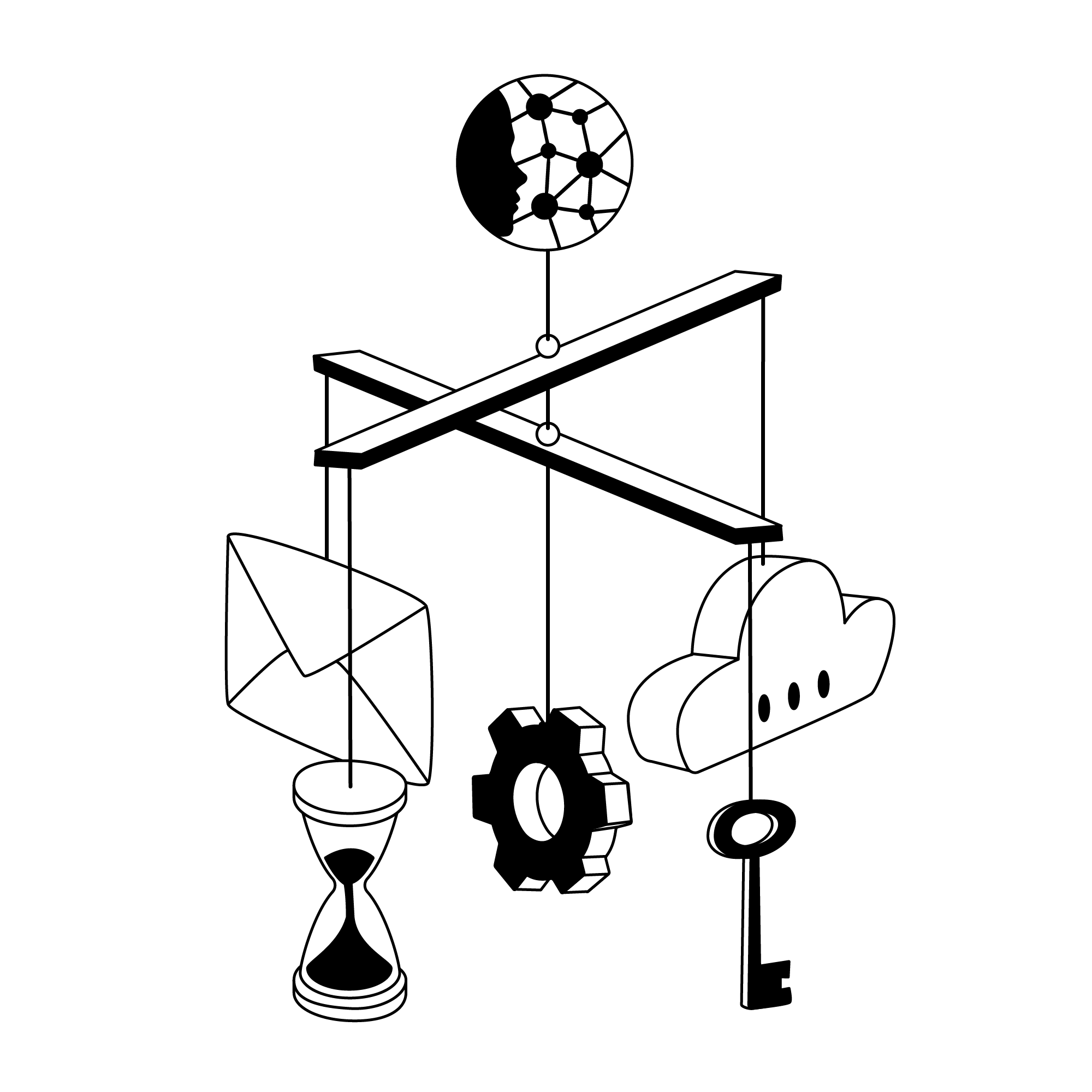 HR 4.0
The technologies at play
---
EVA.ai combines five technologies to deliver a custom Digital Candidate Journey solution that facilitates personalised engagement at scale, allowing your talent acquisition function to smash effectiveness goals.
Conversational Assistant
EVABot engages candidates in real-time, initiating the screening process, testing eligibility and fit-to-roles while delivering on-demand job updates
Robotic Process Automation (RPA)
EVA's configurable 'outcomation' workflows streamline the entire hiring process, by quickly and accurately managing high-volume operations across previously complex systems
AI & Machine Learning
EVA's ML algorithms analyse the positive and negative outcome of every decision related to a vacancy or interaction with a candidate to learn, track and recommend best-practice approaches to deploy in hiring scenarios
Analytics
EVA's Analytics capabilities arm your HR ops with the data and reporting tools necessary to track end-to-end hiring metrics, whilst gaining useful insights that optimise your hiring strategy and facilitate data-driven decision making
Ecosystem Integration
EVA integrates/manages disparate technologies to streamline processes so that every stakeholder within a defined workflow is genuinely engaged and fulfils maximum productivity.
Great things are done by a series of small things brought together
---
Let's get started.
EVA Talent Portal
EVA's Talent Portal gives candidates everything they need to support their career and engage meaningfully with your organisation. Talent can engage with EVABot to create and update their profiles, search and apply for relevant vacancies, ask and find the information they need, view the status of their applicants and view recommended jobs, and much more. Simply by engaging with the chatbot.
Revolutionise your candidate experience
Engage purposefully across the hiring lifecycle
EVABot acts as a side-kick for both your candidates and HR team at every stage of the application process.
As you work through the hiring process, hiring managers can simply click a button to change the status of a particular candidate. With EVA's custom-built automation workflows, this will trigger a pre-configured action.
For example, if a candidate is moved to the screening stage, EVABot can be automatically triggered to contact the candidate and ask a number of screening questions. For candidates, this gives them the ability to answer your questions in just minutes – at any time of the day.
EVA HCM Portal
---
While candidates use EVA's Talent Portal, HR executives and hiring managers leverage EVA's HCM Portal.EVA automates your workflows and processes, taking into account every datapoint and decision your team makes in real-time. Each HCM portal is uniquely configured for your organisation, and designed to remove the friction and frustrations caused by manual actions.

Scale your resourcing operations, engage and nurture large talent pools and quickly hire the best talent, while maintaining – if not enhancing – your candidate experience.
Talent Pools
Powerful Shortlists
Reduce Unconscious Bias
Talent Pools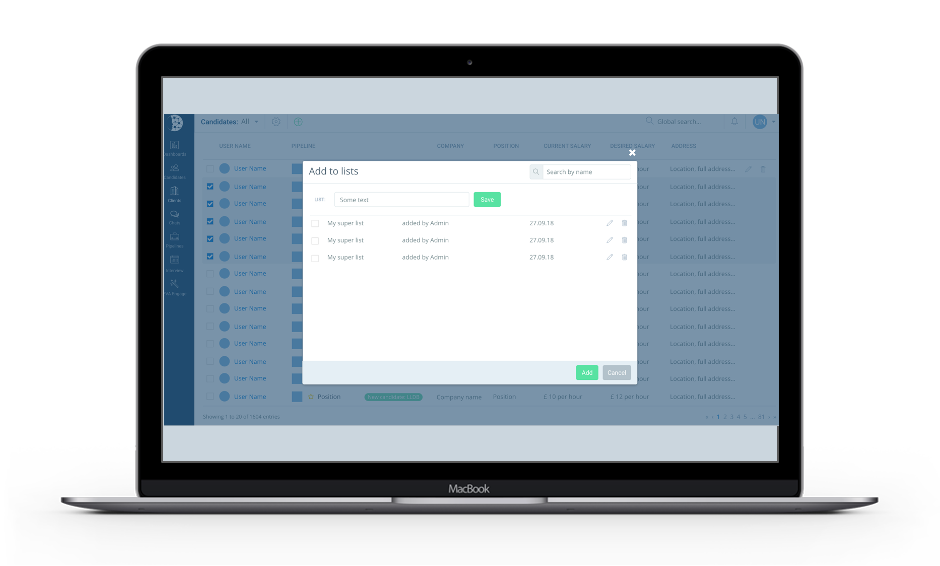 Segment your entire candidate database based on skills, internal CV tags, availability status, qualifications, years of experience and more. EVA allows you to build up-to-date lists based on your desired filter criteria, ensuring teams always have easy access to robust and relevant pipelines.
Powerful Shortlists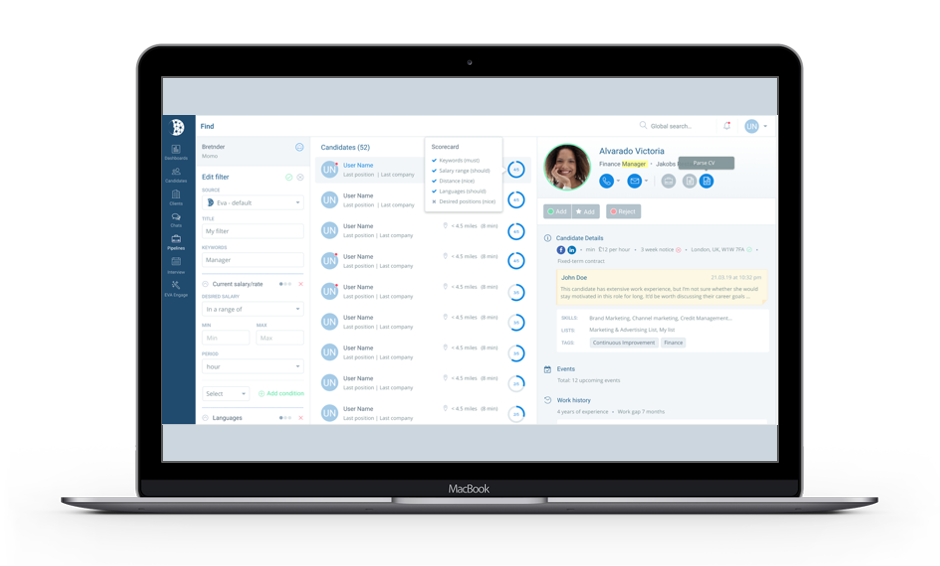 EVA's powerful search functionality allows users to unearth the breadth of talent within the candidate database. Configurable filters ensure that agents can customise the hiring requirements against the search parameters. As a bonus, EVA integrates into third-party job boards to power a more comprehensive search.
Reduce Unconscious Bias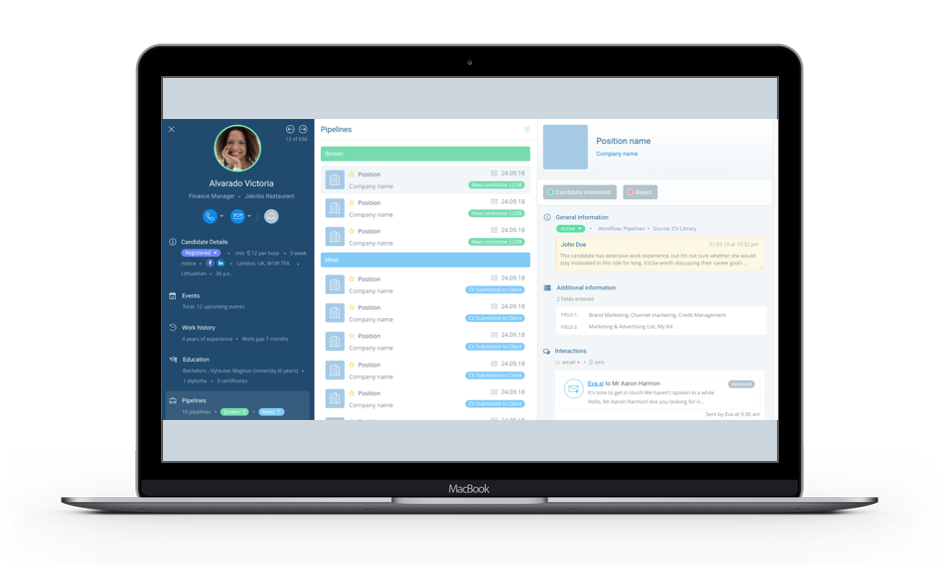 EVA's matching algorithms are built to negate the presence of unconscious bias, ignoring variables that can promote bias, such as ethnicity, age, race and gender. To create compliant search results, EVA can randomly add candidates that are typically subject to exclusion.
Conversational Screening
Qualify Talent
RPA workflows
Conversational Screening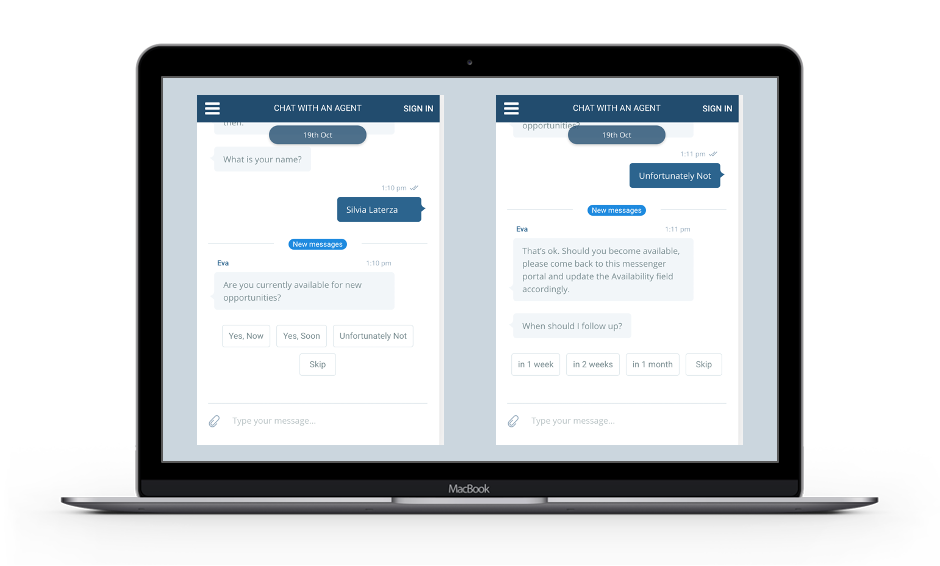 Organisations can deploy EVABot to work on hiring boards, career pages, or websites to replace the 'click-heavy' and manual form-based application process. EVABot's dynamic conversational abilities create an incredibly engaging application experience, decreases dropout rates and captures intangible insights that forms are not designed to do.
Qualify Talent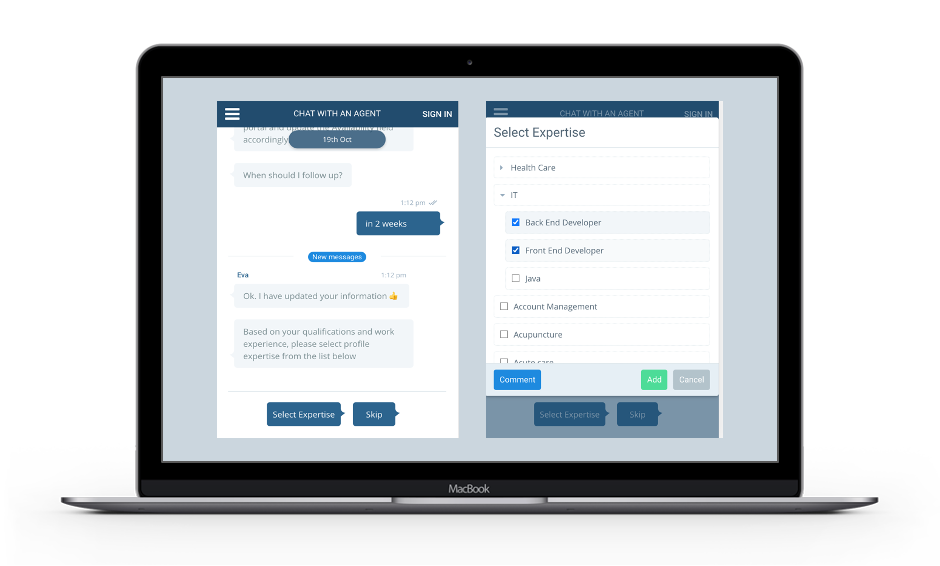 Utilising informal assessments against workflow automation, EVABot can engage with candidates to deliver aptitude, behavioural and personality tests. Scoring from tests is fed back to the agent portal. Allowing hiring teams to qualify talent before the first recruiter interaction.
RPA workflows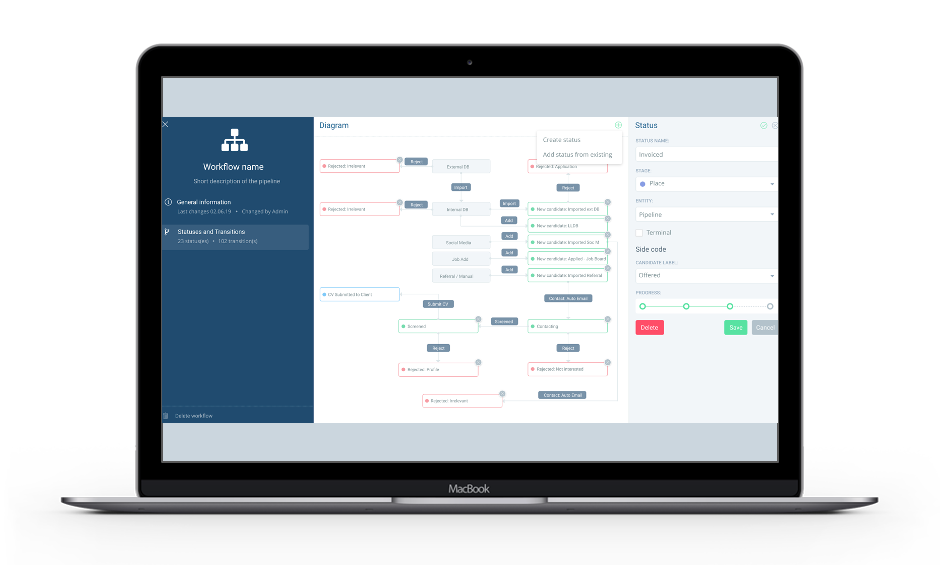 Build configurable workflows around 'if' and 'then' outcomes across the entire screening process. Automate follow-up messages to acknowledge receipts, send invitations or rejections with a click of a button and scale personalised engagement.
Conversational Assistant
Personalised Communication & Templates
Re-engagement Campaigns
Conversational Assistant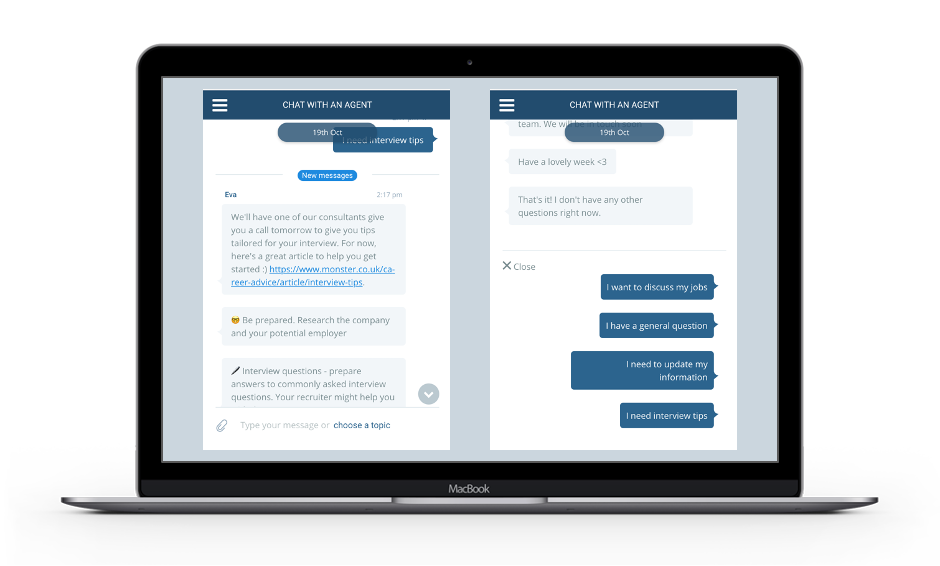 EVABot acts as a personal sidekick to recruiters, automating manual processes via outcome-led automation, delivering personalised engagement at scale and facilitating two-way conversations as candidates move across the hiring funnel. With EVABot teams are finally able to achieve truly personalised talent engagement at scale.
Personalised Communication & Templates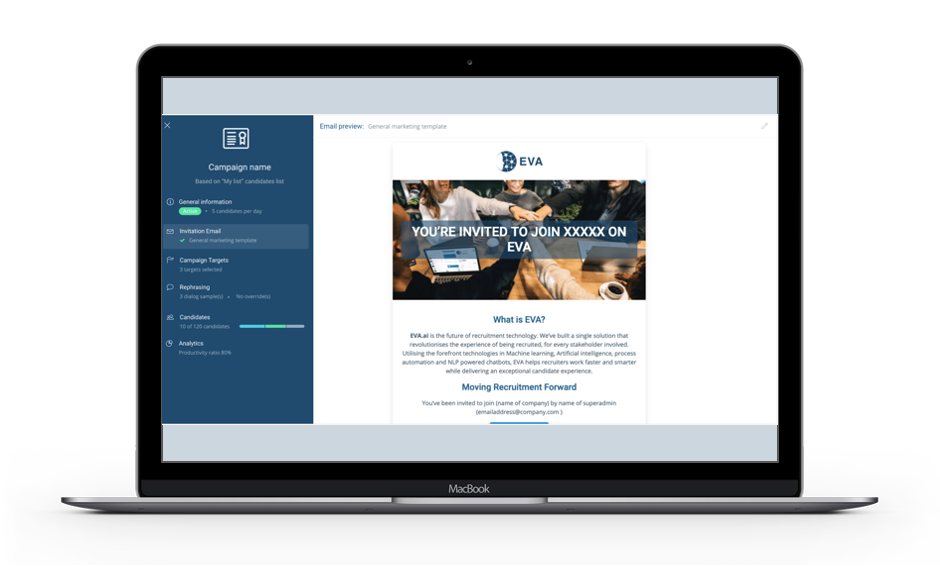 Define triggers with EVA's RPA workflows that can be triggered across SMS or email to candidates as they move across their hiring journey. Personalised fields allow you to tailor every outbound communication to the candidate in question, without the manual work.
Re-engagement Campaigns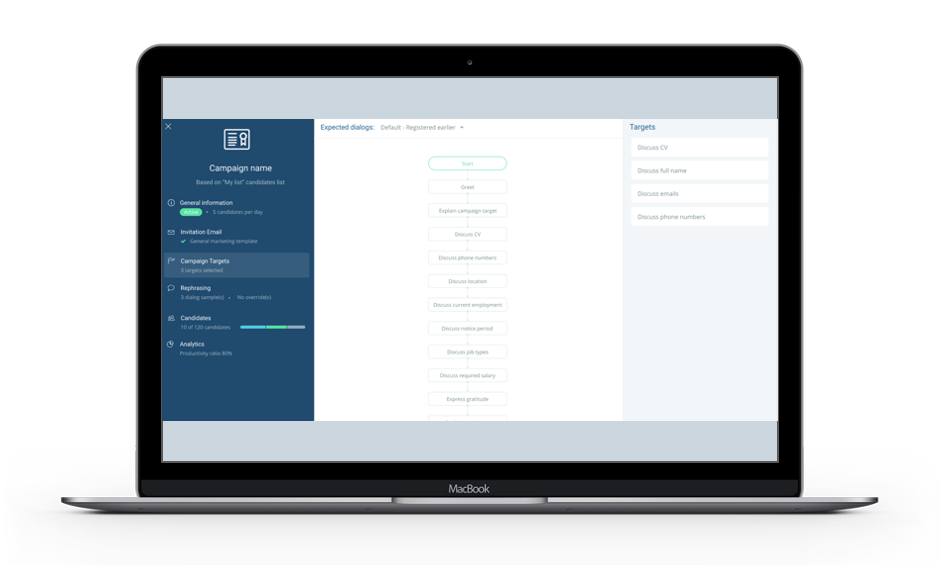 EVA combines the power of automatic email and chatbot campaigns to proactively engage and nurture candidates with dynamic conversations to gather fresh insights on their current work status, preferences, skills and work experience.
Roles & Permissions
Tasks & Reminders
Engagement Hub
Roles & Permissions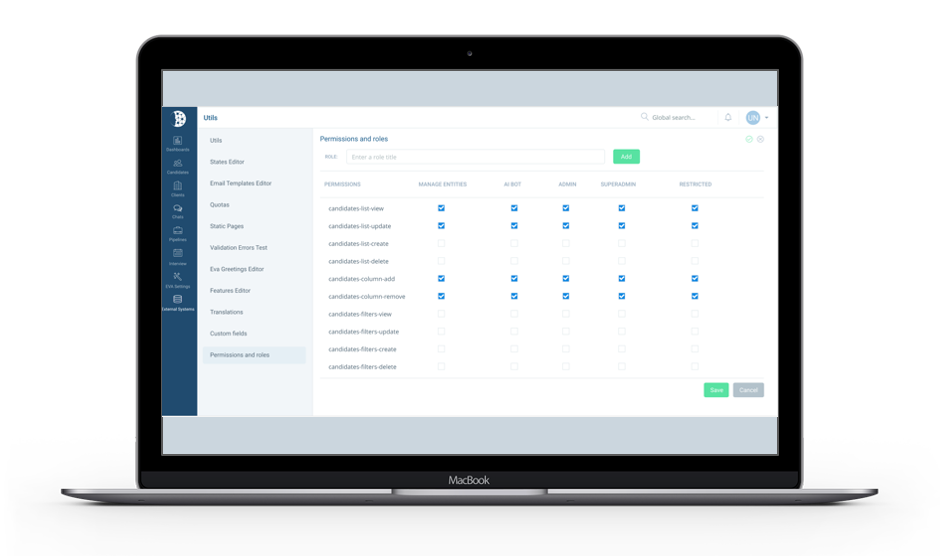 Assign roles across your HR teams to manage different levels of access; user-aligned interfaces ensure distinct functions within your organisation are privy to information that falls within their job specifications.
Tasks & Reminders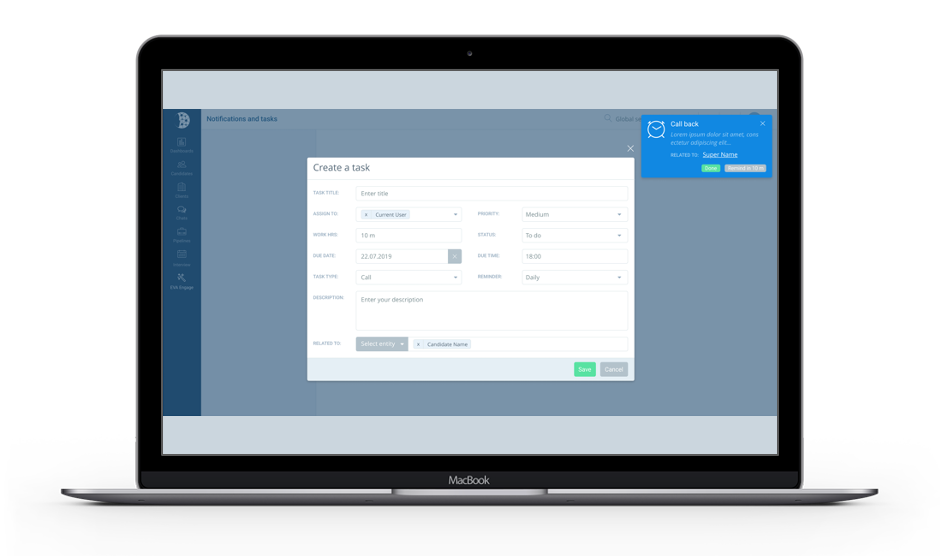 Users can trigger tasks and reminders to ensure that they are always on top of work. Track pending to-do's, manage work allocation and identify who is responsible for what process in real-time.
Engagement Hub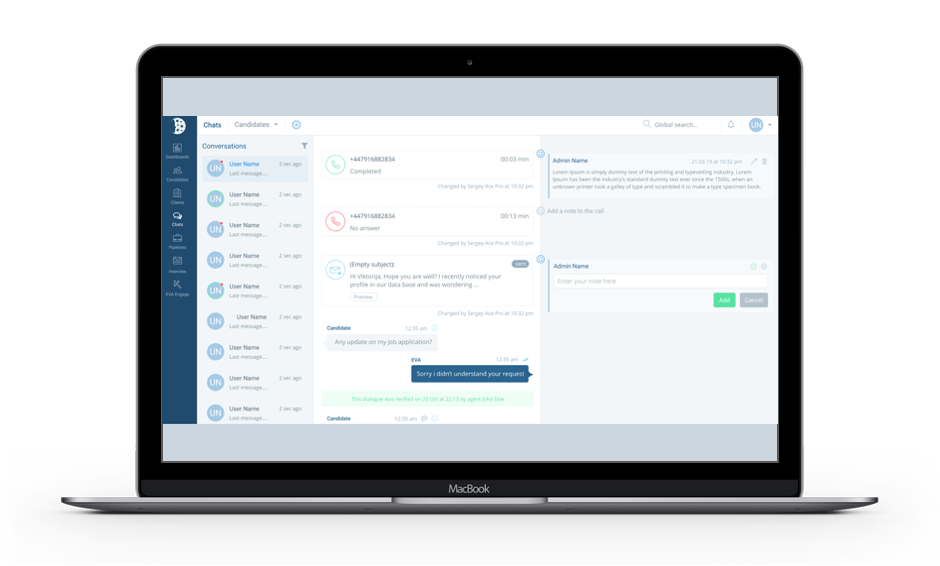 EVA's communication hub ensures all candidate interactions, internal notes and tasks about each candidate are accessible in a single window. The comms hub facilitates process visibility and information transparency across every member of the hiring team.
Configurable Dashboards
Drill Downs & Pivots
Configurable Dashboards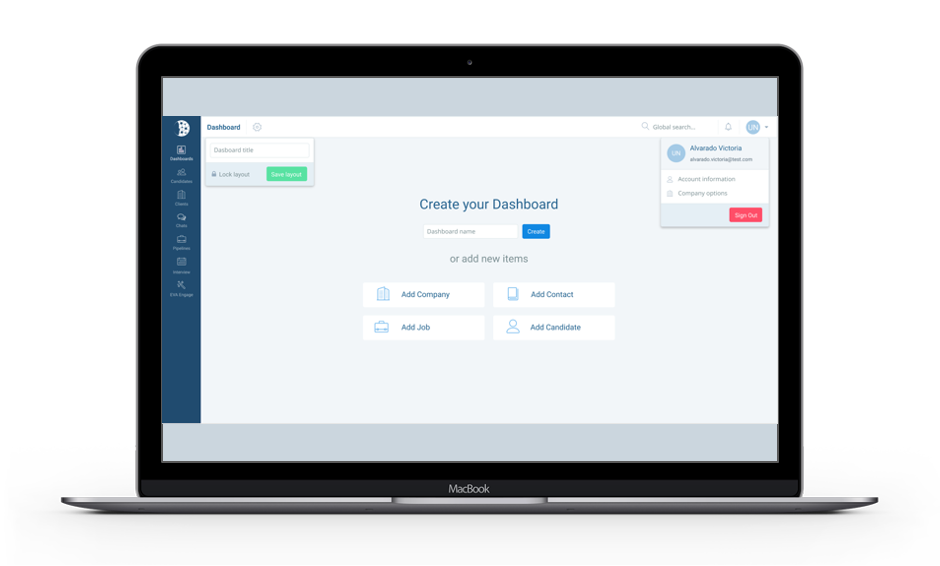 Access all your hiring metrics from EVA's intuitive and easy-to-use dashboard. EVA's analytics capabilities arm talent acquisition teams with the data and reporting tools necessary to drive recruiting strategies forward.
Drill Downs & Pivots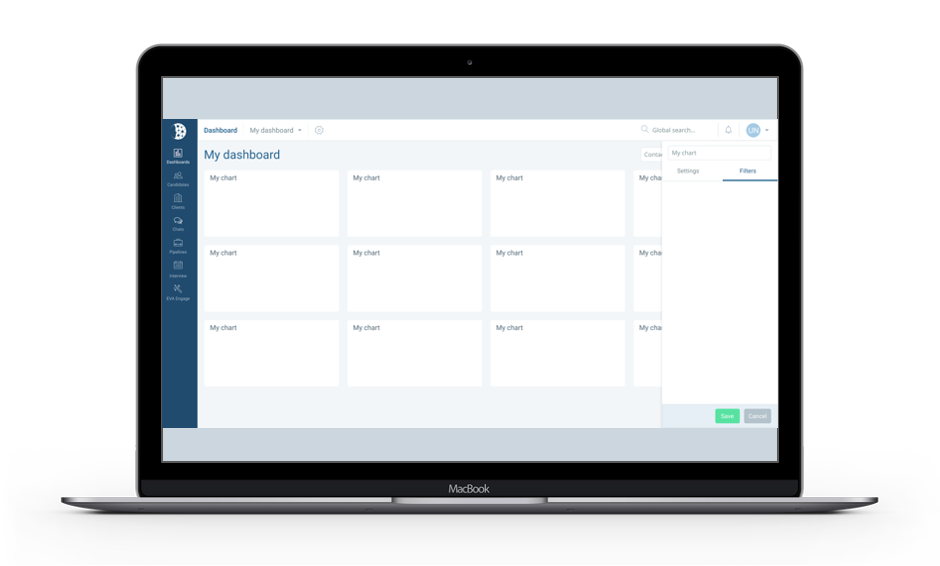 Powerful filters and drill-downs allow you to make sense of the key drivers within your HR performance data in real-time. Understand how every metric, source or KPI within the hiring process affects organisational performance.
Add or Reject
Neural Networks
Add or Reject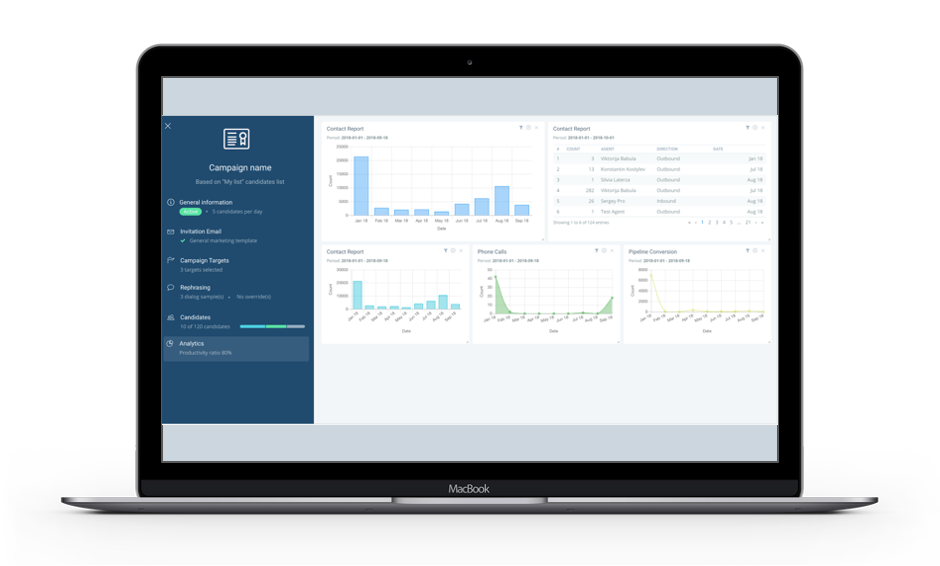 Neural Networks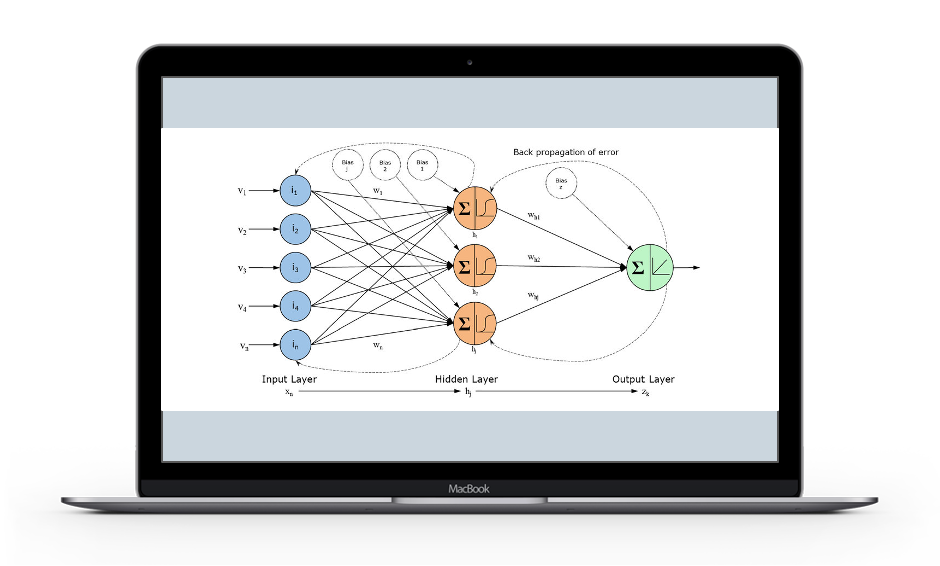 The process of matching creates a continuous insight loop that feeds EVA's ability to predict which candidates are likely to progress, based on semantic analysis, past recruiters' decisions, and recruitment process selection outcomes.
HR 4.0
Bring humans & AI together
---
How EVA's intelligent conversational interface brings humans and AI together for a world-class candidate experience, 24/7.
Democratise Data Management
Within the talent portal, candidates can engage with EVABot to automate the screening process, assess eligibility and fit-to-roles whilst delivering on-demand job updates.
Rich Candidate Profiles
Get real-time access to data. When a candidate uploads their CV via chatbot or Talent Portal, EVA automatically parses, extracts, and updates building info across EVA's portals. The same goes for when candidates engage with the chatbot – e.g. during the screening process.
An Extension of your Brand
Configure the talent portal and chatbot to align with your organisation's brand, terminologies and language. Drive a consistent EVP at every touchpoint of the candidate journey.
Proactive Talent Engagement
Deliver job recommendations and push relevant content to candidates via the EVABot. Sync vacancies from your career site to the Talent Portal to create a one-stop destination for candidate's to support their application.
Engaging Candidate Journey
Revolutionise your digital candidate journey. EVA's always-on capability and context-based workflow management guides candidates across the entire hiring experience from job search to hire, and from on-boarding to career advancement.
The HR 4.0 difference
A single source of truth
---
To gain meaningful insights from your data, you have one source of truth where data from all your systems come together. With EVA, our central management system can facilitate the free flow of information across your entire HR technology stack. But how can you maintain the integrity of that data?

As candidates continuously engage with EVA, their information is automatically updated across the EVA portals. In turn, EVA's algorithms become smarter, matches become more relevant, and candidates become more engaged – facilitating a powerful, continuous loop, backed by intelligence.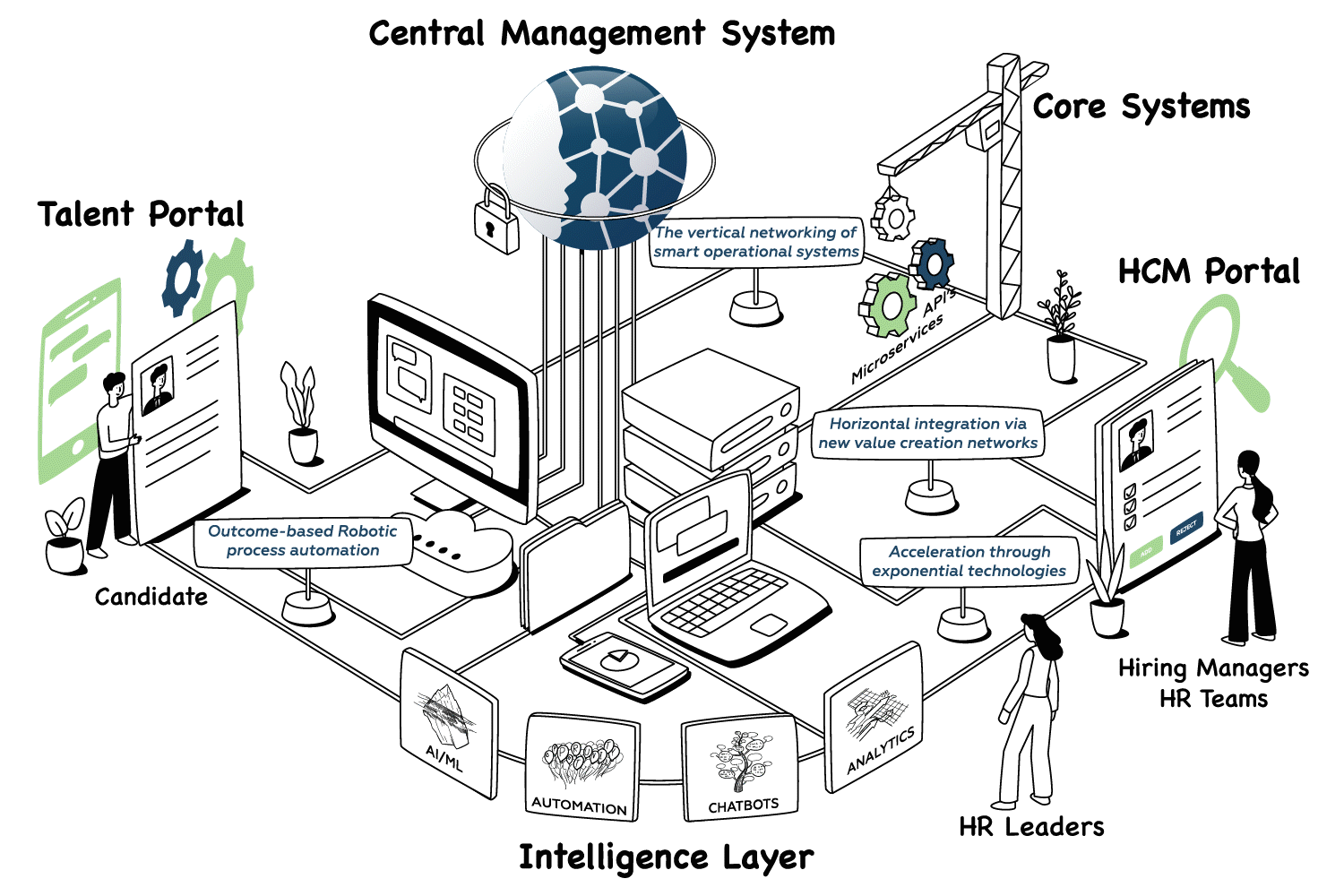 Explore our other amazing solution suites