In-house Recruiters
EVA powers today's recruiters, allowing you to connect vacancies with the right people, efficiently and effectively.

EVA makes you more effective, from sourcing and expanding your talent pool, to intelligently identifying candidates and arranging interviews, tied together with communications managed by a built-in chatbot.
book a demo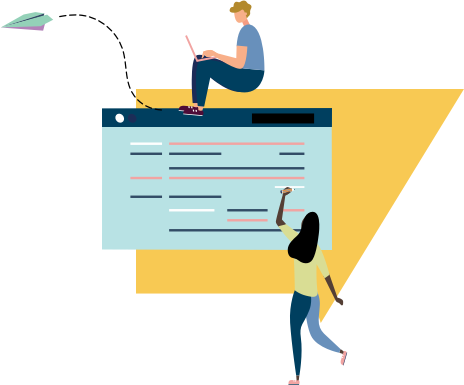 BUILD AND NURTURE TALENT
EVA consistently keeps your talent pool up to date, allowing you to re-engage with multiple groups of passive candidates by automating bulk actions, initiating communication sequencing or with EVABot.
MANAGE PIPELINES EFFICIENTLY
EVA ensures that every stakeholder within the recruiting process has the best tools to power productivity. Candidates, recruiters and hiring managers, collaborate and engage efficiently and in real-time.
ACCELERATE YOUR TIME TO HIRE
Collaboration between recruiters and the hiring manager is made frictionless. The seperate manager log-in screen ensures a smooth handover of candidates for a review.
IMPROVE YOUR EMPLOYER VALUE PROPOSITION
Our team works with you to customise your candidate experience, ensuring that your brand communication remains consistent across every interaction touch-point.
---
Revolutionise your recruitment process
---
Discover how EVA can leverage the capabilities of
your team to achieve exponential growth
Book a demoDiscover features
Scheduling interviews with hiring managers
Syncing hiring managers calendars against candidate availability, makes interview scheduling a hassle. This usually involves calling both parties back and forth to find a suitable time
With EVA
EVA automates the process of scheduling interviews across multiple platforms. EVABot manages comunication between all parties, identifying and proposing the most suitable time for interviews
Poor candidate experience
Overloaded recruiters are slow to respond to candidates resulting in a decline of trust and confidence. Lazy shortcuts kill relationships and damage brand and reputation
With EVA
EVABot engages with candidates from on-boarding to placement. The seperate candidate log-in portal updates candidates in real-time as updates on their application become live
Broken feedback loop
After a candidate interview, recruiters often chase hiring managers for feedback they can forward. This can be another time consuming process, of back and forth emails or chasing up
With EVA
EVA's hiring manager portal allows hiring managers to leave interview feedback via their seperate UI. Allowing recruiters to immediately trigger a communication sequence based on the outcome
Sorting through candidate CVs
A lot of in-house teams struggle to deal with the sheer amount of CVs within their database. Each candidate has a different CV format, which increases the time spent reformatting candidate CVs
With EVA
Eliminates the painful task by implementing internal process customisation. CVs are automatically added to your database and mapped based on your company specific guidelines
Time wasted reviewing CVs
In-house teams waste valuable time and effort, manually matching CV requirements to the different vacancies and hiring managers
With EVA
Machine learning and A.I. algorithms learn from your placement history and previous pipelines to predict which candidates in your database are the most relevant to a vacancy