Drive your Employer Value Proposition (EVP)
Skills + context = meaningful conversations
EVABot connects to your candidate database to build a contextual understanding on the information you may or may not have. EVA leverages these insights to drive personalised conversations at scale.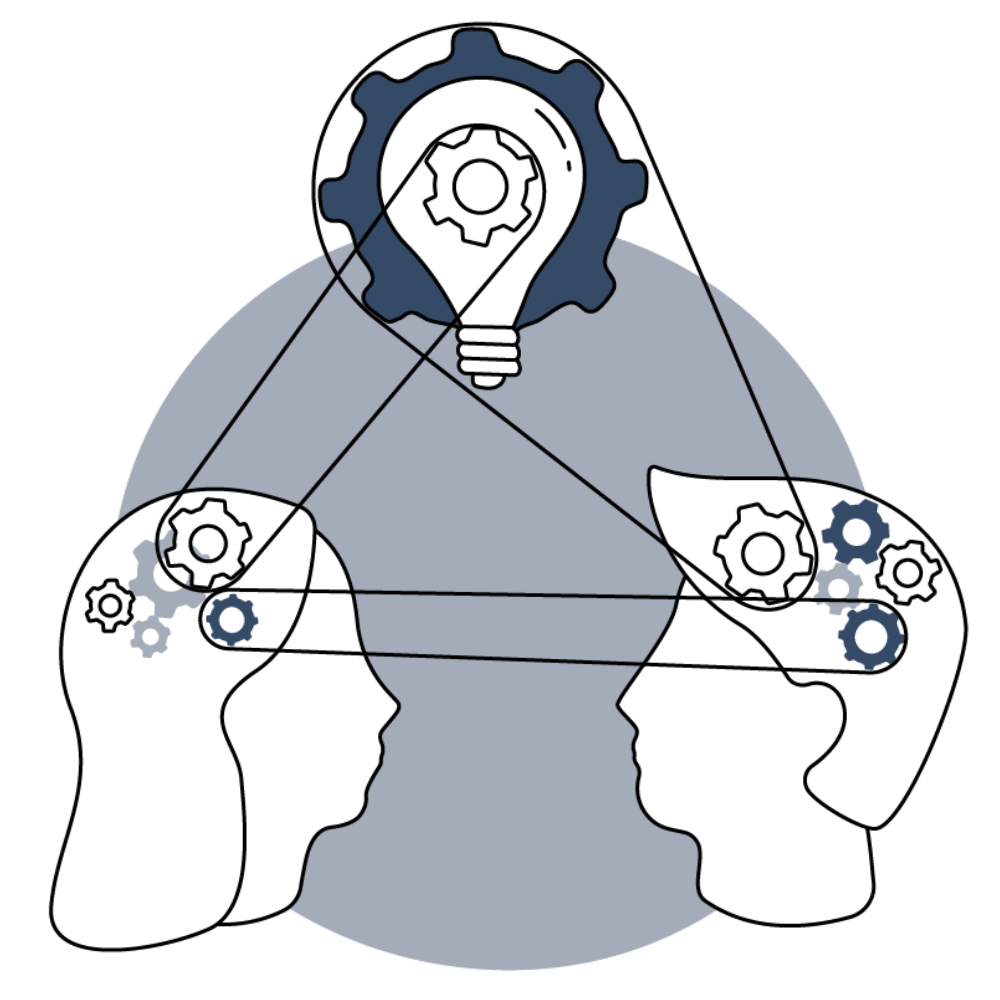 According to LinkedIn, 80% of candidates would accept one job over another based on their experience during the hiring process.
---
Nurture meaningful relationships
Engagement across the hiring lifecycle
EVA's always-on capability and context workflow management guides candidates along the entire hiring experience from job search to hire, and from onboarding to career advancement..
People are talking about us
---
We work with some of the most forward-thinking companies in the HCM space who believe in our SaaS (Service as a Service) model
From Ideology to solution in 5 steps
---
We believe that no two organisations are the same, this is why our approach to implementing a HR solution is tailored to the organisation in question. We work with companies to ensure that their unique EVA solution consistently drives business growth.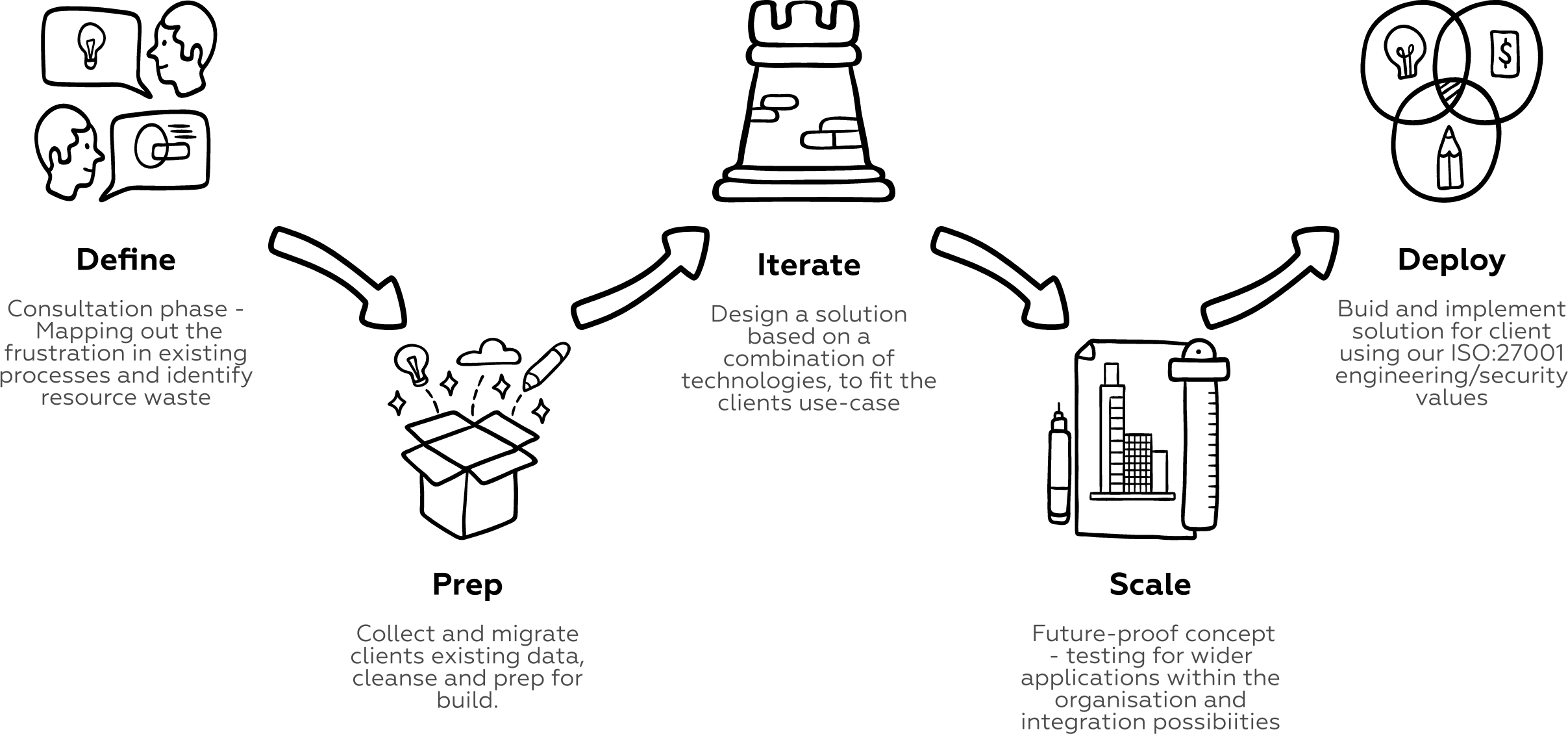 No more long-winded applications
Conversational screening
Nearly 50% of candidates drop out of the application process. Why? On average it takes 20 minutes to complete. Using EVABot you not only provide a better application experience, your dropout rates decrease and you gets intangible insights that forms just can't capture.
How EVABot Works
How EVA works across the hiring journey
---
Social Sourcing
Onboard from your Careers Page
Make your first impression count
Social Sourcing
EVA's social sourcing solution provides an extremely cost-effective and efficient way to incorporate beautiful video job adverts and chatbot-powered engagement, via social media, into your recruitment and marketing strategy, at scale.
Onboard from your Careers Page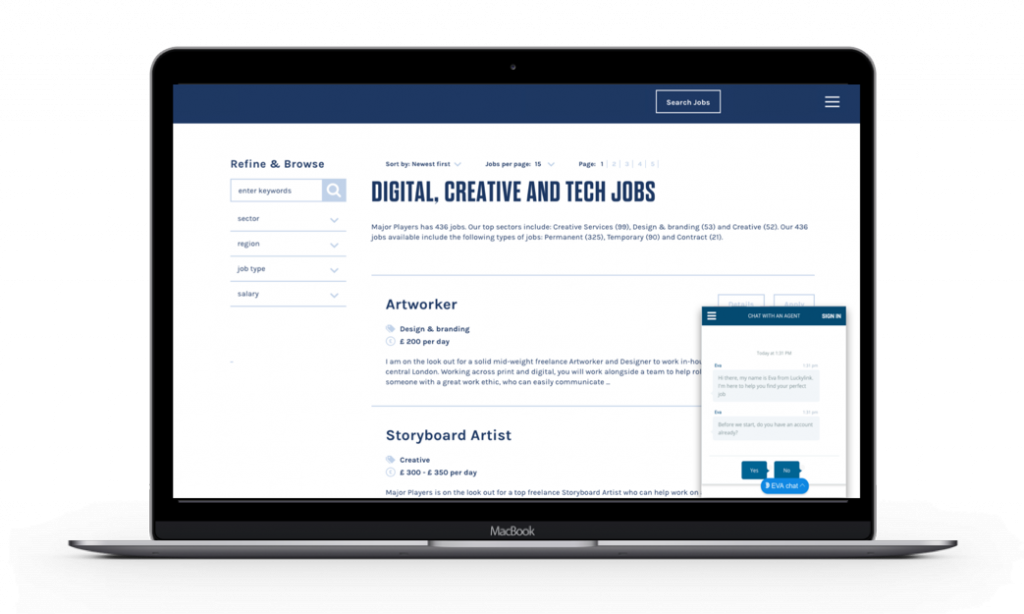 EVABot can be deployed directly on your hiring boards or career pages, completely eliminating the barrier of form-based job applications. EVABot replaces long/static web page applications with dynamic Q&A's that are updated in your systems in real-time.
Make your first impression count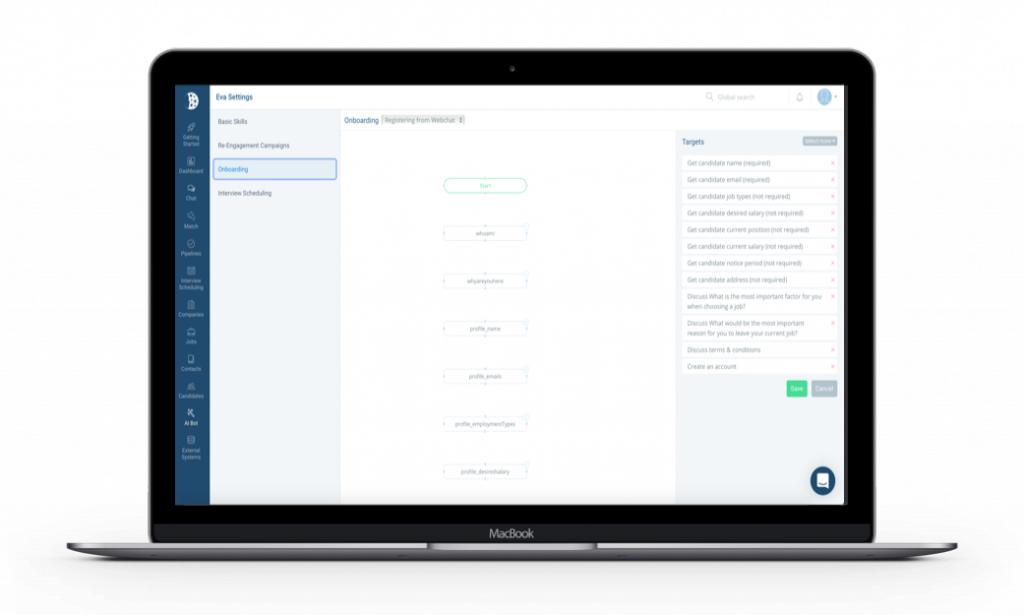 Using EVA's RPA strategies you can now deliver a frictionless, hiring experienceon-demand. Pre-screen candidates and deliver psychometric tests or technical assessments via EVABot 24/7, automate follow-up messages and automatically update your candidate records in real-time.
Cut out the guesswork
Proactive Hiring
Reduce unconscious bias
Cut out the guesswork
Algorithms that adapt to the way you hire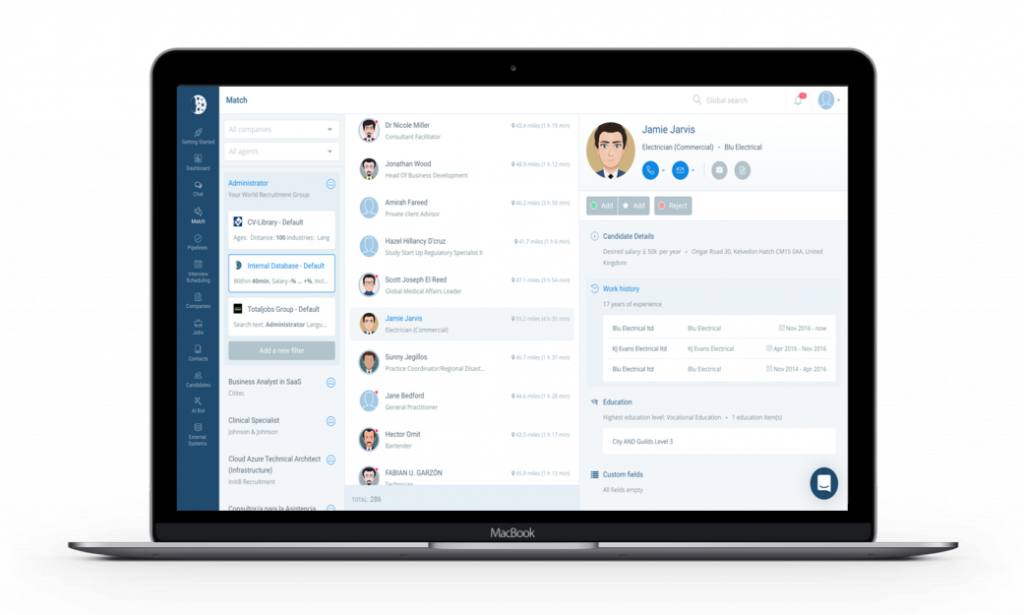 EVA's award-winning Machine Learning function measures the outcome of every hiring decision, learning and improving its suitability algorithm to unveil the best-suited people to a vacancy.
Proactive Hiring
Send targeted job recommendations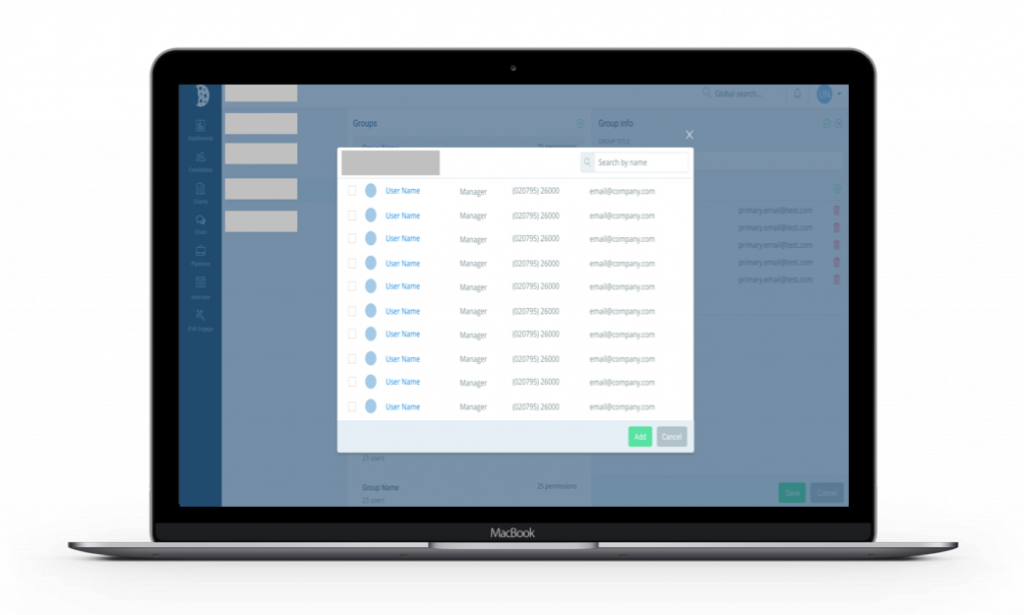 EVABot recommends jobs to candidates and algorithmically analyses the effect of a positive or negative response in real-time. This knowledge offers invaluable insights for HR leaders about their hiring patterns - by role or by industry. In the long run this allows companies to reduce their cost per acquisition and time to hire.
Reduce unconscious bias
Diversity and Inclusion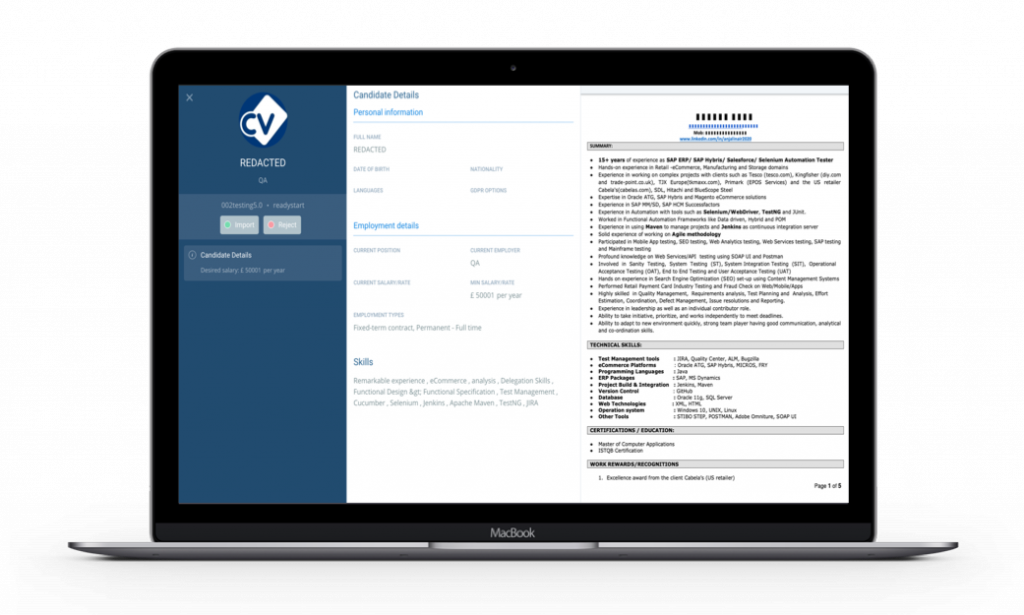 EVA's algorithmic approach to matching does not include variables such as age, name or gender. We simply focus on the candidate's suitability to a position: work experience and qualifications.
A centralised communications hub
Personalised email templates
Automated communication workflows
Re-Engagement Campaigns
A centralised communications hub
A single view of all your engagement activities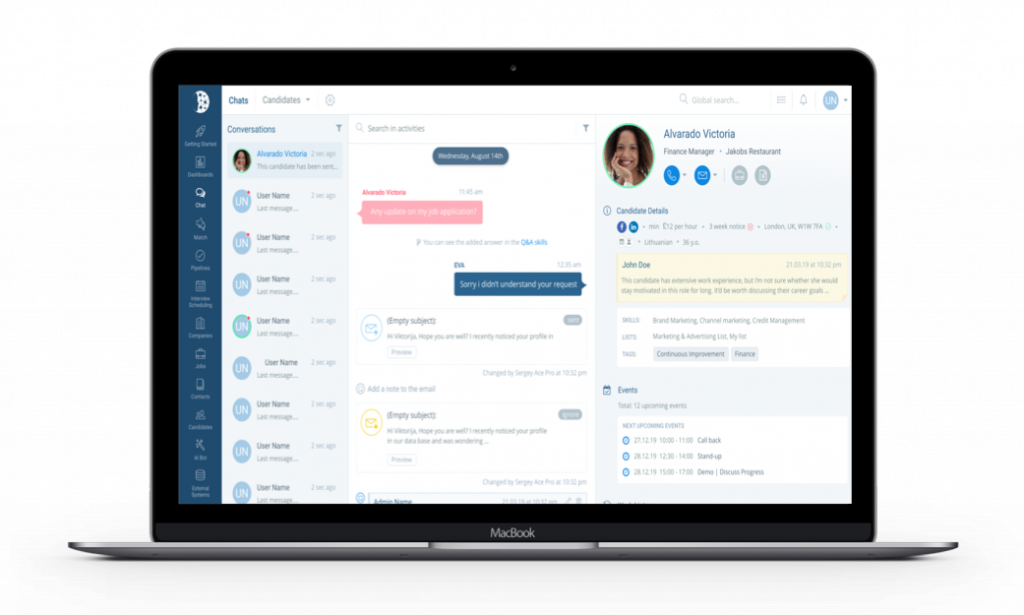 EVA's communication hub houses all candidate interactions, internal notes and tasks pertaining to each candidate are accessible in a single window. So no matter what member of your HR team is helping a candidate in question, they'll have access to the same actionable data that is instantly available.
Personalised email templates
Less Effort More Results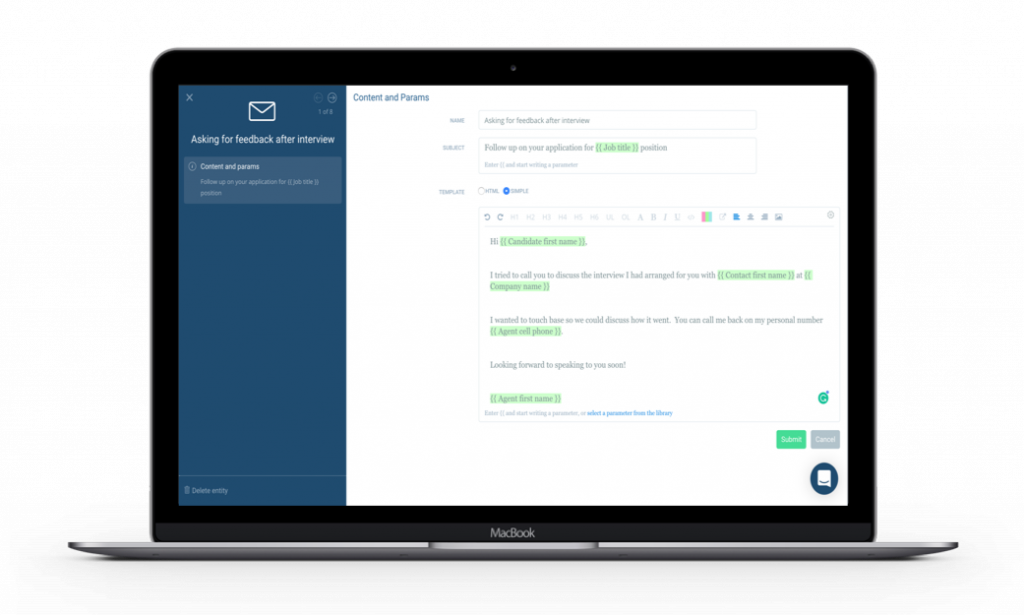 With the ability to add personalised fields to any template, EVA makes it really easy to send the right messages to the right people without doing the work every time. Making it easy to start conversations, engage meaningfully and keep building impactful relationships.
Automated communication workflows
Automate Follow-ups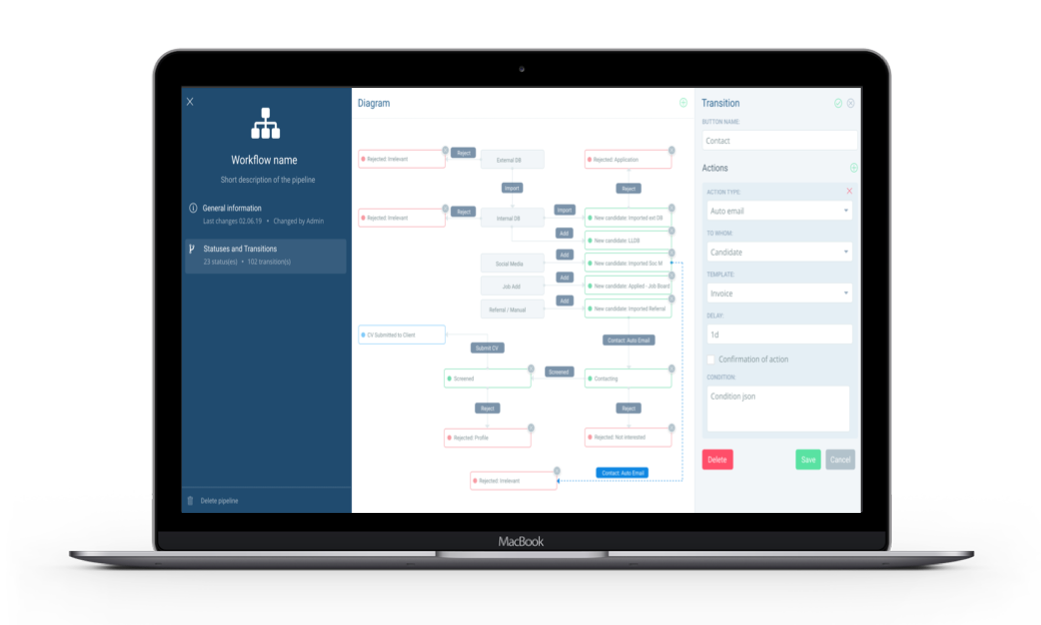 Define triggers in your EVA pipeline configurator that send out timely communications to candidates as they move across their hiring journey. Dramatically increase your process visibility by establishing practices that allow you to always follow-up with every candidate.
Re-Engagement Campaigns
Reconnect with candidates with EVABot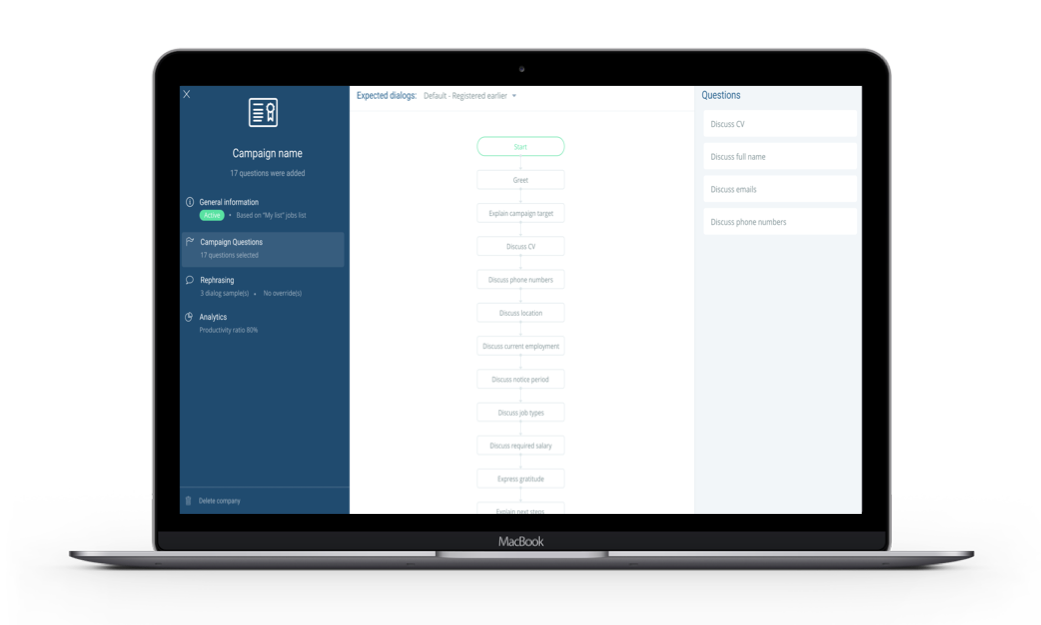 Using a combination of email and our NLP-powered conversational chatbot, EVA contacts, updates and re-engages with your database of cold candidates to ensure your recruiters have access to a pool of engaged people they can potentially place.
OmniChannel conversion metrics
Measure your outcomes
Make data-driven decisions
OmniChannel conversion metrics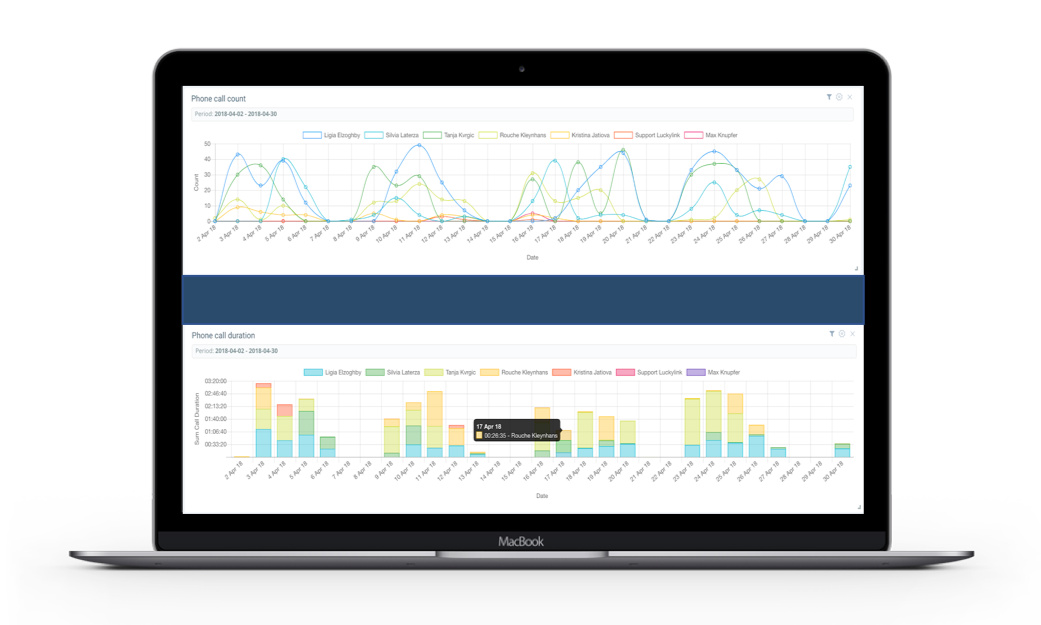 Building the best communication processes works better when it's powered by data. EVA integrates data from all your channels - allowing you to measure your service deliverables against actionable insights
Measure your outcomes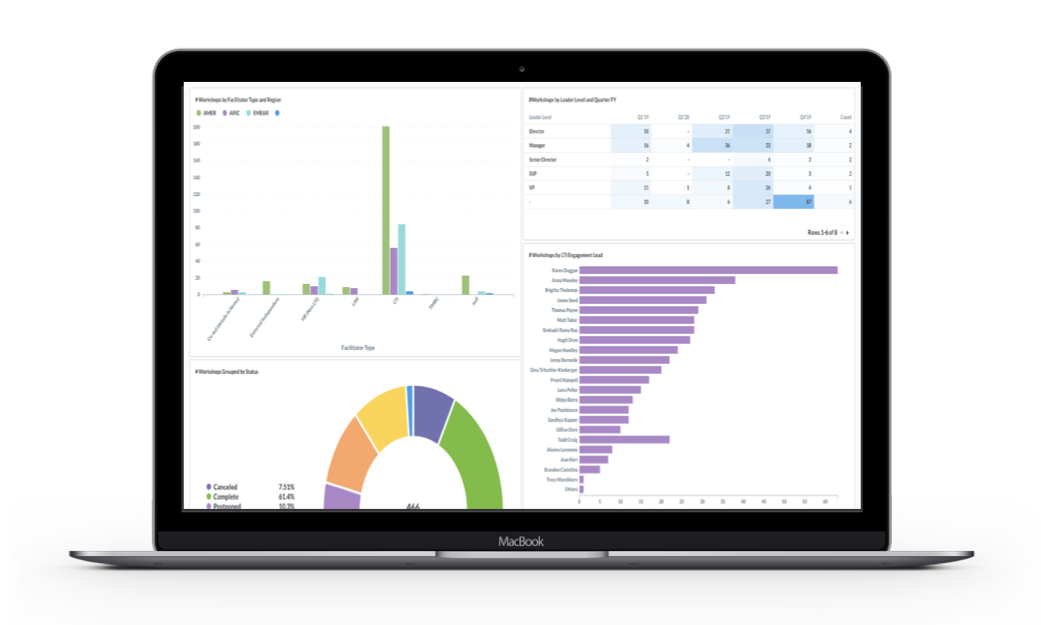 Our powerful analytics functions allow you to instantly measure the impact of your hiring efforts. Track the outcomes of your business development by recruiters, engagement metrics and (most importantly) placement vacancies and wider organisational openings.
Make data-driven decisions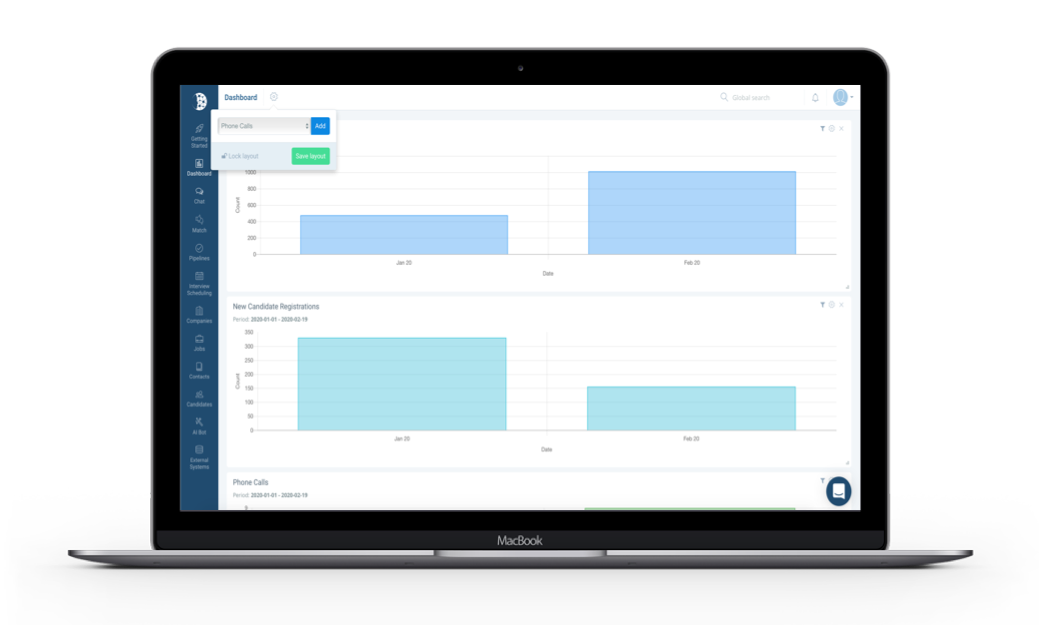 Use EVA to pin down the best source for your vacancies, per role or job description - transform the process of sourcing from reactive methodologies to data-driven, efficient and productive processes.
On-Demand transparency and accessibility
Candidate login portals
Allow your candidates to self-serve using a portal that houses everything they need to support their application:
• Update info – e.g. current salary, notice period, desired role and more
• Recommend jobs via recruiters and/or with ML powered tech
• View, accept and decline recommended jobs
• Track the progress of current applications
Great things are done by a series of small things brought together
---
Let's Get Started.
See some of our other amazing solution suites
---
Digital Employee Journey
Retain your best people, increase productivity and automate processes using our engagement-driven methodologies Learn more
Cognitive Analytics
Access your HR data in real-time on any device via EVABot Learn more