Hire the right people, at the right time to gain the competitive edge
Our top of the recruitment funnel technology, a powerful and easy to use all-in-one solution, simplifies the recruitment process from job discovery to interview in a single movement, helping you stay ahead in the race for talent.
---
Our Philosophy
---
We believe work defines who we are, how we support our family and how we make an impact in society. EVA.ai is obsessed with solving the challenge of finding the right job for each and everyone in the most efficient, simple and enjoyable way.In order to do a good job of that we have decided to lead in:
1
Automation
We automate the myriads of tasks for the top of the recruitment funnel to streamline the sourcing of candidates
2
Machine Learning
We create scalable algorithms able to match the rapid growth of data with the ability to leverage more computation
3
Augmented Intelligence
We combine human-written rules with statistical machine learning and big data to deliver a meta-design AI
Our mission
We converge technologies and leverage large volumes of data with AI to connect people's purpose to organizations' visions
EVA Timeline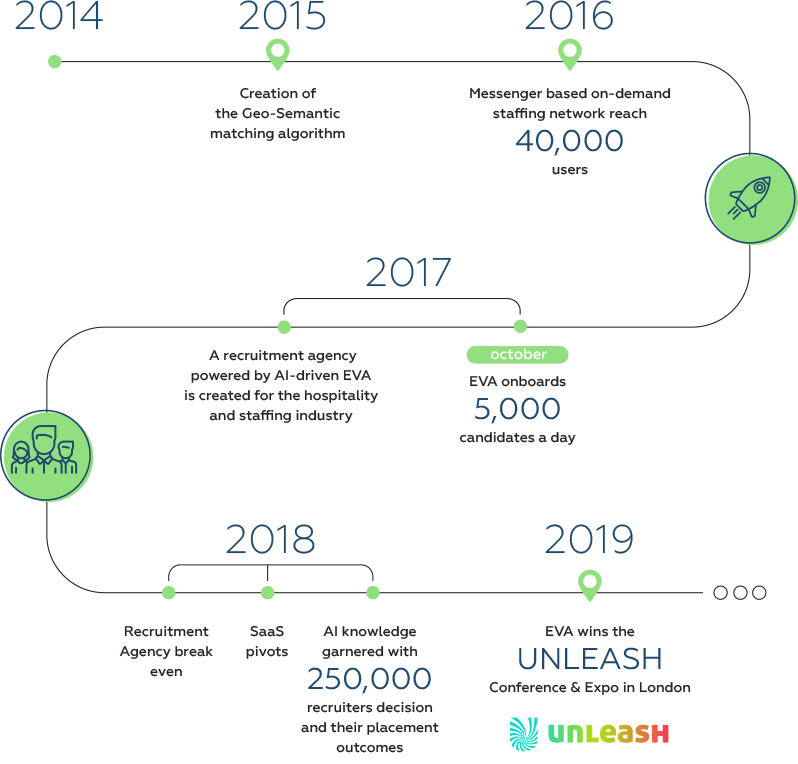 2015
Creation of the Geo-Semantic matching algorithm
2016
Messenger based on-demand staffing network reach 40,000 users
2017
A recruitment agency powered by AI-driven EVA is created for the hospitality and staffing industry
EVA onboards 5,000 candidates a day
2018
Recruitment Agency break even SaaS pivots 250000 Recruiters outcome
2019
EVA wins the UNLEASH Conference & Expo in London

The Team
---
Our team comprises of experts in their respective fields: business intelligence, recruitment operations, big data analytics, Machine Learning (ML) & Artificial Intelligence (AI) with proven successful track records.

Ben Kaminsky Chief Executive Officer
10+ years in innovations in organization, business intelligence, semantic, NLP

Max Knupfer Chief Client Officer
20+ years in hospitality, recruitment and operations

Gerry Hill Chief Revenue Officer
20+ years in Sales

Emmanuel Stralka Chief Marketing Officer
20 years of international marketing and communication experience
Michael Rendell Investing Chairman
30+ years in Digital Transformation. Former Senior Partner at PWC

Bill Boorman Recruiting, talent and HR tech expert
Founder #Tru events, Board member of HR Open Source and MD of Recruiting Daily

Charlie Markham Technical Advisor
15+ years in technology, big data, high performance trading systems

Roddy Watt Recruitment Industry Expert
30+ years in Recruitment and HR Founder and CEO of Berkley Scott
We're a global team, with headquarters in London.
UK headquarters
Golden Cross House, 8 Duncannon Street, London, WC2N 4JF